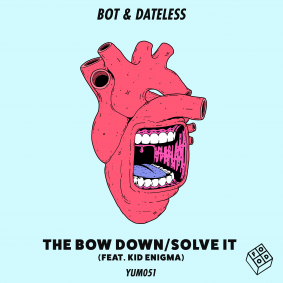 BOT & Dateless - The Bow Down / Solve It
BOT & Dateless team up this July for their collaborative two-tracker 'The Bow Down / Solve it' on Shadow Child and Kry Wolf's Food Music.
Since departing from the duo Crookers, BOT returns to Food Music following recent releases on labels like Relief, Dirtybird and his own imprint Main Course, run alongside partners Astronomar & Neoteric. Joining him on this release is Dateless, an American DJ known for his Latin percussion and incorporation of Salsa, Cumbia and Reggaeton to represent Chile and Argentina, the respective birthplaces of his parents.
'The Bow Down' kicks things off with a pulsating bass line, resonant synth blips and filtered hip- hop vocals before 'Solve It' utilises a thundering low end, raw, gritty vocal samples and a crunchy kick drum to round out the package with a high-octane feel.
BOT & Dateless 'The Bow Down / Solve It' is out on Food Music on 13th July 2018.
https://www.facebook.com/BOT106/https://www.facebook.com/DatelessMusicOf…
Tracklist:
1. TheBowDown
2. SolveIt(feat.KidEnigma)