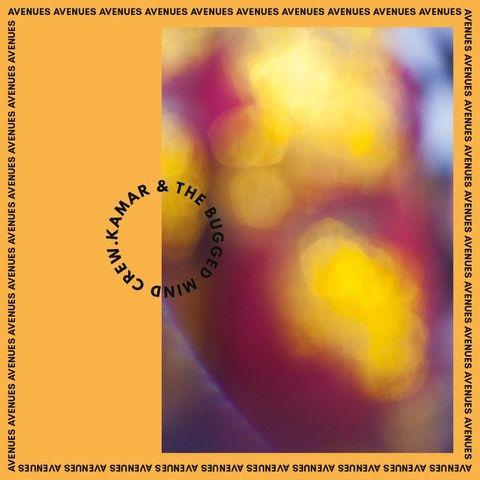 Kamar & The Bugged Mind Crew - Avenues
Artist, rapper and world-renowned music executive Cyril Kamar has joined together 15 creatives from different backgrounds around the world to form an exciting new international art collective – Kamar & The Bugged Mind Crew – and a debut album that is set to set the world alight.
Born in Canada, Kamar lives between Paris and New York and runs his own music label and entertainment company, E.47 Records, which in true impresario style has surrounded himself with some of the world's finest independent creatives to architect this electrifying new project. Kamar wanted to re-imagine a visionary collective in a "Warholian" approach, inspired by post-modern street culture and avant-garde, mixing music, visual arts and contemporary art. The Bugged Mind Crew was born, liberated from any classic or commercial matter, breaking conventions to show his unique brand of art.
Influenced by New-York and Toronto's music scenes, with references like Drake, Frank Ocean and Jay Z, Kamar & The Bugged Out Crew's music is, without any doubt, mature, edgy, audacious, unexpected and against the tide. Members and contributors of the collective include contemporary international artists JonOne, Pierre Soulages, international model Fernanda Oliveira, fashion icon Melle Agnès, Givenchy beauty director Nicolas Degennes and many more. Their global project is a blend of music, fashion, and culture through sound, vision and digital art.
"Avenues" their debut album will be released on June 15 following the release of their EP "Mirrors" which dropped in mid-October to wide critical acclaim from likes of Vogue, Vanity Fair, ELLE, Konbini and more. 'Avenues' has all the markings of a future classic launch in the trajectory of recent albums by the likes of Pharrell Williams' N.E.R.D or Will.I.Am's Black Eyed Peas. It's a collection of instantly awesome flowing tracks that provoke, inform and inspire.
Musical movies from the album have already been circulated including stand out track "Paris" which artist and movie director SJD takes possession of the French capital. "Paris" is an ephemeral love story between two "strangers". The exploded picture of a city seen through random encounters and the blank eyes of a supermodel, Fernanda Oliviera, who discovers Parisian streets, Parisian habits, colours and vices. It's a raw and poetic ride, without filter, in the heart of a capital in permanent movement. The places move, the styles evolve, the people change but all remain a la mode.
Following the release of "Avenues", Kamar & The Bugged Mind Crew will tour organized by Live Nation and will start in Paris, in October 2018 – before hitting Berlin, London, Toronto and New York and many besides.