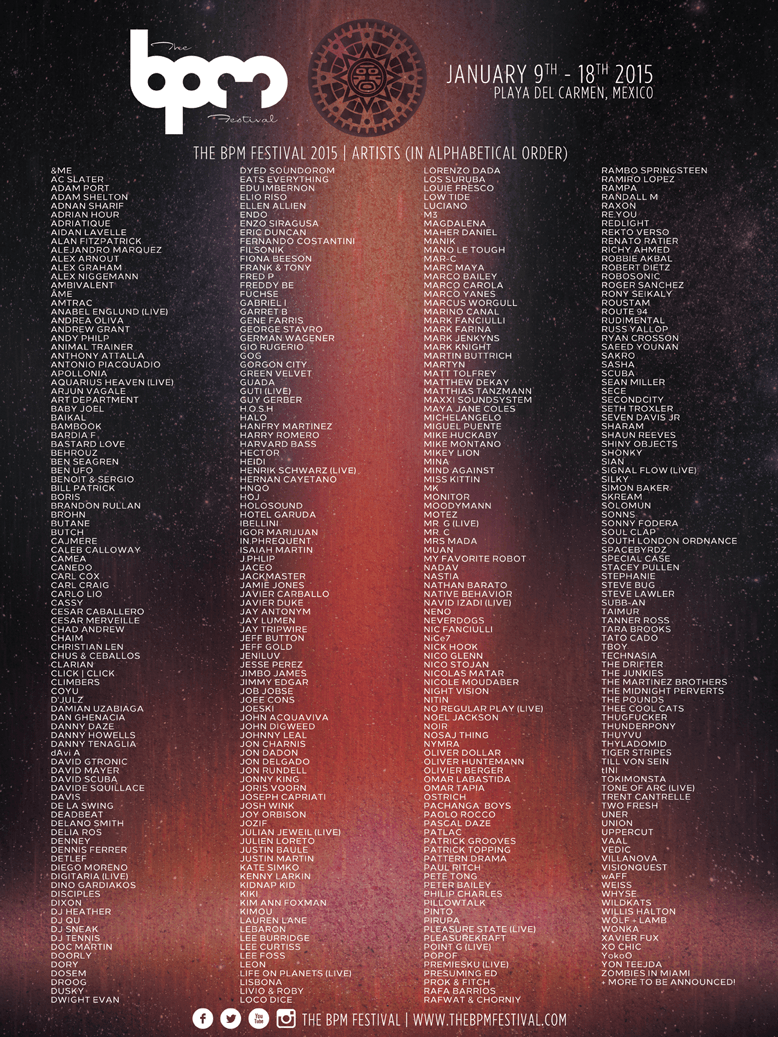 The BPM Festival 2015: Phase 2 Artist Lineup, Showcases & Venues
The BPM Festival is excited to announce the Phase 2 artist lineup, showcases and venues for its 2015 edition taking place January 9-18, 2015 in Playa del Carmen, Mexico.
This year, both day and night parties will take place at the newly renovated Blue Parrot. The brand new, open and spacious venue will feature a pool overlooking the Mayan Riviera, along with an open air restaurant, and will be complete with a full D&B sound system. Day parties will also return to Mamitas Beach Club, the bohemian Fusion Beach Club and scenic Canibal Royal, all located right along the white sandy beaches and the turquoise waters of the Caribbean Sea. Stay tuned for a special Cenote party, located in one of the oldest cenotes in the Mayan Riviera, to be announced.
Meanwhile, night parties will also be hosted at the newly built La Santanera at its new location, featuring three floors of music, including the open-air Terrace and Bar, and the main room Club. Parties also return to the intimate club Tabu, as well as Tribeca, which will host a series of free parties showcasing up and coming talent, and the legendary Blue Venado, with an open air palapa and adjacent private beach for unforgettable parties under the stars until sunrise.

Select single events tickets are available at www.TheBPMFestival.com

The BPM Festival 2015 Showcases (in alphabetical order):
AKBAL
All Day I Dream
All Gone Pete Tong
Alphahouse
ANTS
Apollonia
Baum
Bedrock Records
Black Butter Records
BlkMarket Membership
BPitch Control
Cadenza Records
Circo Loco
Crew Love
Culprit
D-FLOOR
Difficult People
Digital Delight
Diynamic Music
Do Not Sit On The Furniture presents Behrouz & Friends
El Row
Endless
Footloose
Form Music
Hotflush Recordings
Hot Creations
I'm A House Gangster
Ibiza Sonica
In The MOOD
Innervisions
Intec Digital
Joseph Capriati presents 100% JC
Keinmusik
Kraftek
La Familia
Last Day On Earth
Leftoom Records
Life and Death
Listed presents PLAY at BPM
Maeve Rave
Maya Jane Coles & Friends
MEXA Records
Modern Love Affair
Monday Night Social
Music On
My Favorite Robot
Night Bass
No. 19 Music Social Experiment
Octopus Recordings
Origins
Ovum Recordings
Paradise
Piknic Electronik
Planet E
Rumors
Saved
Scissor & Thread presents Punch Drunk Love
Skreamizm
Smoke & Mirrors
Solomun +1
Stereo Productions
Suara
Superfreq
Supernature
This And That
This is the End
tINI & the Gang
Toolroom Records
Touch of Class
Transmit Recordings
Tuskegee
Union
Used & Abused
Vatos Locos
Visionquest
VIVa Warriors
Warung/D-Edge
Yoshitoshi
Young Art Records

The BPM Festival 2015: Phase 2 Artists Added (in alphabetical order):
&ME
ADAM PORT
ADAM SHELTON
ADNAN SHARIF
ADRIAN HOUR
AIDAN LAVELLE
ALAN FITZPATRICK
ALEJANDRO MARQUEZ
ALEX ARNOUT
ALEX GRAHAM
ALEX NIGGEMANN
AMBIVALENT
AMTRAC
ANABEL ENGLUND (LIVE)
ANDREA OLIVA
ANDREW GRANT
ANDY PHILP
ANIMAL TRAINER
ANTHONY ATTALLA
ANTONIO PIACQUADIO
AQUARIUS HEAVEN (LIVE)
ARJUN VAGALE
BABY JOEL
BAIKAL
BAMBOOK
BARDIA F
BASTARD LOVE
BEN SEAGREN
BRANDON RULLAN
BROHN
BUTANE
BUTCH
CAJMERE
CALEB CALLOWAY
CAMEA
CANEDO
CASSY
CESAR CABALLERO
CESAR MERVEILLE
CHAD ANDREW
CHRISTIAN LEN
CLARIAN
CLICK | CLICK
CLIMBERS
COYU
D'JULZ
DAMIAN UZABIAGA
DANNY DAZE
DANNY HOWELLS
DANNY TENAGLIA
DAVI A
DAVID GTRONIC
DAVID MAYER
DAVID SCUBA
DAVIS
DE LA SWING
DEADBEAT
DELANO SMITH
DELIA ROS
DENNEY
DENNIS FERRER
DETLEF
DIEGO MORENO
DIGITARIA (LIVE)
DINO GARDIAKOS
DISCIPLES
DJ HEATHER
DOC MARTIN
DOORLY
DORY
DOSEM
DROOG
DWIGHT EVAN
EDU IMBERNON
ELIO RISO
ENDO
ENZO SIRAGUSA
ERIC DUNCAN
FERNANDO COSTANTINI
FILSONIK
FIONA BEESON
FRANK & TONY
FRED P
FREDDY BE
FÜCHSE
GABRIEL I
GARRET B
GENE FARRIS
GEORGE STAVRO
GERMAN WAGENER
GIO RUGERIO
GOG
GUADA
H.O.S.H
HALO
HANFRY MARTINEZ
HARRY ROMERO
HARVARD BASS
HEIDI
HERNAN CAYETANO
HNQO
HOJ
HOLOSOUND
HOTEL GARUDA
IBELLINI
IGOR MARIJUAN
IN.PHREQUENT
ISAIAH MARTIN
J.PHLIP
JACEO
JAVIER CARBALLO
JAVIER DUKE
JAY ANTONYM
JAY LUMEN
JAY TRIPWIRE
JEFF BUTTON
JEFF GOLD
JENILUV
JESSE PEREZ
JIMBO JAMES
JOB JOBSE
JOEE CONS
JOESKI
JOHN ACQUAVIVA
JOHNNY LEAL
JON CHARNIS
JON DADON
JON DELGADO
JONNY KING
JOSH WINK
JOZIF
JULIAN JEWEIL (LIVE)
JULIEN LORETO
JUSTIN BAULE
KATE SIMKO
KENNY LARKIN
KIKI
KIM ANN FOXMAN
KIMOU
LEBARON
LIFE ON PLANETS (LIVE)
LISBONA
LIVIO & ROBY
LORENZO DADA
LOS SURUBA
LOW TIDE
M3
MAGDALENA
MAHER DANIEL
MANIK
MAR-C
MARC MAYA
MARCO BAILEY
MARCO YANES
MARINO CANAL
MARK FANCIULLI
MARK FARINA
MARK JENKYNS
MARTIN BUTTRICH
MARTYN
MATTHEW DEKAY
MAXXI SOUNDSYSTEM
MICHELANGELO
MIKE HUCKABY
MIKE MONTANO
MIKEY LION
MINA
MISS KITTIN
MK
MONITOR
MOODYMANN
MOTEZ
MR. C
MR. G (LIVE)
MRS MADA
MUAN
NADAV
NASTIA
NATIVE BEHAVIOR
NENO
NEVERDOGS
NICE7
NICK HOOK
NICO GLENN
NICO STOJAN
NICOLAS MATAR
NIGHT VISION
NOEL JACKSON
NOIR
NOSAJ THING
NYMRA
OLIVER DOLLAR
OLIVER HUNTEMANN
OLIVIER BERGER
OMAR LABASTIDA
OMAR TAPIA
OSTRICH
PACHANGA BOYS
PAOLO ROCCO
PASCAL DAZE
PATLAC
PATRICK GROOVES
PATTERN DRAMA
PAUL RITCH
PETE TONG
PETER BAILEY
PHILIP CHARLES
PILLOWTALK
PINTO
PIRUPA
PLEASURE STATE (LIVE)
POINT G (LIVE)
POPOF
PREMIESKU (LIVE)
PRESUMING ED
PROK & FITCH
RAFA BARRIOS
RAFWAT & CHORNIY
RAMBO SPRINGSTEEN
RAMIRO LOPEZ
RAMPA
RANDALL M
RAXON
RE.YOU
REDLIGHT
REKTO VERSO
RENATO RATIER
ROBOSONIC
ROGER SANCHEZ
ROUSTAM
ROUTE 94
RUDIMENTAL
RUSS YALLOP
SAEED YOUNAN
SAKRO
SEAN MILLER
SECE
SECONDCITY
SEVEN DAVIS JR
SHINY OBJECTS
SIAN
SIGNAL FLOW (LIVE)
SILKY
SIMON BAKER
SONNS
SONNY FODERA
SOUTH LONDON ORDNANCE
SPACEBYRDZ
SPECIAL CASE
STEPHANIE
STEVE BUG
TAIMUR
TARA BROOKS
TATO CADO
TBOY
THE DRIFTER
THE MIDNIGHT PERVERTS
THE POUNDS
THEE COOL CATS
THUNDERPONY
THUYVU
THYLADOMID
TIGER STRIPES
TILL VON SEIN
TOKIMONSTA
TONE OF ARC (LIVE)
TRENT CANTRELLE
TWO FRESH
UNION
UPPERCUT
VEDIC
VILLANOVA
WAFF
WEISS
WHYSE
WILDKATS
WILLIS HALTON
WONKA
XAVIER FUX
XO CHIC
YOKOO
YON TEEJDA
ZOMBIES IN MIAMI

+ More to be announced!