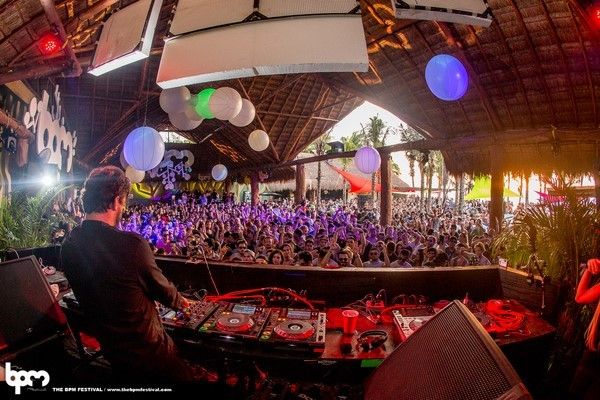 The BPM Festival Announces Dates for 2016
Marking its ninth anniversary, The BPM Festival returns to Playa Del Carmen, Mexico on January 8-17, 2016. Kicking off the global festival calendar as the preeminent destination for dance music enthusiasts, The BPM Festival delivers an incomparable festival experience while providing the essential winter getaway along the picturesque Caribbean coastline. Stretched across ten days of continuous musical programming with an ever-growing calendar of events and roster of global talent, The BPM Festival continues to solidify its stature on the international festival circuit.
New for 2016, The BPM Festival unveils the official BPM crest spotlighting the Black Jaguar in traditional mask form, as one of Mexico's national animals. The Black Jaguar (also known as "panther") is an endangered species and a magical beast with mythology dating back to the Mayan and Aztec civilizations. BPM is spotlighting the plight of this iconic cat and supports big cat rescue from the tourism trade in Mexico.
Last year's programming showcased over 375 artists during 10 days and nights, with more than 60,000 attendees from over 60 countries descending upon the festival. A dance music affair like no other, The BPM Festival is the perfect kickoff to the year for industry professionals, artists, and fans of all forms of underground dance music.
The BPM Festival offers festivalgoers an unmatched setting in Playa Del Carmen, amidst the scenic landscape of the Mayan Riviera. The cosmopolitan beach town is home to stunning beaches, breathtaking ecotourism sites and attractions, ancient archaeological wonders, and world-class nightlife.
The BPM Festival official travel portal is powered by Orbitz.com to offer the absolute best prices for flights and hotels for traveling to Playa del Carmen, and will refund the difference for users who find a lower price. By booking through the festival, users can find the best, most direct flights available, see how far each hotel is from all the main festival venues, and utilize a travel portal help section that includes all the need-to-knows about traveling to Mexico.
Super Early Bird 10-Day passes on sale Friday, July 17 at 5 pm EST / 6 pm EDT at TheBPMFestival.com. Limited release, while supplies last!