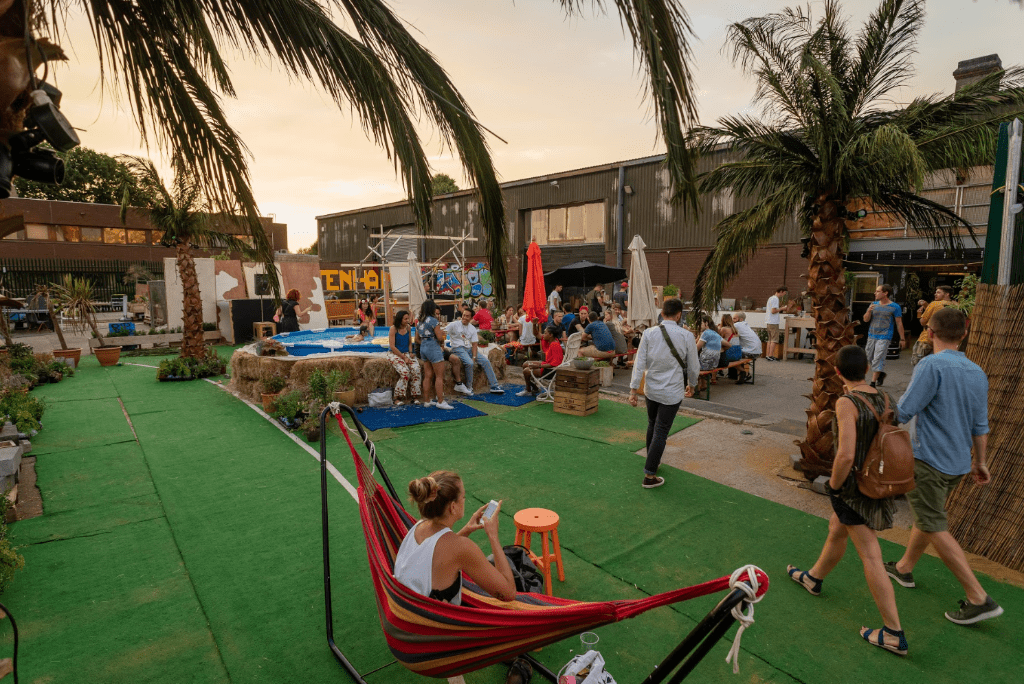 The Cause, launches Costa Del Tottenham complete with swimming pool!
Bring meat, friends and swimming gear to bask in The Cause's own slice of the Costa Del Sol
To make the most out of this crazy, HOT, summer, The Cause has created its own DIY slice of paradise in Tottenham Hale, 2 mins walk from 24 hour tubes. Costa Del Tottenham has London's first outdoor swimming pool next to a club, 15 foot palm trees and plenty of plants to create a little oasis for North London. Over the next few months expect pool parties, DJ's, live bands and cocktail masterclasses by the house rum supplier Pirate's Grog Rum. In slight homage to Wham the drinks aren't quite free, but they're pretty damn cheap at times instead! If all the above wasn't enough, the BYO-BBQ will be in full swing through out, bring meat, some friends and the in-house BBQ team will cook it for you.
The BYO-BBQ is hosted by Pluma, a sustainable food venture that holds a daytime residency next door at Grow Tottenham. It's run by two wise guys Robbie O'Neill and chef Joe "Giovanni Maialino" who likes to fuse Italian, Japanese and Korean food with a passion for pickling thanks to years spent in New York.
For those not wanting to utilise the BYO-BBQ offering, Pluma will have tongue tickling food in the form of a vegan miso and maple marinated aubergine with swede kimchi, pistachio pesto, chickpeas plus slow cooked lamb in sumac rub with pickled tomato, rocket and salsa verde. No BBQ would be complete without a burger and Pluma's come with two 4oz beef patties, cheddar, tomato chilli and lime chutney with mustard mayo, salad and brioche bun. Full menu can be seen below.
On select days The Cause will also be inviting some of London's best butchers and local farmers market stalls down in case attendees are too lazy to bring their own meat. London's finest The Five Points Brewing Company takeover the taps whilst a HUGE rum, tequila, mezcal and gin selection will be on hand to keep the party going til' late. House cocktails are 2 for £10 from 5pm to 8pm every day and on Fridays during the same hours for the next few weeks grab a spirit & mixer for just £3.50.
Music wise, tunes by the pool all day while late night parties run indoors from 10pm-5am every Friday & Saturday. See HERE for further details on lates. Some areas will form part of day parties with an entry fee, but there will always be a free area to enjoy the sunshine.
BYO-BBQ:
£3 per person, £2 with a side
Sauces, breads and buns available on site – £1 each.
SAMPLE MENU BY PLUMA:
MAINS
– Miso, maple aubergine wrap – miso and maple marinated aubergine, swede kimchi, pistachio pesto, chickpeas (vegan) £6
– Slow cooked lamb butty – slow Cooked lamb in sumac rub, pickled tomato, rocket, salsa verde £7.50
– Pork bifana – Portuguese style marinated pork loin, mustard mayo, tomato, lettuce, crusty roll £6
– Pluma Cheeseburger -2x 4oz beef patties, cheddar, tomato chilli and lime chutney, mustard mayo, salad, brioche £6
– Courgette burger- courgette and chickpea fritter, pickled onion, herb chutney, salad (vegan) £6
SIDES
– Hand cut fries with rosemary salt £3.5
– Home made yoghurt slaw £3.5