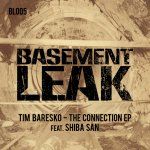 Tim Baresko ft. Shiba San - The Connection EP
French producer Tim Baresko supplies 'The Connection', Basement Leak's fifth release including a collaboration with label head himself Shiba San. Launched in 2015, Basement Leak has since hosted names like Cobra Khan, Dateless, Malive and Jaekin when not acting as a platform for its founder Shiba San.
Joining the roster with three vocal driven cuts, Tim Baresko's international appeal has seen him perform across the world at the likes of Italy, Germany, UK, Spain, Russia, USA and Brazil when not making appearances on Cajual, Bedrock and Defected.
Pairing up with Shiba San, who's also known for appearances on Dirtybird, Suara and Repopulate Mars, 'The Connection' is a bouncy number complete with distorted vocal samples, resonating chords and enticing acid licks.
Baresko's solo outings begin with 'Custom', a rumbling track complete with a compelling groove, infectious drum rolls and whirring synths before the rolling 'Something For Ya' generates a hypnotizing aesthetic with its otherworldly atmospherics and metallic stabs.
Tim Baresko feat. Shiba San 'The Connection EP' is out on Basement Leak on 8th September 2017.
Tracklist
1. Shiba San & Tim Baresko – The Connection
2. Tim Baresko – Custom
3. Tim Baresko – Something For Ya
https://twitter.com/BasementLeak
https://www.facebook.com/basementleak
https://twitter.com/TimBaresko
https://twitter.com/shibasanmusic
https://www.facebook.com/TimBaresko
https://www.facebook.com/shiba.san