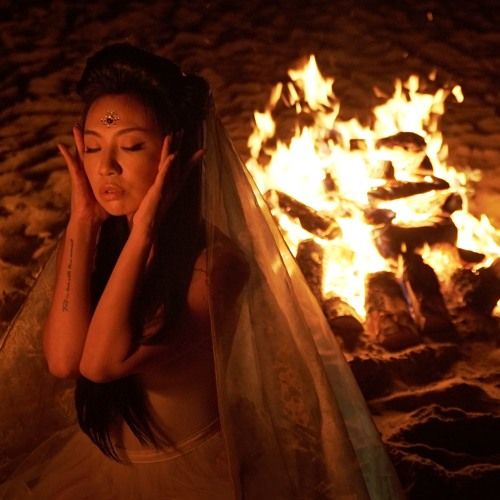 Fifi Rong x LO - The Crown EP
The Crown is a collaborative EP from London-based singer/producer Fifi Rong and Berlin-based producer/writer LO. East meets west as the artists achieve a union of their musical identities: Fifi's mesmerizing, Chinese-influenced Avant-pop melts with LO's anthemic R'n'B rhythms. This powerful musical and cultural hybrid results in an electronic sound that is unique yet familiar, mysterious yet intimate.
Fifi has received vast support from blogs and radio stations including The 405, The FADER, Clash, BBC Radio 1, BBC radio 6 etc, and has worked with music pioneers such as Skepta, Tricky, and Yello. Growing from her roots in dark ambient electronica, Fifi has the rare ability to effortlessly glide across an eclectic range of influences with an uniquely alluring and melancholic signature sound. The Crown is the latest in a stream of independent releases supported by Fifi's loyal fans through PledgeMusic, following her critically acclaimed EP Awake earlier this year.
In her own words: 'Awake EP represented a long, dark night that kicked off the awakening process. The transition from Awake to The Crown is a move towards light and openness, so you will see me using epic scenery like forests, cliffs, oceans and deserts for this project. The Crown is empowering and liberating, and it's my most consistent body of work to date. The decision to make it my first collaborative EP was easy – working with LO has been perfectly aligned.'
LO's style is a fusion of UK bass, house and R'n'B/pop. He has previously collaborated with Adrian Daniel, Rainy Milo and NOVAA, leading to releases with Tommy Boy Records, Majestic Casual Records, Diamond/Superstar and more. His debut album Lights (with YOSIE) has accumulated over 5 million Spotify streams so far.
He says, 'I am always trying to produce innovative soundscapes, and The Crown has a really interesting mixture of edgy electronic sounds and organic flute and string samples. Nonetheless, the laidback production leaves enough space for Fifi's great vocals.'