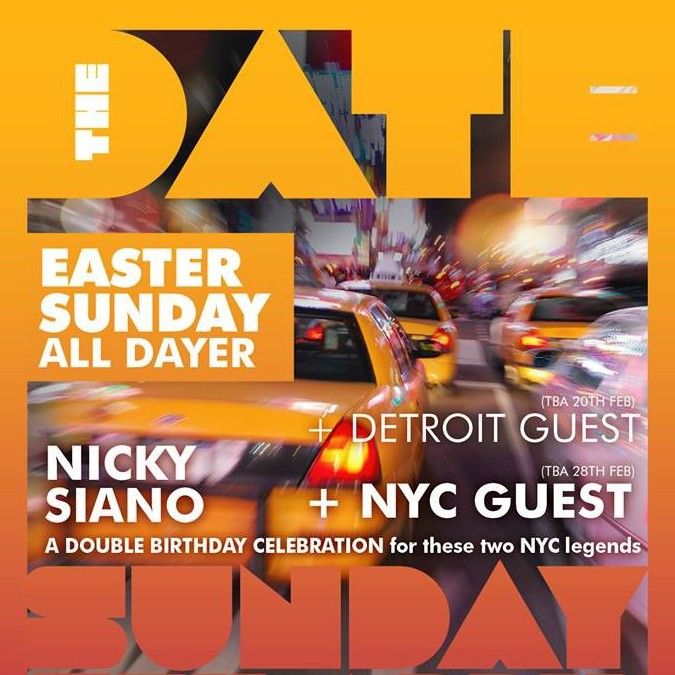 The Date with Nicky Siano
The Date celebrates three years of very special parties on Easter Sunday April 5th. An essential 'Date' in all music lovers calendar, these sporadic but much loved events, have welcomed the hierarchy of house and disco to West London's previous Loft Studios parties. Frankie Knuckles, Tony Humphries, Kerri Chandler, Spen + Karizma, Kenny Carpenter, Timmy Regisford, Danny Krivit, Greg Wilson have all graced the decks in the fantastic wood beamed 'Loft' top room.
The third birthday welcomes two additional bona fide legends in New York's "Nicky Siano" and "very special guest" to work their disco magic at the Loft. A rare appearance from Nicky Siano who joins The Date to celebrate his 60th birthday in London. Siano's legacy in disco music and club culture is immense. Cited as an inspiration to Frankie Knuckles and Larry Levan, who both worked at Nicky's legendary NYC club The Gallery.

Nicky has recently produced his own disco documentary http://www.loveisthemessagemovie.com which charts the early days of disco of the era, and includes footage from his influential Gallery Club where the likes of David Bowie, Mick Jagger and Calvin Klein hung out.
The film will be screened at 5 pm on the same day, as an exciting introduction to the NYC disco pioneers: Nicky and Very Special Guest's anticipated DJ sets. Joining Nicky is another true founder of the New York City scene, and he too will be celebrating his birthday.

The Date features three spaces of fine music, the ground floor is represented with a rising Detroit star, who will be headlining and showcasing a contemporary deep house techno edge to the party. This guest is without doubt one of the new leading lights out of Detroit, and the excitement surrounding his forthcoming artist album is huge.
Stuart Patterson the Date resident will be supporting, and has been involved in London's best house nights and venues for several years including Faith, Soulsonic and East Village. Stuart continues to remain at the cutting edge of real house music. Listen to his latest mix here: http://bit.ly/1yKdZYx
Jocks and Nerds magazine will be hosting the large and semi covered courtyard for the early arrivals, where a third sound system will add laidback, soul, latin, reggae, funk and balearic vibes.
Date resident Tim Keenoy is joined outside by Jocks and Nerd's Marcus Agerman Ross and Mark Webster plus Date regular Dave Jarvis (Moton Records).

The main Loft room will be powered by a specially constructed EAW analogue sound system. 2 Bit Punk's visuals will light the venue and "Love Is The Message" will be screened at 5 pm, making this Easter party unmissable!