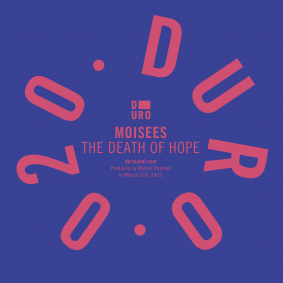 Moisees - The Death of Hope EP
Duro's co-founder Moises Ramirez aka Moisees is back with a new EP that follows up his excellent remix of Mijo's 'THXTASY' and his last release, Train Station Philosophy. Remixes from Middle Sky Boom and Younger Than Me complete this standout 20th package.
Mexico City artist Moisees has been building up a fine catalogue of edgy, machine made disco tracks that are full of alluring darkness. He's garnered international press support as a result, as well as becoming someone DJs looking for an edge often reach for, here he serves up two more reasons to keep his name on your lips.
Opener 'Midnight Raider' is perfectly named: a late night tune with a sneaking sense of movement that roams through a desolate city scape. Freaky synths and filtered sounds are unusual and draw you in. His other original is the brilliantly original 'The Death of Hope', a psyched-out deep techno cut with disco colour and astral synths. It's a track that slithers ever deeper down the rabbit hole and melts your mind with a hypnotic lead synth sound that sounds like little else.
Middle Sky Boom is label boss of Unterman and based in Tel-Aviv. His music has come on Rotten City Records and Days of Being Wild and here he flips 'Midnight Raider' into a spooky, mid-tempo chugger with freaky vocals and glassy synths. It's brilliantly weird and wonderful.
Remixing 'The Death of Hope' is Younger Than Me from Milan, an associate of Tusk Wax, Bordello A Parigi and XXX. His vital version echoes with a late night mystery. Phased bass and percolating riffs ride up and down the scale as icy hi hats add to the infectious groove. Weatherall et al will surely approve.
These are four fresh, unusual tracks that bring plenty of new ideas to the alternative disco world.
Tracklist:
1. Midnight Raider
2. The Death of Hope
3. Midnight Raider (Middle Sky Boom)
4.The Death of Hope (Younger Than Me)