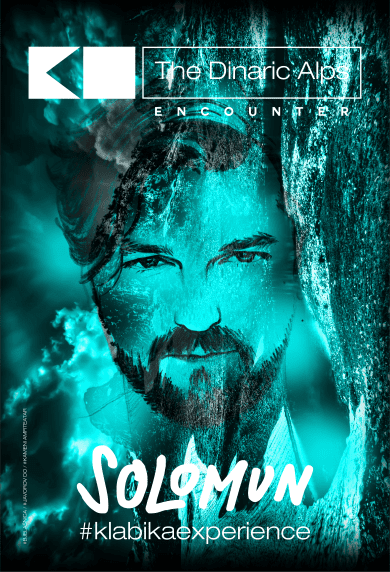 The Dinaric Alps Encounter: Solomun X Klabika, Olympic Mountain Bjelasnica 29.07.16
On July 29th 2016 the party returns in Sarajevo, with a strong line up headlined by the Diynamic boss Solomun. This time he will play in the Stone amphitheater (Bjelasnica) under the new Klabika experience: THE ENCOUNTER Dinaric Alps : Solomun X Klabika
Solomun is an essential name in Dance Music for many reasons, some of which include his outstanding contribution to the evolution of electronic music and thus his impact on the global electronic music scene. Whilst his work continues to inspire DJs and producers around the world, the Bosnia and Herzegovina scene can also rejoice in re-igniting a connection with the German born artist who has family roots in Bosnia.
"The Klabika experience 2016 was established in accordance with the possibilities and advantages of the city in which we live. For this year the Amphitheater was selected to be the epicentre of a new version of proverbs for fun. As part of the implementation of the project 'THE ALPS DINARIC ENCOUNTER ' we intend to re – define the experience of a 24H event. The Amphitheater is a magical place and provides a unique location for such an event in Bosnia and Herzegovina . We believe that due to the stunning and un spoilt location of the Klabika experience, all visitors will indeed take away with them a truly unforgettable experience and as such the number of tickets are limited in order to maintain an exceptional delivery of quality." – Klabika Collective
KLABIKA COLLECTIVE
Klabika Collective is a DJ duo who were nailed to the top of the Sarajevo underground . Hidden from the public and carried by genuine passion for electronic music, most of their time is spent playing at private events , after movie parties , galleries , old areas of communist architecture or perfect Austro-Hungarian flats… But you are also able to meet them at the opening of the National Museum in Sarajevo City Hall and new building in the construction of the Academy of performing Arts as part of the Days of Architecture in Sarajevo, " Sarajevo Now'opening game to the Venice Biennale , the Mixmag Underground University event and many more exotic venues and open-air locations . The highlight of the summer of 2015 crowned the warm-up performance by DJ Solomon in the atrium of the Faculty of Economics in Sarajevo .
https://www.mixcloud.com/FBLmusic/klabika-collective-x-fbl
http://mixes.beatport.com/mix/subversive-momentum-experience-iii/232540
https://www.facebook.com/klabikaofficial/
——————————————————————————————————————————————
Tickets : http://www.kupikartu.ba/karte/event/2243/solomun-x-klabika
Video: https://www.youtube.com/watch?v=_QC4YbvMEp4
Official Web Site: www.klabika.org
FB Event : https://www.facebook.com/events/171908069168333/
Artwork : Semir Osmanhodžić
Klabika : https://www.facebook.com/klabikaofficial/
Solomun: Music compilation: https://itunes.apple.com/us/album/solomun-selected-remixes-2009/id112017…