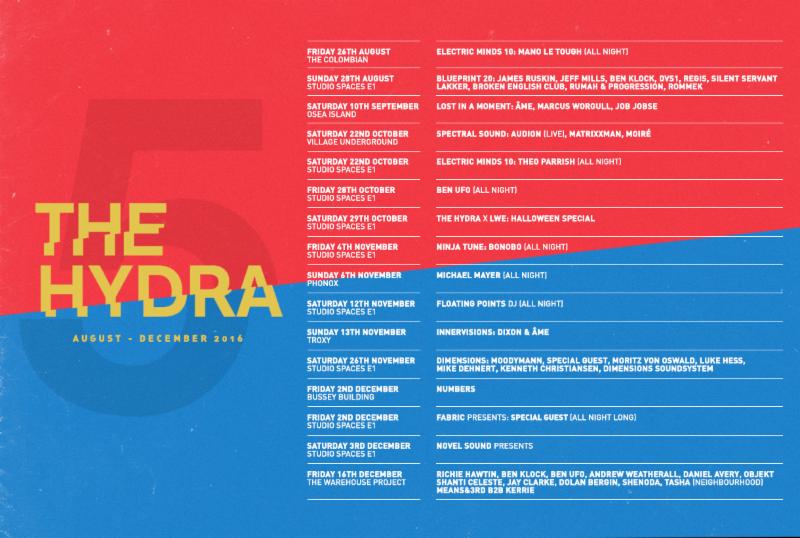 The Hydra – 2016 Season Announced
Celebrating five years at the cutting-edge of London's underground music scene, leading clubbing series The Hydra, announce their 2016 party schedule. Hosting regular events from August to December, their 2016 series will see a return to their nomadic roots, brining seasoned spinners and the brightest rising talents to some of London's best loved and most exciting music venues and beyond, including Theo Parrish, Dixon, Floating Points, Richie Hawtin, Bonobo, Moodymann, Ben Klock, Matrixxman, Andrew Weatherall, Jeff Mills and many more.
Promising to be their biggest season yet, a melting pot of house, techno, disco and all electronic oddities bubbles across the capital in the form of bespoke showcases, carefully curated special events and exclusive collaborations.

Having cemented a lauded reputation for all-night sessions from the industries leading music-makers, The Hydra push this concept further for 2016, with a plethora of special events across the season.
Kicking-off on Friday 26th August 2016, The Hydra join forces with sister brand electric minds with a musical journey of discovery from Mano Le Tough at The Colombian in Elephant & Castle, complimented by a custom-designed light-show from leading industry technician, Robert Tiefton, who is celebrated for his work with the likes of Innervisions and Panorama Bar.
The second all-night session on Saturday 22nd October comes from true legend and driving force behind Detroit's musical movement, Theo Parrish. Highly coveted, soulful and unpredictable, Theo's all night set will take place at The Hydra's spiritual home, Studio Spaces E1, and is an undeniably well-fitting artist to lead the celebrations marking a decade of music through Hydra's sister brand, electric minds.
A shooting star of international dance music, Ben UFO has carved a reputation for an ability to transform clubs solely through selection. The "DJ's DJ" will return to Studio Spaces on Friday 28th October to single handedly take dancers on a journey through time and crates, all night long.
Ninja Tune and The Hydra come together on Friday 4th November to bring acclaimed electronic maestro Bonobo to Studio Spaces for an all-night session that's sure to bring a road-block event to the East London venue.
Michael Mayer will deliver a Sunday session South of the river at Phonox on 6th November. Tacit knowledge from a decade immersed in DJ culture, the Kompact co-founder is a true maestro with a penchant for playing extraordinary and inimitable sets.
Acclaimed DJ and Producer, Floating Points, will perform the season's final marathon set on Saturday 12th November. Following his recent album release, the well seasoned event spinner is globally admired for his eclectic selections blended seamlessly using his signature rotary mixer.
Having spent two seasons developing Studio Spaces E1, improvements to air-con and a souped-up Function One sound-system have seen the venue become one of London's best loved warehouse spaces.
Taking full advantage of this, Studio Spaces will host a selection of cutting-edge showcases with Dimensions' Soundsystem on Saturday 26th November. Having grown alongside Dimensions, the Hydra and electric minds have played host to many carefree voyages on the Adriatic Sea. The Dimensions Soundsystem showcase will offer a nostalgic journey back to the Croatian festival with Moodymann, Moritz Von Oswald, Luke Hess, Mike Dehnert, Kenneth Christansen selecting quality cuts of house, techno and disco.

Friday 2nd December sees a very special union as The Hydra join forces with clubbing institution fabric, for a rare escapade outside of their Farringdon home. Whilst the lineup remains a closely guarded secret, the combined musical acumen of the two clubbing meccas is sure to deliver one of the biggest events in the Capital this season.
Not content with just one show on 2nd December, The Hydra all join up with Southbound for a showcase of much loved label Numbers at Peckham party hot-spot Bussy Building.
Creating a colossal double-header for the first weekend of December, Levon Vincent's Novel Sound follow on Saturday 3rd December, taking control of Studio Spaces' soundsystems.
The Hydra bring long-standing allies Innervisions to London on Saturday 13th November lead by venerated label stalwarts Dixon and Âme at the fore.
Spectral Sound head to intimate East London venue Village Underground on Saturday 22nd October for a night of rhythmic techno and disorientating grooves. Audion's live set, channeling the sound of Detroit and the darker side of Matthew Dear's musical talent the pair will be joined by the futuristic style of Matrixxmann and shadowy, hypnotic sounds of emerging talent Moire.
A number of special events also feature in The Hydra's fifth series including a spooky halloween collaboration with prolific party-starters LWE on Saturday 29th October at Studio Spaces E1 and The Hydra: Blueprint 20, celebrating the labels twentieth anniversary with techno veterans including Jeff Mills, DVS1 and Regis set to join label boss James Ruskin on August bank holiday Sunday.
Stepping outside of London on Friday 16th December, The Hydra join forces with their Northern counterparts Warehouse Project for a colossal lineup featuring Richie Hawtin, Ben Klock, Ben UFO, Andrew Weatherall, Daniel Avery, Objekt, Shanti Celeste, Jay Clarke, Dolan Bergin, Shenoda and Tasha and Means&3rd b2b Kerrie at Store Street in Manchester.
Previously announced and already sold-out, Saturday 10th September sees the second edition Lost in a Moment with Âme, Marcus Worgull and Job Jobse leading hedonistic explorers on a mind-bending adventure to the otherworldly private location of Osea Island.

With plenty of surprise still to be announced for 2016, The Hydra's fifth season looks set to propel the series to new heights and secure their reputation as one of the UK's leading party brands.
+++
LINEUPS:
THE-HYDRA.NET
Friday 26th August – The Colombian
Electric Minds 10: Mano Le Tough (all night), lighting by Tiefton
Sunday 28th August – Studio Spaces E1
Blueprint 20: James Ruskin, Ben Klock, DVS1, Regis, Silent Servant, Lakker, Broken English Club, Rumah & Progression, Rommek
Saturday 10th September – Osea Island
Lost In A Moment: Ame, Marcus Worgull, Job Jobse
Saturday 22nd October – Village Underground
Spectral Sound: Audion (live), Matrixxman, Moire
Saturday 22nd October – Studio Spaces E1
Electric Minds 10: Theo Parrish (all night)
Friday 28th October – Studio Spaces E1
Ben UFO (all night)
Saturday 29th October – Studio Spaces E1
The Hydra x LWE: Halloween special
Friday 4th November – Studio Spaces E1
Ninja Tune: Bonobo (All night)
Sunday 6th November – Phonox
Michael Mayer (all night)
Saturday 12th November – Studio Spaces E1
Floating Points (all night)
Sunday 13th November – Troxy
Innervisions: Dixon and Ame
Saturday 26th November – Studio Spaces E1
Dimensions: Moodymann, Special Guest From FXHE, Moritz Von Oswald, Luke Hess, Mike Dehnert, Kenneth Christansen, Dimensions Soundsystem
Friday 2nd December – Bussey Building
The Hydra & Southbound present Numbers
Friday 2nd December – Studio Spaces E1
fabric Presents
Saturday 3rd December – Studio Spaces E1
Novel Sound presents
Friday 16th December – Store Street, Manchester
The Warehouse Project: Richie Hawtin, Ben Klock, Ben UFO, Andrew Weatherall, Daniel Avery, Objekt, Shanti Celeste, Jay Clarke, Dolan Bergin, Shenoda, Tasha, Means&3rd b2b Kerrie
>Final Tickets<
TICKETS FOR THE HYDRA SERIES 5 AVAILABLE AT:
>>THE-HYDRA.NET<<