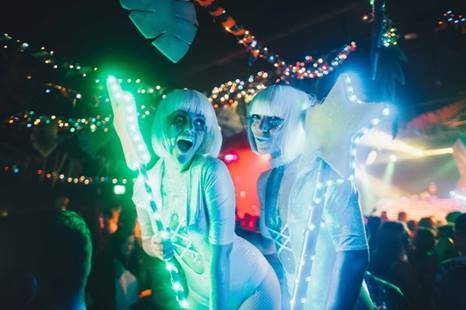 The Enchanted Forest Rave Tour Concept Revealed
With 22 unique club takeovers, bespoke stage builds, weird and wonderful creatures parading each night, plus quality garage DJs and live performances, it's looking to be bigger and better than ever. Watch the aftermovie from Foreverland's last UK tour and prepare to have your senses blownhttp://bit.ly/ForeverlandAfterMovie
To those who've witnessed Foreverland know it as the "world's most magical club night", and it's just announced a new, escapist and visually stunning concept for the 2018/ 2019 UK club tour. 'The Enchanted Forest Rave' will touch down in 22 cities from 28th September in Wolverhampton to 23rd February 2019 in Manchester. Alongside internationally renowned headline DJs and live acts from the worlds of garage and jungle, it brings more immersive production and décor than before. Walkabout characters and mythical beast puppeteers will roam the venues, L.E.D and pyrotechnic displays will mesmerize alongsideinflatable creatures, co2 and confetti cannons, and eye-popping face and body painters. Flowers and plants will hang from the ceilings and a new custom build DJ risers and stage sets have been designed to look like a crumbling abandoned temple laden with foliage. Whilst the lineups are under wraps until 25th June, tickets go on sale on Monday 11th June. It's set to be another enchanted year for Foreverland; watch the short aftermovie from the last tour for a taste of what's to come… http://bit.ly/ForeverlandAfterMovie
Described as an "immersive adult playground", Foreverland started in Bournemouth in 2015 and by 2018, it had toured to over 20 locations across the UK. In its early days, it played its part in the grime revival, booking acts like Stormzy before his career went stratospheric, and more recently, it has played a very real part in the UKG revival thanks to booking quality acts like Artful Dodger, Jaguar Skills, General Levy, Cause & Affect, Royal T, Flava D and more.
Each event is guaranteed to feel like a mini-festival, taking revelers back to the joys of youth but with an adult soundtrack. Perhaps giving a flavour of what's to come, previous bookings have included Chris Lorenzo, General Levy, Skepsis, Oxide & Neutrino, Lisa Mafia, FooR, Monki, Low Steppa, MJ Cole, and the aforementioned Artful Dodger, Jaguar Skills, Cause & Affect and Flava D.
Full headliners and the exact clubs used in each city will be revealed soon, but the list of cities Foreverland is heading to includes: Wolverhampton (28 Sept), Sheffield (5 Oct), Hull (6 Oct), Oxford (12 Oct), Leicester (13 Oct), Leeds (19 Oct), Liverpool (20 Oct), Cardiff (3 Nov), Birmingham (9 Nov), Bournemouth (10 Nov), Edinburgh (17 Nov), Bristol (24 Nov), Glasgow (1 Dec), London (31 Dec), Northampton (26 Jan), Lincoln (1 Feb), Torquay (2 Feb), Brighton (8 Feb), Southampton (9 Feb), Newcastle (15 Feb), Leamington Spa (22 Feb) and Manchester (23 Feb).
Continually encouraging people to stay young and carefree and fully give themselves over to the theme of the party, this next season of events promises even more attention to detail and tighter concepts than ever before, with more surprises that place clubbers in the middle of another world entirely.
Get priority access when tickets go on sale by signing up for pre-release tickets at www.theforeverland.com, and then receive an email notification with further information.
This will be Foreverland's biggest and most spectacular season yet, so keep eyes peeled for further details of clubs and line-ups in the coming weeks.
TICKETS
To purchase and sign up for pre-release tickets, visit www.theforeverland.com
LINKS
www.theforeverland.com
www.facebook.com/theforeverland
www.twitter.com/theforeverland
www.instagram.com/theforeverland
www.snapchat.com/add/theforeverland