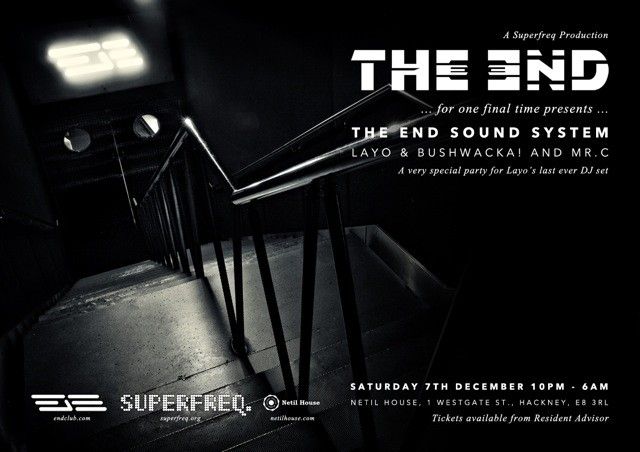 The End Presents Superfreq – The End Sound System ft Layo, Bushwacka & Mr.C
As well as being one of the jewels in electronic music's crown as a label, Superfreq is also known for throwing seriously good parties. The next such special event on 7th December is presented by London's legendary nightclub The End and is an extremely mouth-watering prospect due to the fact that it is to be headlined by The End Sound System, aka Layo&Bushwacka! and Mr.C.
The End Sound System were regularly touring in the late 90's all over the world and saw the three enduring house talents work tirelessly and dexterously on 4 turntables, FX and a mic. It was such a loved group that they even did a double CD for XL recordings and this 2013 reincarnation will see these three elder statesmen go at it, tag teaming all night long from start to finish. This time though, they will be using even more noise making machines and sound mangling gadgets, but the end result will be the same – an enthralling and infectious wall of cutting edge & fun electronic sound.
This will be the first time that the hallowed trio will have played together since the infamous closing of The End. Of course individually everyone has done their own successful thing (Layo&Bushwacka! with Shake It and Olmeto, Mr C with
Superfreq) but still there is a huge demand for the three to come together and perform for one final show.
The venue is a carefully chosen 800 capacity warehouse space in Hackney that will perfectly suit the raw vibes of the night. What is more, this will be THE LAST EVER Layo&Bushwacka! performance as Layo is officially retiring from spinning & Bushwacka will continue to perform and record as Just Be from then on & all of this on what would be The End's anniversary weekend.
A milestone event in so many more ways than one, this is the perfect way to kick off your festive season at a reunion that simply, cannot not be missed.