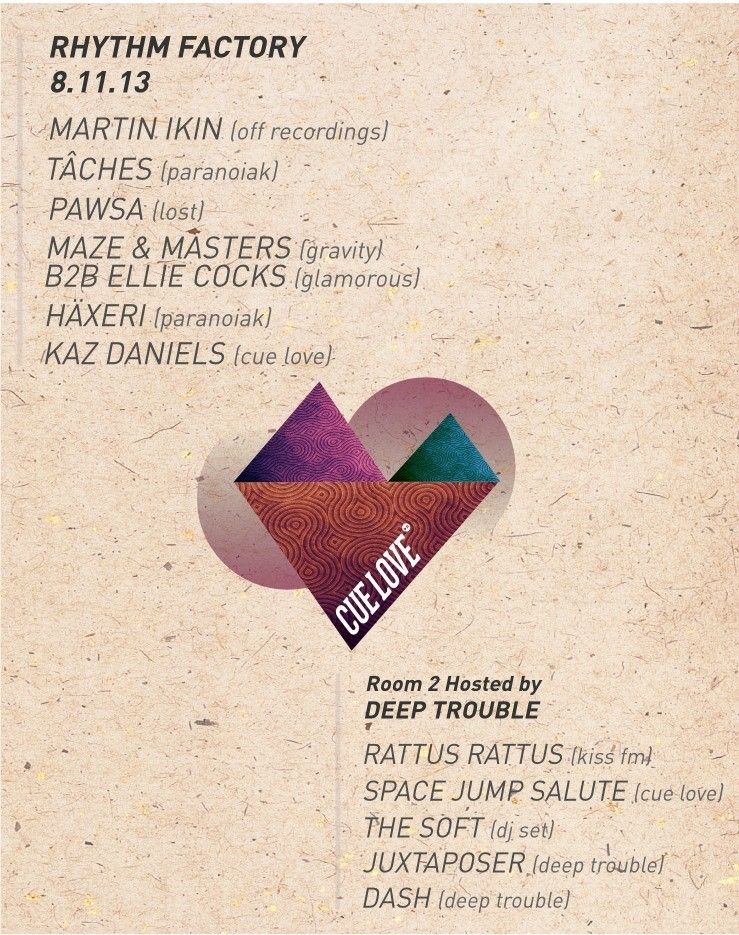 Cue Love with Martin Ikin, Tâches and Rattus Rattus
Cue Love is a series of events that truly have a finger on the pulse of London's vibrant underground electronic culture. Avoiding flashy headliners, the focus is firmly on the music. With encyclopaedic knowledge and impeccable taste, their mission is to showcase the most exciting established and emerging artists with exceptional talent.
After recently obliterating room two at London's infamous Fire nightclub, they will be keeping the love going with a return to their spiritual home at East London's Rhythm Factory on November 8th for a night of dancefloor pounding, deep and twisted sounds.
Heading the bill is Soul Purpose head honcho Martin Ikin who's tidy productions have seen releases on prestigious labels such as Exploited, Defected, Off Recordings and Nervous Records. Fusing tight percussion, infectious loops and carefully placed vocals, music truly runs through this mans veins.
Joining Ikin is London bread, Mallorcan raised producer Tâches (pronounced 'tash') who's refined style blends bumping garage basslines with funky cut-up vocals that make bodies move. With refreshing versatility, this enthusiastic young producer intrigues with inventive original productions as well as unexpected collaborations including Erroll Garner, Marvin Gaye, Mount Kimbie and Deadboy.
After smashing sets for Cue Love at their Carnival party, Fire takeover and his recent Lovecast, analogue alchemist PAWSA returns for another helping of dancefloor mayhem. His immersive sets are inspired by late nights and early mornings spent at clubbing landmarks in Berlin, London and Ibiza. With his debut EP 'Pilot' about to drop on Lost Records, PAWSA is looking set for big things to come.
Offering hefty support is feisty duo Maze & Masters. Fusing whatever the hell they want into a deep-dirty-garage-tech goodness of booty banging shoulder shimmies, they have shaken the soles of dance floors worldwide. Ellie C burst on to the scene in late 2012 when she got her first break at Glamorous After Party in London, making such a storm that she was quickly offered a residency. Her uplifting hypnotic sets and energy behind the decks have already garnered a dedicated following amongst the underground music faithful. Completing the line-up is Häxeri, the alias of Swedish producer and DJ Max Mansson. Having already enjoyed a successful career with indie pop band Air Castles, he was inspired by the sounds of house, electronica and disco to turn his hand to electronic music, crafting driving dancefloor journeys with exquisite attention to detail. Cue Love resident Kaz will be getting the party started with a choice selection of deep house and nu disco, with an occasional nod to his old school garage roots. His new track 'Native' has been causing quite a stir amongst underground connoisseurs.
Close friends DEEP TROUBLE will host room 2, headlined by Rattus Rattus who's seamless mixing, boundless energy and connection with the crowd have earned him a regular slot on Kiss FM. Vinyl purist The Soft will be digging deep into his record box for an experimental set of house, techno, 2-step and electronica while Space Jump Salute will be treating revellers to his own upbeat, original productions. Respected DEEP TOUBLE residents JuxterPoser and Dash will be kicking things off in fitting style.
Offering the highest quality music and excellent party vibes, the only thing needed for Cue Love is good pair of comfy shoes – It's going to be a big one!