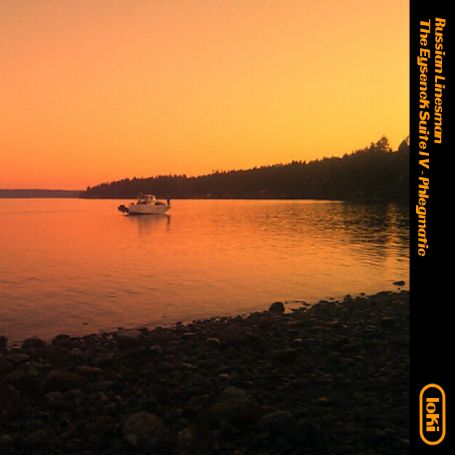 Russian Linesman - The Eysenck Suite IV
"This is the 4th and final part of the 'Eysenck Suite' series. The element of water is abundant in this detached and hazy EP. As contentment and calm take centre stage this is a perfect place to rest, before we head back into the inevitable Melancholy as the circle is joined. Shaking hands with this music is like shaking hands with a fish. " – Russian Linesman
'The Eysenck Suite IV – Phlegmatic' is the fourth in a series of four EPs that explore the psychology of Hans Eysenck's four temperamental categories and the emotions they encompass, a project that the British Psychological Society has already endorsed in their excellent review of the 'Suite I' release here: http://thepsychologist.bps.org.uk/finding-melancholic-balance.
A journalist recently described the Russian Linesman as a "modern day composer", and that's a phrase that fits well with his creative ethos. Fresh from his recent 'An Evening With…' guest slot on Nemone's excellently eclectic 'Electric Ladyland' radio show on BBC 6Music, the Linesman's distinctive brand of electronica flows seamlessly between the horizontal and the vertical throughout 'Suite IV', conjuring up imaginary widescreen movie soundtracks; spaced-out shoegazing electronic bliss; experimental groovetronica; and dubbed out slo-mo symphonies – all possessing an exceptional hypnotic beauty. Through these seven tracks, he explores the passive, thoughtful and peaceful defining aspects of Hans Eysenck's Phlegmaticpersonalities, via his uniquely distinctive musical interpretations, creating a series of remarkable final pieces to complete this experimental aural jigsaw puzzle.
"Sonically and musically, I finally feel I have conclusively recreated what I have been feeling in my head all this time." – Russian Linesman
Whilst this EP is the finale for this four-part project that has spanned 2017, it will not be long until January 2018 sees a new series commence, featuring remix interpretations of some of the 'Eysenck Suites I-IV' finest moments. Artists already commissioned for this new project are Maps, Simon Mills, Jesse Somfay, We Are All Astronauts, Roman Fahls, Lanny May, Aiden, Matthys, Anders, Betamax Warriors, Mig Dfoe, Xspance, my.head – plus a few other surprises to come. So that's definitely something to look forward to in the New Year!
The Russian Linesman has become a somewhat cult figure over the past eleven years, crossing paths with other mavericks such as James Holden, Nathan Fake, Ryan Davis, Applescal and Laurent Garnier, along the way. His latest series of EPs has already seen the enigmatic artist receive support and plaudits from a disparate collection of respected DJs and Producers, including 'Mercury Prize' nominated Maps (Mute), Simon Mills (of Bent fame), Max Cooper, Steve Miller (Afterlife), Nick Warren (on his 'Sound Garden' radio show), C-Jay (Bedrock), Samy Birnbach (DJ Morpheus), and Quivver (on John Digweed's 'Transitions' radio show). The Russian Linesman also now hosts a monthly radio show on Bloop London (http://blooplondon.com/shows/russian-linesman/), playing a multifarious mix of his favourite music from the past, present and future.
A musical diarist, who deeply values his chosen form of expression as art inspired by his physical and emotional travels through life, the Russian Linesman has released numerous singles, EPs and two studio albums. For the uninitiated to gain an insight into the workings of the Russian Linesman's mind, his last album ('Nostalgia Story' 2013) was a sprawling thirty-seven-song flood of inspiration that was recorded live in one take, whereas 'The Eysenck Suite I-IV' is the result of four solid years of dedicated writing and numerous re-records.
Although he use's James Holden's favourite software – Jeskola Buzz – the Russian Linesman writes all his music on acoustic guitar and piano, harking back to a past spent touring as an acoustic singer/songwriter playing folk music. This principle has evolved into recording with vocals as well, before everything is heavily edited and drowned in electronic sounds – an audio diary, comprising analogue sounds fully enclosed in a digital sarcophagus. A recent interview with Magazine Sixty gives even more insight into his creative methods: http://www.magazinesixty.com/russian-linesman-qa/
The series of four EPs are released at bi-monthly intervals:
The Eysenck Suite I Melancholic (loki010) – 27 March 2017
The Eysenck Suite II Choleric (loki011) – 29 May 2017
The Eysenck Suite III Sanguine (loki012) – 7 August 2017
The Eysenck Suite IV Phlegmatic (loki013) – 30 October 2017
Interviews:
http://www.theransomnote.com/music/track-by-track/track-by-track-russian…
http://www.magazinesixty.com/russian-linesman-qa/
http://www.dmcworld.net/uncategorized/russian-linesman
http://www.dmcworld.net/back-to-mine/back-mine-russian-linesman/
More Info:
www.twitter.com/russianlinesman
www.soundcloud.com/russianlinesman
www.soundcloud.com/lokirecordings
www.facebook.com/Russian-Linesman-42077279998/
www.residentadvisor.net/dj/russianlinesman
www.beatport.com/label/loki-recordings/15992
www.discogs.com/artist/447757-Russian-Linesman
https://play.spotify.com/artist/3sIH8lHWLGHJMenpRCSmMv