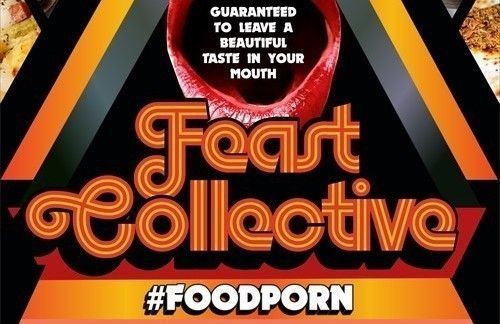 The Feast Collective comes to Bestival
Since Bestival first began a decade ago it's been our mission to ensure that all the grub we have on offer is utterly delicious, top notch fare imbued with edible excitement. So, for Bestival 2014 we are delighted to announce The Feast Collective, our brand new food lovers' haven bursting with unforgettably sexy flavours. Destined to inflame your food affections, The Feast Collective brings together a truly mouth-watering array of provocative food producers, steamy street food wizards and intoxicating cooks in one exquisitely appetizing tent, replete with banqueting tables, music and, of course, the most seductive festival food you're ever likely to taste.
Bestival's inaugural Feast Collective line-up features a host of carefully hand-picked culinary artists who will shamelessly tease your taste buds and arouse your hunger, including the moist delights of the Cake Shop Bakery, unique Indian street food flavours from Rola Wala, BBQ ecstasy from Smokestak, New York inspired wieners from Big Apple Hot Dogs, a taste of sunny Folkestone harbour thanks to crustacean champions Crabbieshack, exotic patty piquancy from Bhangra Burgers, vegetarian and vegan joys from Wholefood Heaven, the essence of Asian street food via Dorset thanks to Dorshi and African taste explosions courtesy of Zoe's Ghana Kitchen.
We'll also have none-more fashionable Raclette cheese action from Le Rac Shack, a fusion of Caribbean and Middle Eastern cuisine from Biblos, supernatural tastiness from Psychic Burger, hog genius from The Cauldron, melt in the mouth meatballs from Great Balls of Fire Bros, traditional butchers fare from Thoroughly Wild Meat Company, sausage roll sensations from Little Jack Horner, sushi from Happy Maki, freshly made juices and smoothies from the Elephant Juice Bar, and lovingly hand-made gourmet pies from Tom's Pies.
Making a triumphantly toothsome return to Bestival this year, The Surplus Supper Club, (the catering and events arm of the charity FareShare South West) will be serving delicious Sunday roasts – everyday at Bestival! All about taste and not waste, it's sure to be a four-day roadblock, so make sure you book to guarantee yourself the restorative powers of a decadently delicious roast dinner.
Once you've satisfied your feasting desires you'll no doubt want to indulge in some tasty liquid refreshment and that's where you'd be in luck, as we have a multitude of watering holes to quench your thirst. Brand new for 2014 is Josie da Bank's Jam Jar Bar, featuring a generous selection of nature-inspired potions, with a decadent champagne garden to boot. Right next door is the trusty Pink Flamingo Cocktail Bar, which, as its name suggests, supplies cocktails galore. There are also drinkies to be had at bric-a-brac strewn Caravanserai and a brand new Rum Shack situated near the Reggae Roots stage!
Guaranteed to ignite uncontrollable food lust and send your appetite into overdrive, make sure you dine in style in our festival paradise at The Feast Collective and the Surplus Supper Club.
We're still not finished with all this announcing stuff yet: Devilishly Informative Stuff, Chattels & Opportunities:- www.Bestival.net / Facebook / Twitter / Tumblr / Instagram

BESTIVAL TICKET LINKS & INFORMATION:
www.ticketline.co.uk/bestival-tickets / 0844 888 4410

Adult Ticket with entry from Thursday 4th September – £195
Student Ticket with entry from Thursday 4th September – £180
(For full-time students only. Valid NUS or ISIC ID required at the box office. No other student ID accepted)
Teen (age 13-17) Ticket with entry from Thursday 4th September – £127
Child (age 12 & under) Ticket – Free (but you must obtain a ticket)
Caravan Tickets: £101 (per vehicle)
Campervan Tickets: £90 (per vehicle)
Advance Car Parking – £15

All Tickets:
– will incur a booking fee.
– there are no Day Tickets.
– incur a £1 donation to the Isle Of Wight Youth Trust*.

THE ISLE OF WIGHT YOUTH TRUST CHARITY DONATION
*This year we are adding on a £1 charity donation onto all Bestival tickets. The money raised will go directly to the Isle Of Wight Youth Trust (Reg Charity no. 1087163) to help fund their fantastic work offering counselling and support to young people aged 25 and under on the Isle of Wight. The Bestival Foundation is also a proud supporter of the Youth Trust.

Travel: Book Now For Best Early Prices
Wightlink – www.wightlink.co.uk/bestival / 0871 376 1000
Red Funnel – www.redfunnel.co.uk/bestival / 0844 844 9988
Hovertravel – www.hovertravel.co.uk/bestival2014 / 01983 811000
Big Green Coach – www.biggreencoach.co.uk/bestival

www.bestival.net / facebook.com/bestivalfestival / Twitter: @bestival