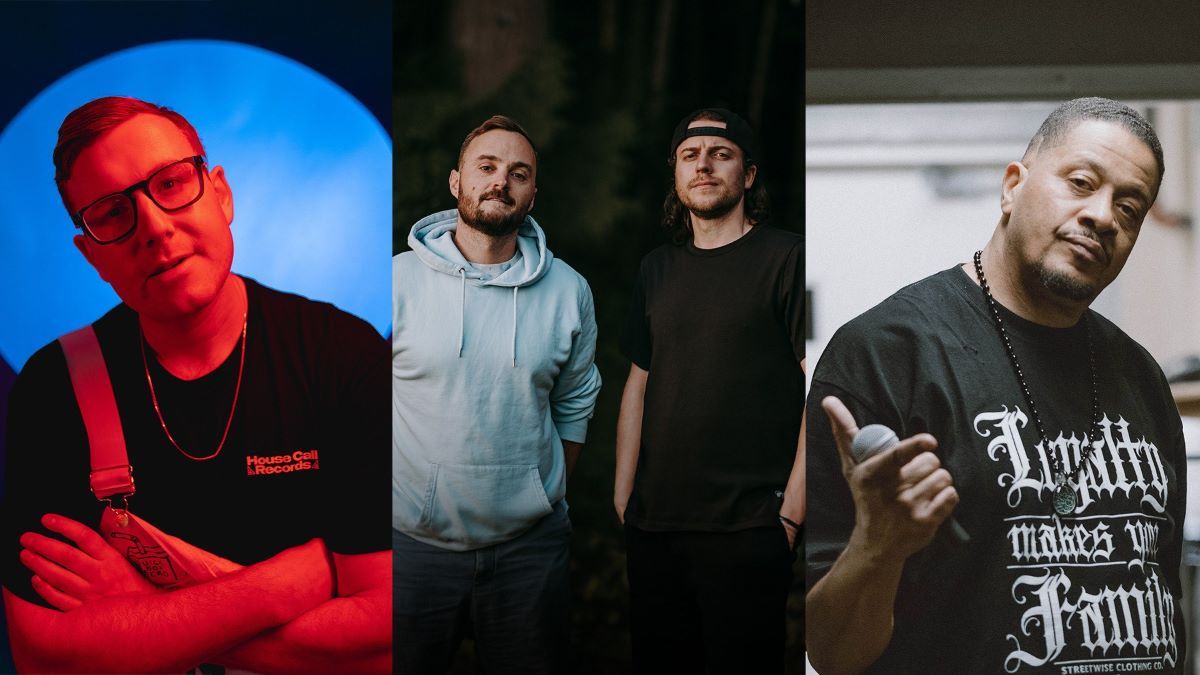 The Funk Hunters Teams Up With Dr. Fresch and Chali 2na For "All Of A Sudden"
Super producer duo – The Funk Hunters and forward-thinking LA-based producer Dr. Fresch team up with legendary Chicago's rapper Chali 2na for their new single "All Of A Sudden," a unique blend of mid-tempo bass and rap music, following both artists' Summer releases – The Funk Hunters' "Freak" with Defunk and Dr. Fresch's "Certified." Opening with Chali 2na's rhythmic vocals, "All Of A Sudden" wastes no time turning up the heat with deep basslines and menacing, synth-driven melodies. Its grimy breakdown and combination of urban and bass styles make for a hard-hitting, festival and club-friendly anthem that's sure to be a crowd-pleaser. Read on for what all of the artists had to say about this exciting new release.
"We've been playing and making mid-tempo bass music before it even had a name, so to come across Dr. Fresch's music years ago and discover he also loves mid-tempo… Well, it was love at first listen, ha! So, for our first official collab together, we just knew it needed to be a mid-tempo tune. As soon we had the beat done, there was really no other choice for vocals. We sent it straight to Chali 2na, and the rest is history. He delivered in a big way! It's really such a cool blend of all 3 of our styles, funky fresch and bangin'" – The Funk Hunters
"..and 'All Of A Sudden' – we're dropping the biggest mid-tempo banger of 2023! I've been a fan of The Funk Hunters and Chali 2na for years; this song is a major moment for me. It's been a pleasure to get to know Nick and Dunks from touring the US and Canada over the course of the last several years- it was only time before we convened to create a funky fresch concoction. This collab was so fun and exciting to make. It's the perfect blend of all our styles, and maybe most importantly, it feels like a genuine soundtrack to the live festival atmospheres we thrive in. It's been a ride playing and working on this record for the last year. I'm so proud that we can finally unleash the beast." – Dr. Fresch
"I'm always excited to work with Nick Middleton and Duncan Smith from the notorious The Funk Hunters, but to add the legendary Dr. Fresch to my résumé was an honor and a pleasure! Especially with such an aggressively fire song like 'All Of A Sudden.' Thank you, fellas!" – Chali 2na
The Funk Hunters
As longtime friends, collaborators, and multi-dimensional artists – The Funk Hunters, Nick Middleton's and Duncan Smith's chemistry is perfectly aligned. Middleton steers the band's studio efforts, having produced, co-written, and mixed their debut album, "Typecast." And Smith anchors the project's live show with an indefatigable charisma that complements Middleton's thoughtful production. Together they combine their powers as DJs, resulting in a brilliant technical display of creative collaboration between 4 turntables. Their vision has resonated with both listeners and industry tastemakers alike, with their music amassing over 30M track streams across their catalog of original productions, remixes and collaborations. Winners of the Electronic/Dance Artist of the Year at the Western Canadian Music Awards, The Funk Hunters also reached #1 on the Billboard Dance Club Chart last year, with an official remix of U2's "Love Is Bigger." Their catalog also includes other official remixes for Big Gigantic, Gramatik, Selena Gomez, and Imagine Dragons. In addition to studio work, The Funk Hunters enjoy a vibrant global touring career with major festival plays at Coachella, Life Is Beautiful, Lightning in a Bottle, Electric Forest, Osheaga, Outside Lands, Burning Man, and Shambhala.
Dr. Fresch
In 2013, after winning Insomniac's Discovery Project Contest, Tony Fresch launched the Dr. Fresch project. His debut self-titled EP and innovative hip-hop/rap remixes quickly exploded in the blogosphere. Shortly thereafter, Dr. Fresch was subsequently featured at #9 on Billboard's "Next Big Sound" Chart. Dr. Fresch's music weaves together elements of house, hip-hop, and mid-tempo to create a unique, forward-thinking sound. Over the summer of 2015, Dr. Fresch launched his semi-monthly mix series "House Call," which has since garnered tens of millions of plays on Mondays on Sirius XM. Dr. Fresch's 2016 collaboration with Baby Eazy-E (Eazy-E's son) – "Gangsta Gangsta," went viral online and climbed the UK Club charts, setting the tone for his future releases. Dr. Fresch has since released records on the likes of OWSLA, Insomniac Records, Atlantic, Ministry Of Sound and plays a prominent role on the festival circuit with plays at the likes of EDC Las Vegas, Lollapalooza, Shambhala, Electric Forest, CRSSD, Electric Zoo, Splash House, Osheaga, and many more.
Chali 2na
With his unmistakable baritone voice and 6-and-a-half foot charm, Chali 2na has established himself as one of hip-hop's preeminent and most charismatic personalities. He's also garnered renowned praise as a visual artist across a wide spectrum of canvases. Most known for co-founding music groups Jurassic 5 and Ozomatli, Chali released his debut solo album "Fish Outta Water" in 2009. Since then, he has toured the world 10 times over with his 3-piece band known as the House Of Vibe. Breathing new life into his musical upbringing, in 2013 he embarked on a career-defining mission called "Against The Current," a music + art project that combines a 5-part series of genre-bending EPs with a coffee table book featuring original artwork and photography from Chali himself. His reputation as a hip-hop legend continues to build momentum with his artwork, voice-over work, and an increasing variety of performance collaborations.