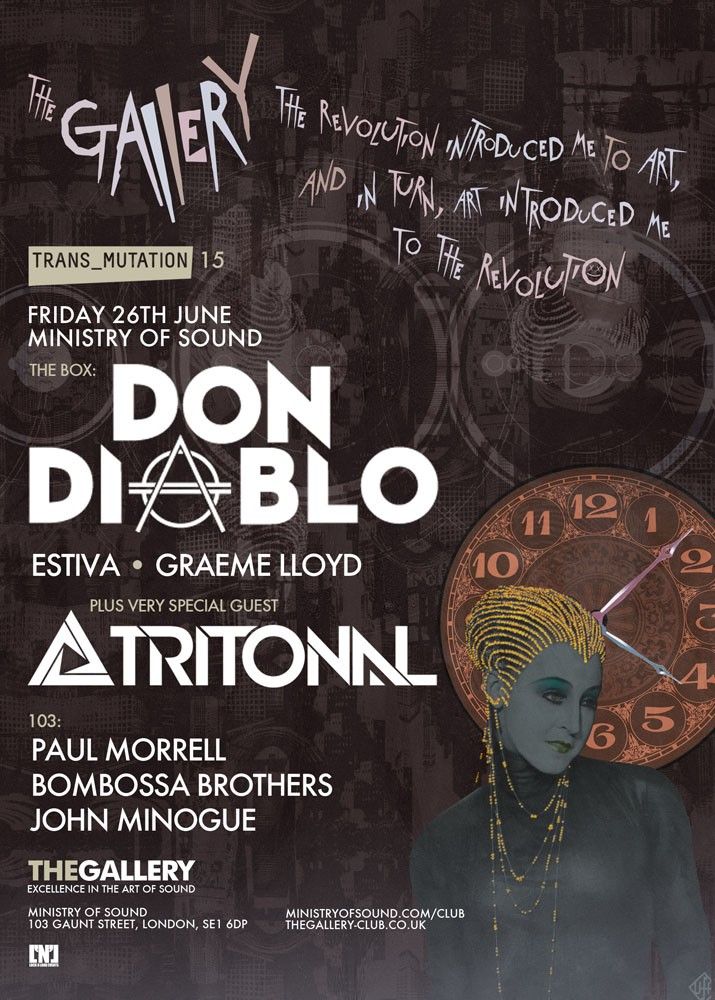 THE GALLERY PRESENTS DON DIABLO
Don Diablo and Tritonal will both be making long-awaited appearances at The Gallery at Ministry of Sound on Friday 26th June.
The Gallery welcomes 'The Don', in this case of Don Diablo, the godfather of modern electronic music who makes an eagerly anticipated Friday night debut. Expect to hear his own esteemed productions that span all genres – hence giving Diablo's deck sessions their famed eclectic nature. Plus not forgetting a remix discography which includes amongst others Laidback Luke, Cassius, The Chemical Brothers, Nervo and R3hab as collaborators – endorsement itself of the stature which the Dutchman commands amongst industry peers and fans alike.

Then it's time for all 'Tritonians' of London to rejoice, as Tritonal's Chad and Dave return to Ministry from Austin, Texas, after a two-year hiatus. Having made their inaugural Gallery performance in 2011, an inimitable vibrant sound plus unique level of crowd interaction – led to arguably the most impassioned debut to ever grace The Box at The Gallery!

Subsequent shows further strengthened this affinity with The Gallery faithful, culminating in 2013 with an Enhanced label showcase to mark Ministry of Sound's 22nd Birthday, plus a Thames boat party on the same night, which is still talked about by those fortunate enough to attend. Hence a legendary double header which not only affirmed Tritonal's love for London, but an ethos adept at rocking both intimate spaces and the world's most prestigious main room.
The Gallery presents Don Diablo
Box:
Don Diablo
Tritonal
Estiva
103:
Paul Morrell
Bombossa Brothers
Pure Paul