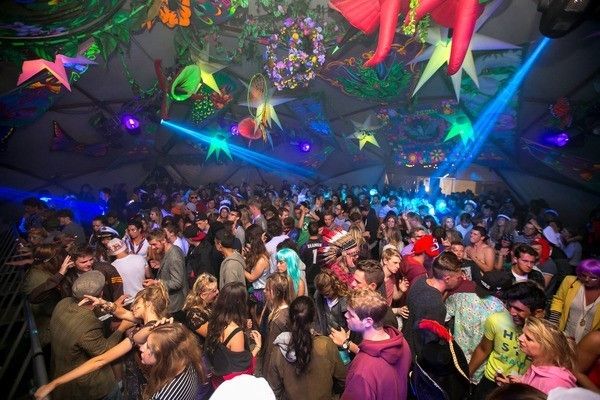 The Return of Bestival's Temple Island
One of the biggest hits of last year was the Temple Island arena, so we're delighted to announce that it's back once again for a Desert Island Disco rinse, settled in a brand new area and this time powered by SBTV. A Bacchanalian vision in a hedonists' paradise, Temple Island is all about having the party. All weekend long!
Temple Island curator, and director of The Physical Network, Liam Negus-Fancey says "We're really excited to be back at Bestival with Temple Island after its phenomenal debut last year. The acts reflect our audience, they go above and beyond what others expect, constantly evolving to produce the best environment possible. We're teaming up with the Bestival creative crew to build a brand new venue to host this exciting pool of fresh, boundary pushing talent to ensure you're partying late into the night!"
Temple Island host and SBTV founder Jamal Edwards says: "I'm a massive fan of Bestival, it was one of the very first festivals I went to, and the experience was unreal. So partnering up with them this year is an honour for me. I'm a big supporter of the electronic dance scene, so I'm really happy that Bestival has given me an opportunity to put on an area that has got such great names like Kidnap Kid, T Williams, Preditah & many more".
Out of the traps and ready to spank the dancefloor from the word go, Temple Island goes big from the off with a Thursday night line-up that includes Austrian chart-botherers Klangkarussell, epic house purveyor Kidnap Kid, bass heavy Bristolian Woz, Bestival's top castaway Rob da Bank going up against Robin Hill regular Tayo for a touch of Purple Rave and the Monkeylove Stunt Team.
Friday's dancefloor indulgences include jacking action from T Williams, monstrous manoeuvres from Shadow Child, gigantic grimey garage finesse from Preditah, cut-up vocal comforts from Lxury, divine duo Maribou State going b2b with audio-chiseller Pedestrian, triple trouble on the double from Spoils And Monkey Wrench and siblings on a mission Star One.
Saturday's look goes for chart-toppers Sigma dropping the big hitters, garage vibes from Shift K3Y, heavyweight attitude from Ed Solo, genre-mashing deeds from My Nu Leng, rave behaviour from Friend Within, London Grammar's Dot Major, predestined vibrations from Karma and a live set from sultry soul chanteuse Purple Ferdinand.
And, bringing Temple Island's second Bestival outing to a triumphant close will be Sunday servings from the Eton Messy crew who are back for another takeover, with their top boys' own Blonde, fast rising Lancashire duo Bondax, Leeds twosome Wayward, Electric Minds' skipper Dolan Bergin and Southern Fried's own Kashii.