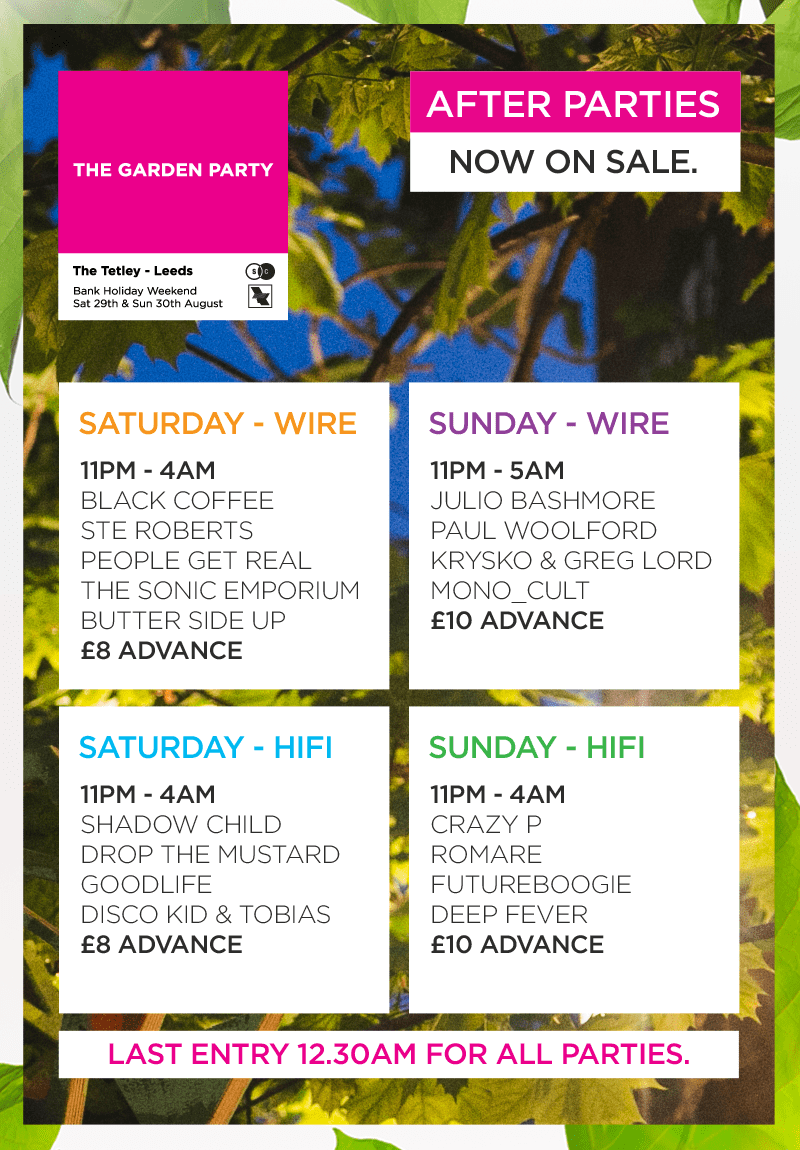 The Garden Party 2015: After Parties and Stage Breakdowns announced
The Garden Party have announced details of their official after party series taking place on Saturday 29th and Sunday 30th August 2015. With an already impressive bill that's set to welcome headliners Roisin Murphy, Little Dragon, Soul II Soul and newly added Talib Kweli, the festival's after party series will feature an array of talent from the festival programme including Black Coffee, Shadow Child, Julio Bashmore, Crazy P and many, many more.

With two after parties scheduled per night that will take place at the Wire and HiFi respectively, each event will run from when the festival closes at 11pm and run until 4am – offering over 30 hours of non-stop dancefloor action throughout the weekend. Saturday 29th August will see multi-award winning South African DJ and producer Black Coffee headline the Wire – joined by Leeds local Ste Roberts and fellow Northerners People Get Real – whilst the versatile talent of Shadow Child will take play at HiFi alongside extended members of The Garden Party family, Drop The Mustard.

Following the release of his debut album Knockin' Boots, inspired producer Julio Bashmore will kick off Sunday's after party schedule, and will be supported by Leeds native Paul Woolford and long standing Warehouse Project resident's Krysko and Greg Lord. Rounding off Sunday's proceedings are Crazy P who headline the HiFi, offering an eclectic evening of music that'll also feature the forward-thinking stylings of Romare and Futureboogie.
As The Garden Party's focus lies within fusing music, art and street food, the well loved event will also welcome the Young British Foodie honorary award nominated collective, Leeds Indie Food with an array of tempting choices at the festival. Celebrating the best independent food and drink Leeds has to offer – from street food to fine dining – the Leeds Indie Food will offer a very special line-up of Northern street food pioneers including Fish&, Northern Bloc, Rola Wola and Bozzy Q BBQ.
With after party tickets for The Garden Party now on sale, and festival tickets now on 3rd release, its 10th anniversary looks set to be a truly unforgettable milestone.
After Party Event info:

The Garden Party

Date: Saturday 29th & Sunday 30th August 2015
Location: HiFi & Wire, Leeds
Ticketing info: www.thegardenpartyleeds.com

After Party Line-Ups:

Saturday – Wire
11pm – 4am
Black Coffee
Ste Roberts
People Get Real
The Sonic Emporium
Butter Side Up

Saturday – HiFi
11pm – 4am
Shadow Child
Drop The Mustard
Goodlife
Archive
Disco Kid & Tobias

Sunday – Wire
11pm – 5am
Julio Bashmore
Paul Woolford
Krysko & Greg Lord
mono_cult

Sunday – HiFi
11pm – 4am
Crazy P
Romare
Futureboogie
Deep Fever
Festival Line-Up:
SATURDAY
The Dummy Stage: ROISIN MURPHY / SOUL II SOUL / MR SCRUFF / FATIME & THE EGLO BAND / ADY SUILEMAN / THE SONIC EMPORIUM
The FACT Stage: BLACK COFFEE / JOY ORBISON / AME / HEIDI / PBR STREETGANG / PEOPLE GET REAL
Metropolis & APE: B TRAITS / SHADOW CHILD / REDLIGHT / CHRIS LORENZO / PREDITAH / ARKIVE / DISKO KID & TOBIAS
The Skinny Stage: ERRORS / DUTCH UNCLES / HAELOS / STEALING SHEEP / BAMBOOMAN / WHILK & MISKY / NOW WAVE DJS / EYOE DJS
SUNDAY
The Crack Stage: LITTLE DRAGON / TALIB KWELI / TODD TERJE / JULIO BASHMORE / ROMARE / GRAINGER
The FACT Stage: KERRI CHANDLER / BICEP / PATRICK TOPPING / PAUL WOOLFORD / KRYSKO & GREG LORD / MONO CULT
Just a Little: Big Top Takeover: GRANDMASTER FLASH / CRAIG CHARLES / CRAZY P SOUNDSYSTEM / FUTURE BOOGIE / OLI PATTEN

Tickets available here www.thegardenpartyleeds.com
Opening times: 11AM – 11PM
www.facebook.com/gardenpartyleeds
www.twitter.com/The_GardenParty