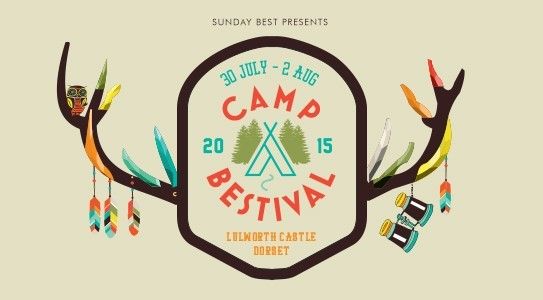 The Guardian Literary Institute at Camp Bestival
A haven for parents (and inquisitive types) in search of an edifying hour or two away from Camp Bestival's more extreme wild times, this year the Guardian Literary Institute features a program as diverse and entertaining as ever. With appearances from Bill Oddie, Suzanne Moore, Sara Cox, Kate Tempest, John Harris, and many, many others, we have a cornucopia of fascinating, intriguing and downright brilliant 'How To…' sessions, talks, spoken word, quizzes and the perennially popular bedtime stories, all helping to keep those neurons firing among the festi-holiday frolics.
Our learned leader Rob da Bank says: "Apart from all the lovely music we've got going on at Camp Bestival, our arts programme is a huge part of the festival, and not least, the Guardian Literary Institute, which this year has a line-up that I'm really proud of. We've got a certified national treasure in Bill Oddie, bedtime fun with Sara Cox and Dick n Dom, the fantastic Suzanne Moore, the Satin Lizard Lounge line-up, including our big favourite Kate Tempest, plus talks and quizzes galore. It's not all stuffy and intellectual, there's loads of ace stuff in there, and tons of fun to be had, so, do yourself a favour and give your brains a little run out during the weekend!"

Year after year, the Guardian Literary Institute's most popular affairs are the truly informative How To… Sessions, shedding light on all manner of mysterious or misunderstood activities. This year Bill Oddie tops the bill with How To Birdwatch, and outspoken Guardian columnist Suzanne Moore will guide us all on How To Be a Feminist. We'll also have How To sessions on Being an Underwater Explorer with Andy Torbet, Helping Yourself with Dr Radha, Eating Outside with Genevieve Taylor, Breathing with Michael Townsend Williams, Being a sports writer with Ian Prior and Helping Your Children Enjoy Reading with Julia Eccleshare.
Bedtime Stories are always a massive hit at Camp Bestival, and this year looks to be no exception with The Jungle Book Bedtime Story read by Sara Cox and Dick n Dom providing an aural nightcap before the sandman takes hold of the little ones. This will undoubtedly be a huge draw, so get there early to avoid disappointment!
A treasure trove of amazing facts and fun, useful information and surprising details, we'll have a host of illuminating talks, too. From The 27 Club with Chris Salewicz who will be interviewed by the Guardian's John Harris, through Tourettes Hero, the return of the Scummy Mummies Show, Before They Were Famous, Adventure is Out There and Scummy Mummies Agony Hour with Nurse Jessie, to the simple business of Virtual and Augmented Reality with the Guardian's games editor Keith Stuart, and sessions covering What's Really Going On?, What Really Matters?, Probably Nothing with Matilda Tristram, Take a Bite on the Wild Side and The Parenting Illusion – How Doing Less Does More, there's a huge amount of knowledge to get your teeth stuck into. Plus, each morning we'll have the none-more refined Wake up with the Guardian sessions with John Harris, John Halpern and Ian Prior.
We're delighted to announce the return of Scroobius Pip Presents the Satin Lizard Lounge at Camp Bestival for 2015. Although he won't be gracing us with his illustrious presence this year, he has curated a scorching line-up of tip-top orators for your pleasure, including artist of the moment Kate Tempest and Hollie McNish, Rob Auton, Jodi Ann Bickley, Mark Grist, Chris Redmond, Tim Clare, John Berkavitch, Raymond Anthrobus, Mr Gee, Tommy Sissons, and Jack Dean. And keeping on a lyrical tip, we will also have the Roundhouse Poets, a group of 12 up-and-coming artists aged between 16 & 25, who are destined to be stars of the future.
You'll also be able to stretch the old grey matter with quizzes, including Let's crack today's Guardian crossword with the fiend who set it and The Exploding Plastic Inevitable Pop Quiz with John Harris, plus there will be Guardian Literary Institute hosts David Wright & Jack Rooke, and we'll have Book Signings at the Pelican Post, too.
Boasting a weekend full of didactic delights, don't miss out on some truly engrossing times at the Guardian Literary Institute this July 30 – Aug 2 at Lulworth Castle, Dorset.
CAMP BESTIVAL 2015 WEEKEND TICKET PRICES:
Adult Weekend Ticket (inc. camping from Thurs or Fri) – £195*
Student Weekend Ticket (inc. camping from Thurs or Fri) – £180*
Age 15 to 17 Weekend Ticket (inc. camping from Thurs or Fri) – £113*
Age 11 to 14 Weekend Ticket (inc. camping from Thurs or Fri) – £88*
Age 5 to 10 Weekend Ticket (inc. camping from Thurs or Fri) – £20*
Age 4 & Under Weekend Ticket (inc. camping from Thurs or Fri) – FREE (but ticket required)*
*NB: please refer to the Camp Bestival Ticket Terms & Conditions
Car Parking – £15 advance
Campervan Ticket – £72 per vehicle