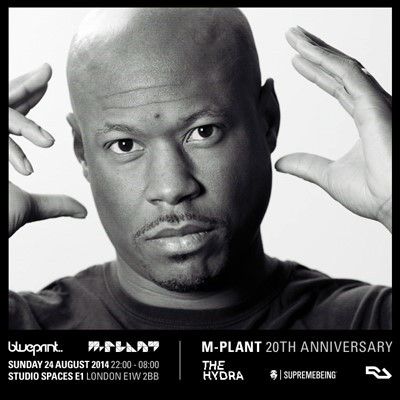 The Hydra 2014 Launch Weekend: Blueprint – M-Plant 20th Anniversary
Robert Hood plays the final night of the Hydra 2014 Launch Weekend trilogy on Sunday 24 August, hosted by seminal techno consortium Blueprint Records.
For this very special collaborative showcase, Robert Hood will be celebrating 20 years of his M-Plant imprint alongside Blueprint (and M-Plant) staples James Ruskin and Mark Broom, with a very bespoke Live / DJ set created especially to commemorate this milestone.
2014 will also see Hood play a series of unique ŒGrey Area¹ DJ sets, delving through his entire artistic repertoire mixing classic, new, unreleased and obscure tracks from the M-Plant catalogue.
Blawan and his Karenn partner Pariah also appear, alongside Luke Slater, Minneapolis¹ DVS1, Berlin¹s Rodhad, Shackleton, Sigha, Tessela and Sunil Sharpe for a stellar line-up resembling a mini Techno-Festival for the capital.
The Hydra 2014 Launch Weekend: Blueprint – M-Plant 20th Anniversary

Robert Hood presents The Grey Area
Blawan
DVS1
James Ruskin
Luke Slater
Mark Broom
Pariah
Rodhad
Shackleton
Sigha
Sunil Sharpe
Tessela