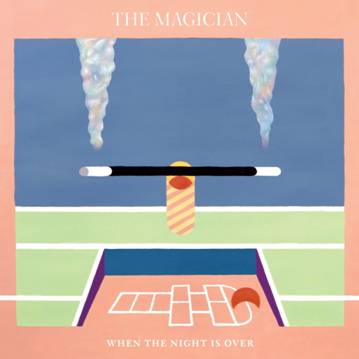 The Magician – When The Night Is Over
The Magician is the alias of talented DJ/Producer, Stephen Fasano. One night not so long ago, he appeared from a place between space and time. Apparently he stepped into this world, materializing in a cloud of crystal stars and soft pink smoke. Some claim he's a former airline pilot who crashed an afterparty – some say it's all just an illusion.

Previously a member of revered Balearic disco duo, Aeroplane, The Magician disembarked that flight and boarded his own magical carpet ride in 2010. He released his debut single 'I Don't Know What To Do' on Kitsuné in 2011, then joined forces with Peter (aka Yuksek) for three further EPs (Twist , Memory and On My Brain). However, most fans will probably know of The Magician for his killer remixes. Especially his remix of Lykke Li's "I Follow Rivers" in 2011 which has had over 36 Million views on Youtube and chart topping placings across Europe.

During this whole time he has also been capturing the imaginations of music fans with his Magic Tapes on Soundcloud. Every month he sifts through new music, exclusives from other artists plus music from fans, and crafts these into a new DJ mix tape. He's done 34 so far! And let us not forget that all this work is backed up back by a busy touring schedule. Everywhere The Magician DJs people come under his spell.
He has more than one trick up his sleeve though. He has already proved his special formula by transforming the musical workings of others. Now he has created his very own brand of spectral sounds. The first of which have been transmogrified into the 'When The Night Is Over' EP. A bewitching selection of three dancefloor tracks which will be released on Parlophone in November. On the EP we have the moody synth teaser 'Deep Volcano'; 'Enchanted Land' with its off-kilter 90's House; and finally the flirtatious party starter and lead track 'When The Night Is Over' featuring Newtimers which is already being supported by key DJs – Busy P, Riva Starr, Todd Edwards, Digitalism, Grum, j Paul Getto, Sound OF Stereo, DJ T, DJ EZ, Rustem, Boody Beetroots Quentin Harris and Alex Metric.

https://soundcloud.com/themagician
https://www.facebook.com/themagicianmusic
http://www.the-magician.be/