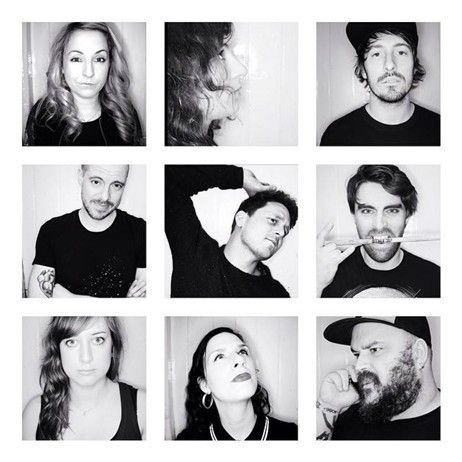 The Meow Meows – Friends on Benefits
Having turned to UK reggae legend Prince Fatty to produce their previous album 'Somehow We Met', Brighton-based nine-piece The Meow Meows have again teamed up with the prestigious producer for their forthcoming EP, 'Friends on Benefits'.

Fatty is well-known as an eminent producer, having worked with artists such as Lily Allen, Graham Coxon of Blur, and Gregory Isaacs. 'Friends on Benefits' will be released via Jump Up! Records – available internationally as a limited edition 7ʺ vinyl and digital download from 13th July.

The EP emerged as part of a commission by Fuel Theatre for their 'Music to Move to' project – which saw ten musical acts team up with choreographers to create works which would inspire the general public to dance. The title track was the band's emphatic response.

Born from the ashes of several bands from the south-coast ska-punk scene, the collective began playing live festivals and shows together in 2005. Their reputation on the circuit has built steadily, and recent years have seen the band appear on bills with reggae starlet Hollie Cook and David Rodigan favourites The Skints, as well as ska legends The Skatalites.

Their reputation as a live entity is clearly highly regarded, and it is easy to see why, even on record. All three tracks on 'Friends on Benefits' are wonderfully danceable cuts, showcasing a style that has clearly been refined through years of moving feet in Brighton basements.

Known for their light-hearted lyrics about drinking and relationships, the group began to address political topics on 'Somehow We Met', a theme that is extended in 'Friends on Benefits' – as ever in their typically tongue-in-cheek style. The vocalists describe their aim as to address all that is 'wonderful and disastrous about the world' and share 'a passion to discuss it in a way that is idiotic and joyful'.

With their humour, catchy horn arrangements, and irresistible beats, The Meow Meows are sure to appeal across the board with 'Friends on Benefits'.