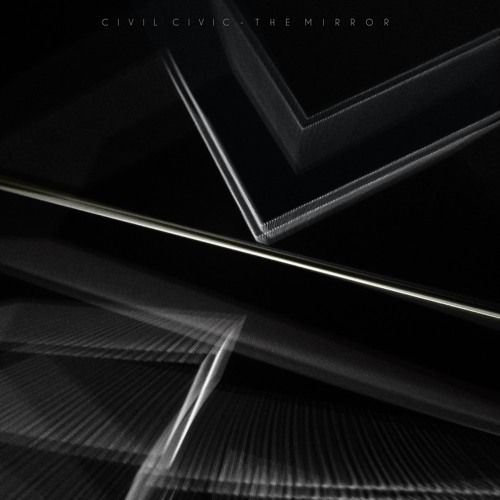 Civil Civic - The Mirror
CIVIL CIVIC immortalise their warped cosmic soundscapes in a truly mind-altering new video for 'THE MIRROR', the second track to be revealed from the duo's long-awaited second album, THE TEST, due October 14 via Gross Domestic Product.

"With this track we attempt to escape the laws of gravity and penetrate the mind of god," guitarist Aaron Cupples reveals. "Not an easy task when you only have a couple of beaten up guitars and an early 90's rave synthesiser. We enlisted Morgan Beringer to realise a euphoric and extraordinary abstracted vision and he really came through with the goods. The final crescendo is as close as you can get to witnessing the cataclysmic alchemy of elements in the heart of a supernova while sat comfortably in front of your computer."

Speaking of how he brought these stratospheric visual ideals to life, Morgan Beringer explains, "The video was created using a wide variety of time-based effects and extensive layering / colouring. The source imagery consisted of several still macro photographs taken in a cemetery park, in addition to further macro shots taken of various stones and minerals in a studio, and footage taken from a selection of public domain feature films and iconic photographs. These were then interpolated across time in many different ways to create the resulting abstract imagery. The desired result is massively obscured imagery that hints at form but remains undefined for the most part. The break in the song leads a crescendo of the above methods as the speed is increased and the texture of the medium is focused upon, as though we are moving through/beyond the medium in question, breaking the mirror, seeing the edges of the film, etc. which leads us to a climax where the image is shattered and reformed, hinting at a process progression, breaking and reforming, proceeding through, transcending."

The next 6 mins 20 are for you alone. HD, full screen, headphones, full volume, go. https://youtu.be/YehkWOl4CDk

The new album, THE TEST is a sound mirror held up to the soul, reflecting back both the beauty and ugliness. It is, guitarist Aaron Cupples explains, "an emotional rollercoaster, with all the teeth-grinding joy and unbridled fear that can be experienced by a self-aware lump of meat flying through space." It is, he elaborates, "a systematic dance inquiry into the epicentre of the human psyche."
Australians in European exile, CIVIL CIVIC's debut album Rules was a cerebral soundtrack to the best party on the planet. Based between London and Barcelona, CIVIL CIVIC are a soundtrack band, but instead of scoring films, it is the human experience for which they are creating music. We could bandy certain genre-tags around at this point – futurist prog, epic math-rock, electro-goth, post-rock, glacier-sized chillwave – but none squarely hit the mark. Let's just note that CIVIL CIVIC's architecture is comprised of serotonin-drenched soundscapes, synth arpeggios, digital crescendos and deep bass troughs. It is post-punk rendered with a classicist's touch; perhaps 'post-everything' might be a better description.
Concocted from the intrinsic production skills of Aaron Cupples, (who has produced, mixed and engineered artists including The Vaccines, Miles Kane, Broken Social Scene, Dominique Young Unique, Blanck Mass, Spiritualized etc.) and Benjamin Green (whose previous musical endeavours have seen tours with the likes of Fugazi, and gigs shared with White Stripes and Queens of the Stone Age) CIVIL CIVIC have spent the last four years honing their special recipe of colourful, genre-defying instrumentals, including raising 176% of their Indiegogo campaign goal to fund THE TEST's creation.
Pre-order THE TEST here https://civilcivic.lnk.to/TheTest via Gross Domestic Product through Believe Digital. CIVIL CIVIC will tour Europe from October through to November, closing with a London show at The Victoria, Dalston on November 26.
October
22 FR Rouen – Le 106
25 BE Brussels – Magasin 4
26 DE Köln – Genau im Gebaude
27 DE Hamburg – Hafenklang
28 DE Berlin – Urban Spree
29 DE Dresden – Ostpol
30 DE Leipzig – Ilses Erika
31 DE Bamberg – Alte Selerei

November
1 DE Esslingen am Neckar – Komma
2 DE Ulm – Kradhalle
3 CH Lucerne – Schüür
4 CH Baden – Royal
5 FR Besançon – Passagers du Zinc
6 CH Lausanne – Le Romandie
9 IT Savona – Raindogs House
10 IT Carpi – Mattatoio
12 IT Roma – Monk w/ Gold Panda
13 IT Piazzola sul Brentra – Shokando Festival
15 FR Lyon – Le Sonic
18 FR Metz – Musiques Volantes
19 FR La Roche sur Yon – Fuzz Yon
22 FR Bordeaux – Iboat
23 FR Paris – Point Ephémère
24 FR Rennes – 1988 Club / Condominium
26 UK London – The Victoria – TICKETS
Track listing & artwork
1. THE ISLAND
2. THE MIRROR
3. THE CRUSH
4. THE HUNT
5. THE LULL
6. THE SHIFT
7. THE SLIDE
8. THE GIFT