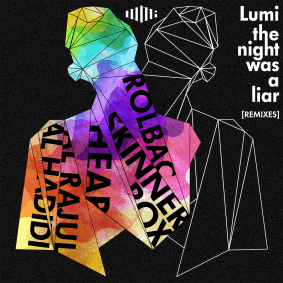 Lumi - The Night Was A Liar
Lumi's fantastic last album The Night Was A Liar gets remixed in real style by the likes of skinnerbox, Al Rajul Al Hadidi, Rolbac and HEAR on the next excellent Fantôme de Nuit release.
Lumi hail from Beirut in Lebanon and are well respected for their krautrock and electro releases. Their album, made in Montreal and released earlier in the year, was a real classic and now gets reinterpreted in fine fashion by this classy selection of names.
First up are skinnerbox, the German duo known for their improvised live music on labels like BPitch Control and Turbo. Their version of 'From A Dream' is an enthralling analogue trip into psyched-out acid and kraut, featuring haunting pads and spooky synths that create a brilliantly unusual vibe.
Caoutchou Recordings' mysterious Al Rajul Al Hadidi is a one-man project who mixes up samples from bygone eras with a sense of ethereal nostalgia. And that defines his intoxicating remix of 'Spring', which is thoughtful and far sighted, featuring mid-tempo drums overlaid with a sea of retro synth and optimistic melodies.
Next up is Lebanon's Rolbac, a key player on his local scene and someone whose four-four sounds are infused with exotic motifs and transfixing synths. He flips 'Raised in Fire' into something fantastically left-of-centre, with bendy synths and elastic bass making you move as twinkling keys rain down from above.
Last but not least, Canadian HEAR is as unpredictable as they come. He has fronted bands with Hakim Murphy, played key festivals like MUTEK and clubs like Watergate, and also runs the Naissance Musik label. His Dirty Jiggling mix of 'Raised in Fire' has lumpy drums and percolating bass that keep you off balance and are run through with suspensory synths. It's an inventively rhythmic affair that brings plenty of freshness to the track.
These are four masterful remixes from the always on point Fantôme de Nuit.
Tracklist:
1. Lumi – From a Dream (skinnerbox Remix)
2. Lumi – Spring (Al Rajul Al Hadidi Remix)
3. Lumi – Raised in Fire (Rolbac Remix)
4. Lumi – Raised in Fire (HEAR Dirty Jigging Mix)