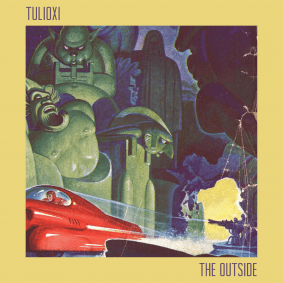 Tulioxi - The Outside
Italian nu disco artist Tulioxi arrives on Night Noise with a fantastic new three tracker that shows he is constantly evolving.
Tulioxi has put out more than 30 releases in his career, each one building on the last and often becoming real hits with those who know. He releases on an array of labels and runs his own Cosmic Sumo Recordings as well as being a developer of the MEFF Modular Synth Exhibition in Florence. As such his hardware sounds are full of texture and feeling as this new EP proves.
These three tracks are the result of a blend of the major influences that have characterised Tulioxi's musical DNA, from the seventies up to the present day. From the streets of New York, its gangs, the dirt and the funk, all these elements are mixed up to great effect.
Opening up the account is the loose and languid space funk of 'The Outside' with its uplifting chords and cosmic colours. Filtered vocals and squelchy bass all add to the excellent overall effect. 'You Are Bad Luck' is another excellent bit of disco with spooky keys and psychedelic synths warping and bending round the mid tempo drums. 'The New Acid Funk' is just that—a funky tune with elastic drum programming and dancing keys, shooting synths and plenty of retro-cosmic vibes that dazzle throughout.
Feinstoff and Höga Nord Rekords artist Thomas Freudenthal steps up to remix 'You Are Bad Luck' and transforms it into a real chugger with celestial keys and plenty of synth effects all lighting up the skies. Post disco and new wave fusionists Marcello Carozzi and Francesco Mingrino are Younger Than Me, and they bring their retro flavours to a second remix of 'You Are Bad Luck.' It's a late night cruiser with silky synths and old school 80s flavours that add up to a deeply cosmic trip.
With this EP Night Noise Music prove they are leading the way when it comes to essential modern disco.
Tracklist:
1- The Outside
2- The New Acid Funk
3- You Are Bad Luck
4- You Are Bad Luck (Freudenthal Remix)
5- You Are Bad Luck (Younger Than Me Remix)