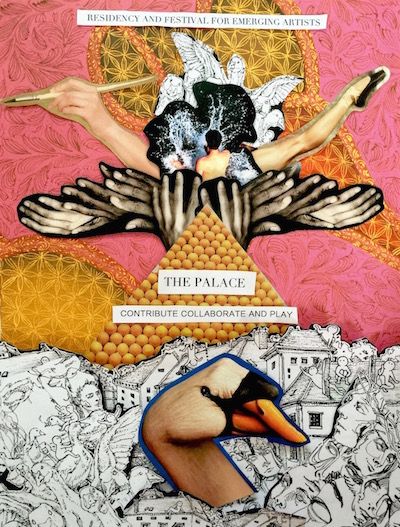 The Palace – A brand new immersive European arts & music festival!
Step out of the expectations of the professional and creative industries and free fall into a world of play and exploration, where judgement is barred and the process of creation is the end goal. The Palace is participation in a community, with every attendee asked to contribute to the making of the event, whether through teaching a class, offering a skill, cooking a meal or giving a performance. Competition and hierarchy are replaced with collaboration and support, and in doing so The Palacebecomes the creation and fantasy of its people.

THE LOCATION:
Held in a secret location within the walls of a 700 year old palace in Southern Poland, The Palace is an immersive maze, leading its people through the rafters of giant 50 meter barns, palace towers, dungeons, attics, and the royal ballroom, chapel and lake. Surrounded by fields, nature walks and natural quarry pools, a week at The Palace is a retreat like no other.
THE ARTISTS:
The Palace opens its doors to early career creatives and industry professionals alike, to meet, learn, collaborate and inspire. This year we will see Olivier Award Winners and Yale Lecturers collide with Berlin gallery owners, up and coming record labels, Leipzig club owners and CSM graduates. India based textile makers meet award winning photographers, international poets, and immersive theatre practitioners, DJs from New Mexico and emerging creative agencies. In this diverse array, The Palace people have energy and inquisitiveness in common; they are new and eager innovators, honing their craft.

THE DIFFERENCE:
An emerging artists' progressive take on Burning Man, The Palace strives to generate opportunity, form valuable connections and springboard creative projects both during and after the event. The weekend showcase will be extensively filmed and photographed to add to contributor's portfolios after the event. At 200 person capacity, and invitation through personal recommendation only, we are an illusive party of the intimate kind. But get the chance to walk through those palace doors and you will find uncensored opportunity. The party's not enough anymore, we want it to give us something back.

UNIQUE FESTIVAL ACTIVITIES:
Shakespeare master class from Yale, Oxford and RADA lecturer & actor Peter Francis James // Script writing talk from 2014 Olivier Award winner for Best New Comedy Robert Goodale // 'The Art of Being a Fool' a talk from international film, TV and theatre actor William Hope // 'Applying for Arts funding' from winner of 2015 Commission from Cambridge's Art/Technology Collusion, Mark Farid // Banoffee Pies Records // Square Head Productions // Spoolius Melange // Share Your Story // & /or Emporium // Illimited Fine Artists Agency // FOUR people // Amanda Mandala // ZAKIA // Milkweed textiles // Lamb Kebab BLT // daily yoga practice // daily meditation // life drawing class // landscape drawing class // fire hoop making // Aerial Acrobatics Workshop // Tango and Gaga dance // Body painting // Circus // Spoken word // New Script Writing

THE PALACE PROVIDES AN OPPORTUNITY TO:

♕ Perform on one of our stages
♕ Exhibit artwork in our Palace Ballroom gallery space
♕ Enjoy talks from experienced industry professionals
♕ Take a space over to create your own installation
♕ Review, interview and report on the festival through our palace publication print
♕ Have your writing read, constructively critiqued and discussed
♕ Access to wood and scrap metal resources for sculpture building
♕ Join or lead a workshop or class
♕ Join or lead a collaborative project or performance
♕ Get involved with festival build and design
♕ Join the events and production team
♕ Network with other creatives

WHAT ELSE IS ON OFFER?
Enjoy communal cooking and eating twice a day in our glorious banquet hall
Snap up one of our exclusive royal bedrooms inside The Palace building itself
Pick a spot in our sleeping barn boudoir filled with drapes, floor matts and all things cush
Swim in nearby quarry pools and try out Europe's longest Zip-wire

11- 15th Artists' residency: Opportunities to create onsite, workshops and classes
15 -18th Showcase festival: showcase of work created during the week, exhibition and party
£120 ticket includes your contribution professionally filmed and photographed, 2 meals a day, beer, wine, festival pitch discounted coach ticket

FOR ALL THE LATEST NEWS:
INDIEGOGO: https://www.indiegogo.com/projects/the-palace-festival-for-emerging-arti…
FACEBOOK: https://www.facebook.com/The-Palace-227049347671297/
////////////////////////////////////////////////////////////////////////////////////////////////////////////////////////
THE PALACE LISTINGS INFORMATION:
WHAT: The Palace Festival – An intimate Summer playground
WHEN: 11th-18th July 2016
WHERE: The Prince Bishops Palace – Protrowice Nyskie – Poland
PRICE: £120 ticket 2 meals a day, beer, wine, festival pitch discounted coach ticket
CONNECT:
INDIEGOGO: https://www.indiegogo.com/projects/the-palace-festival-for-emerging-arti…
FACEBOOK: https://www.facebook.com/The-Palace-227049347671297/