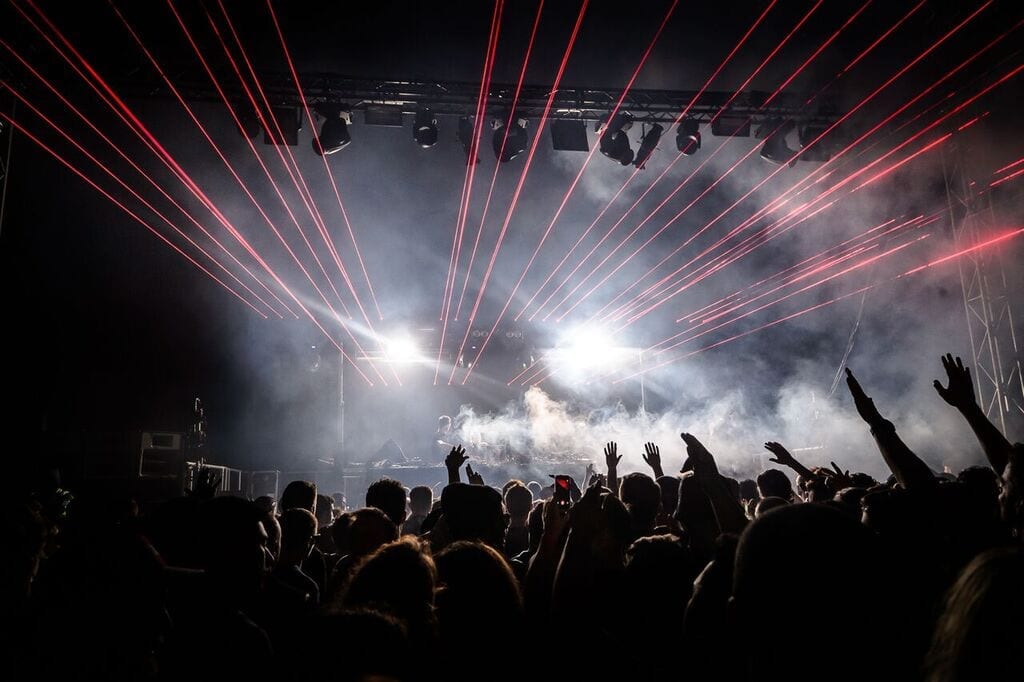 The Rainbow announces Chapter 12 event series
Art Department, Dubfire, Guy Gerber, George FitzGerald, Jamie Jones, Joseph Capriati, Loco Dice, Luciano, Maya Jane Coles, Nic Fanciulli, Sasha all headline.
Preditah, Kurupt FM, Patrick Topping, Infinity Ink LIVE, wAFF, Russ Yallop, Adam Shelton, Argy, Dense & Pika, Redlight, Nick Curly, Mella Dee, Sub Focus, Roni Size, Maribou State, Pedestrian and David Rodigan also perform.
Iconic Birmingham event space The Rainbow Venues has once again pulled out all the stops to put on a simply unbelievable programme in the first quarter of 2016. Far from just a selection of great parties and raves, it encompasses food and theatre, film and fresh drinking concepts, street parties, pop up shows and a whole world of other exciting, exclusive and ground breaking activities for creative souls and forward thinking culture lovers.

The Rainbow Venues has been one of the most exciting party spaces in all of the country ever since it opened. As well as hosting hot underground parties and big name rave brands, putting on exclusive sets and always expanding and evolving in the spaces it offers, this last 12 months have seen it undergo more developments than ever. Nowadays The Rainbow Venues boasts many different, adaptable spaces including the Arena, The Warehouse and the newer, more intimates space that are The Blackbox and Roof Terrace meaning that in all you have a 360 degree musical experience that covers many different vibes and atmospheres in brilliant fashion. With a key focus on light, sound and production, The Rainbow Venues never fail to make a mark on all those who attend.

This new season of events runs all the way up to June and, at the heart of it on March 26th, is a massive festival, Chapter XII, that celebrates the exact birthday of The Rainbow Venues with more than seven different spaces all coming alive with over 40 world class DJs. For now, Phase One can be unveiled, but rest assured there is plenty more to come because this series celebrates the history of The Rainbow Venues and its 12 year history of putting on parties, inviting back some of their favourite brands and artists. Amongst the endless list of stars are the likes of Jamie Jones, Luciano, Joseph Capriati and Matthias Tanzmann, Hannah Wants, Gorgon City and Huxley, Sub Focus, Roni Size, Maribou State and Pedestrian, David Rodigan, Kurupt FM, My Nu Leng and much more. The list of global party brands is equally as impressive with the likes of Hospitality, RAM records, RAMJAM, AUS Music, What Hannah Wants, Elrow, Cream and Amnesia all hosting parties.

As well as a jammed packed schedule of carefully curated parties that offer the best in bass, house, techno, grime, d&b, garage and everything in between. The Rainbow Venues have also dreamt up many other magical additions to make this the most special series yet. Amongst these are a theatre that, from March 23rd to April 2nd, runs Trainspotting, an immersive 70 minute play that is set up like an old school rave. Following a sell-out run at Edinburgh Festival Fringe 2015, this, gritty, no-holds-barred production will be performed under the railway arches in Digbeth and is a punchy, immersive affair that recaptures the passion and controversy of Irvine Welsh's cult generation-defining novel.

As well as that you can expect fine street food offerings, a drive in cinema, jazz bars and networking events, pop up shops, street parties, arena concerts, opera, the launch of a new street area taking inspiration from some of the world's favourite hot spots, jazz and concept bars, a Northern soul club and a micro brewery, after parties and an urban cocktail bar themed from the history of Peakys which focuses on fresh, balanced, affordable and tasty urban cocktails in an unpretentious setting.

Events wise, kicking off the new year in fine style is a massive party on January 30th with Elrow, which is known in Spain and Ibiza as being wildly colourful and having a real carnival atmosphere. Sharing the same larger-than-life production values as the exotic cinematic movement, Elrow Presents: Bollywood will light up the Midlands with an explosion of colour and confetti. Expect very special guest DJs as well as renowned Elrow residents De LA Swing and George Privatti to bring the best music to this colourful backdrop.The same night, the Textile Factory will see the 02.31 present a Kurrupt FM UK Tour show with Preditah, Logan Sama, Fonti & Bushkin, Tom Shortez and more.

D&b fans need to put February 6th in the diary, because top label Hospital present their Hospitality take over with London Elektricity, Roni Size & Krust (Present Full Cycle), Fred V & Grafix, Danny Byrd, Nu:Tone and Ownlglow. The 9th also finds Evolve host underground techno sensations Nicolas Lutz and Francesco Del Garda, plus Tom Craven, Unai Trotti, Lopaski. The 12th is Resonate with Maribou State and Pedestrian, and on the 13th, 02.31 present My Nu Leng and crew as part of their UK Tour, a week later on the 19th reggae and dub legend David Roddigan hosts RamJam, and Portal celebrate their 2nd Birthday on the 20th with Amnesia Ibiza in town with stars like Matthias Tanzmann, Cuartero, Hector Couto, Mar T and more all lining up. In between all that the world famous Cirque du Soul throw a crazy one with Toddla T and Barely Legal, and the first ever edition of Elements adds some much needed techno heft to proceedings with a great party featuring Truncate, founder Rebekah and Dark Chambers.

March 4th is Seedy Sonics with Blonde, chart toppers Gorgon City play on the 11th, Cream are in town with Roger Sanchez on the 12th, the 19th sees Ram Records take over with Sub Focus, special headliners and plenty of MC talent then Disciples play a big show on the 24th. As for Chapter XII itself, on March 26th, Loco Dice, Luciano, Art Department, Maya Jane Coles, Joseph Capriati, Dubfire, Nic Fanciulli, Jamie Jones, Patrick Topping, Infinity Ink LIVE, wAFF, Russ Yallop, Adam Shelton, Argy, Sasha, Guy Gerber, George FitzGerald, Dense & Pika, Redlight, Nick Curly, Mella Dee and many more all play.

April then sees Aus Music stop by to celebrate its 100th release with Huxley, Will Saul and more on the 1st, local crew One Records return with the boss Adam Shelton and Subb-an plus Cab Drivers and Voigtmann, East End Dubs headlines The Blackbox on the 9th, Shogun Audio takeover on the 29th, then much more besides will be announced closer to the time.
Website – http://therainbowvenues.co.uk
Facebook – https://www.facebook.com/therainbowvenues
________________________
Events in Order:
JAN
30th
The Warehouse – Elrow – Special Guest, De La Swing, George Privatti, Lukas
The Blackbox
– Elrow – Adam Shelton, Tristan Da Cunha, S-Ampel
The Textile – 02:31 – Kurupt FM Champagne Steam Rooms – Kurupt FM, Preditah, Logan Sama, Fonti, Tom Shorterz
FEB
05th
The Blackbox
– Fidget – Brandon Ross, Guy Burns, De Contrebande, Neil, Lady C
06th
The Warehouse
– Hospitality – London Elektricity, Roni Size, Friction, Fred V, Fragix, Danny Byrd, NU:Tone.
The Blackbox
– Evolve – Nicolas Lutz, Frencesco Del Garda, Tom Craven, Unai, Trotti, Lopaski
12th
The Blackbox
– Resonate – Maribou State, Pedestrian, Bradley Hughes
13th
The Textile – 02:31 MY Nu Leng & M8s – My Nu Leng, DJ Q, Wookie, Kry Wolf, Taki Nulight, Tom Shorterz, Pete Graham
19th
The Warehouse – Cirque Du Soul- Toddla T, Barely Legal + residents
The Textile – RamJam -David Rodigan, Gentlemen Dub Club, Dillinja, Randall, Flava D, Venum Sound
20th
The Warehouse – Portal Amnesia Tour – Hector Couto, Cuartero, Mar-T
The Blackbox
– Portal Amnesia Tour – Matthias Tanzmann, Reidy, Rothstein,
27th
The Blackbox
– Elements – Truncate, Rebekah, Dark Chambers, Jay Sirett
MARCH
4th
The Warehouse – Seedy Sonics – Blonde, Zac Samuel, LFM & Mali
11th
The Blackbox
– Gorgon City
12th
The Warehouse – Cream – Roger Sanchez, DJ SKT, Bontan, Philip George
The Blackbox
– Portal – Leftwing & Kody
19th
The Warehouse – RAM – Sub Focus, Culture Shock, Audio, Frankee
24th
The Warehouse – Disciples
26th
The Warehouse – Chapter 12
The Blackbox
– Chapter 12
The Textile – Chapter 12
The Arena – Chapter 12
APRIL
01st
The Blackbox
– 10 years of AUS – Huxley, Will Saul + more
02nd
The Blackbox – One Records – Subb-an, Adam Shelton, Cab Drivers, Voigtmann
9th
The Blackbox
– East End Dubs, Archie Hamilton, Bunny
29th
The Blackbox- Shogun Audio – Line-up TBA