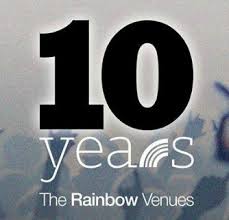 The Rainbow turns ten with a series of fantastic events.
The Rainbow in Birmingham has unquestionably changed the Midland's clubbing landscape over the last ten years. As a collection of venues it has hosted the biggest names from the worlds of house, techno, bass and everything else in between. It has been the site for huge, sprawling weekend long festivals and has continually evolved and adapted, changed and improved to keep ahead of the times
To celebrate all this, there will be a series of 10th Anniversary events taking place from Saturday 19th to Monday 21st April. A film has also been put together to champion The Rainbow's contribution to clubbing over the last decade and you can see them here, with more to follow each week.
There are a few separate events loyal fans can chose from. The Saturday Night Event concentrates on the more alternative side of The Rainbow, the Sunday Daytime Event & After Party concentrates on the house and bass brands associated with The Rainbow, whilst Below hosts a special showcase based in The Rainbow Pub only, and finally the Monday will showcase various bands playing to complete the celebrations. There are separate tickets for the various events.
The Saturday Night Event
Line up to be announce soon
Sunday Daytime Event & After Party
https://www.facebook.com/events/697993216929604/
Running from Sunday April 20th at 2pm until Monday at 6am, this event will take place in The Rainbow Warehouse, Mezzanine & Garden and all across the closed off streets outside. All of The Ranbow's top local brands are of course involved, including FACE, 10.31, 02.31, Seedy Sonics, Bigger Than Barry, Gutterskank & many of their friends.
The acts playing the mammoth party include chart toppers Gorgon City and garage legend DJ Ez, Bristol's Eats Everything, Radio 1 house heiress Heidi, Crosstown Rebel's Richy Ahmed, Pets bosses Catz & Dogz plus all of the parties favorite Resident Dj's. Full details are on the event page.
Below
For years now Below has been right at the heart of the Birmingham party scene, with its famed weekend long events taking place at beloved space The Rainbow. As such the special Easter party on the 20th April will truly be one to remember, and is headlined by Rekids man Mr G, Perlon boss Zip, Visionquest man Shaun Reeves, below founders and residentsAdam Shelton and Subb-An, Alex Arnout, Tom Craven and Jessica Lamb.
Mr G truly lives up to his name – releasing on Rekids his sound is a tough, dub heavy deep house and techno one that makes no compromises, whilst Zip is known the world over as a foremost DJ who never makes a weak selection. His Perlon label isjust as celebrated, releasing cutting edge minimal sounds from Ricardo Villalobos, Cassy and Margaret Dygas amongst others.
Detroit's Shaun Reeves is a Below regular who has played an important part in developing contemporary techno with his Visionquest cohorts. Playing everywhere from BPM to Sonar to fabric on a regular basis, there is no doubting Shaun's ability to weave together compelling underground soundtracks like few others can manage.
Adam Shelton and Subb-An have together achieved so much for their city. As well as starting this party they are the driving creative forces behind the ONE Records label and regularly pour all their efforts into show stopping Below events.This one will be no different.
Illusion boss Tom Craven and rising talent Jessica Lamb complete this party, and it is sure to be a nostaglic and emotional ride from start to finish.
Monday Bands
Line up to be announced soon
Videos
Various films have also been put together to champion The Rainbow's contribution to clubbing over the last decade and these will be released on a weekly basis so please go check them via the The Rainbow you tube account here (they are well worth a browse)…
https://www.youtube.com/rainbowvenues
https://www.facebook.com/therainbowvenues
https://www.theticketsellers.co.uk/buy_tickets/events/?id=10030515