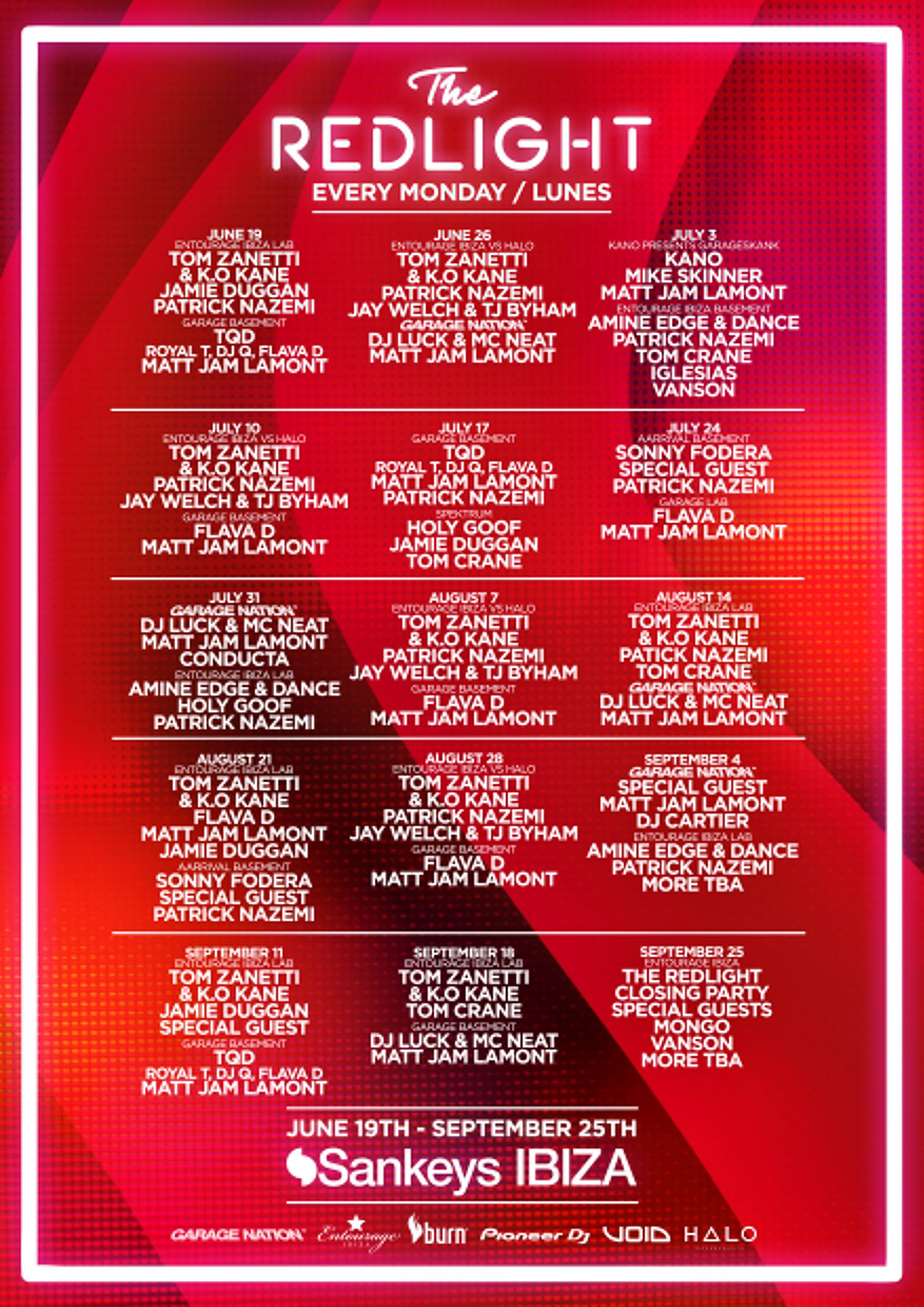 The Redlight summer Ibiza lineups…
Following on from last year's elicit season, The Redlight prepares to heat up Sankeys Ibiza for another special 15-date stint. The famed party series has quickly dominated the White Isle with its sellout Monday sessions, and 2017 will see the brand boast yet another mammoth line-up at the world-famous clubbing institution.
Lining up an array of megastars including Kano, Mike Skinner, Tom Zanetti & K.O. Kane, Amine Edge & DANCE and Sonny Fodera, The Redlight is bringing a distinctly UK garage and bass flavour to this year's offering. Sankeys' Lab and Basement will play host to a series of UKG and Bass House legends including DJ Luck & MC Neat, the godfather of garage Matt Jam Lamont, Royal T, DJ Q & Flava D who form TQD and Jamie Duggan. While the world's leading garage promoters, Garage Nation, will be hosting four talent-packed parties throughout the season, capturing the spirit of the past and present.
The opening party is scheduled for June 19th, featuring the formidable Tom Zanetti & K.O. Kane debuting this summer and joining the brand for a 9 date summer residency who alongside Patrick Nazemi, and will run through 'til September 25th for a climactic finish, with some serious special guests.
The Redlight has firmly established a name for itself as one of Ibiza's stand-out parties and has been putting on some of the hottest names in DJing and production within its genre since its inception.
UKG pioneer and DJ Matt Jam Lamont said: "Very exited with The Redlight lineup this summer as we mix things up the likes of Kano, Mike Skinner, Garage Nation, Tom Zantti, TQD/Flava D & DJ Luck n Neat with Sonny Fodera AArrival dates & a few surprises still to be announced for the Sankeys Ibiza 2017 season.. "
SOCIAL LINKS & TICKETS:
Tickets:
http://bit.ly/RedlightSankeysIbz
TAG:
Tickets for The Redlight are on sale now available here –
http://bit.ly/RedlightSankeysIbz
*All tickets for the Redlight are 20€ for a limited time only
The Redlight:
https://www.facebook.com/TheRedlightIbz/
https://www.instagram.com/theredlightibz/