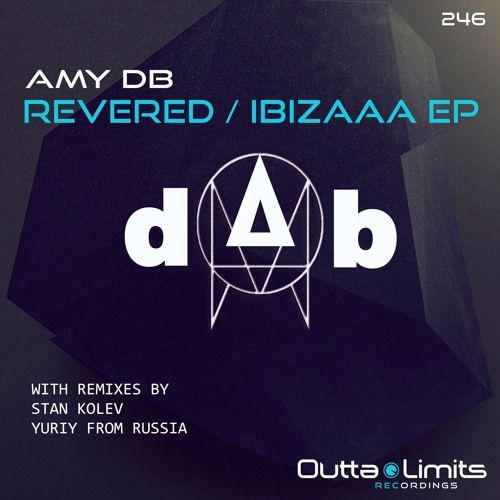 Amy dB - The Revered/ Ibizaaa EP
The spine-tingling progressive house EP is out now on Outta Limit Recordings with intoxicating remixes from label boss Stan Kolev and Yuriy From Russia…
DJ / musician Amy dB re-asserts herself as one of the most exciting artists in the world of electronica with her new The Revered / Ibizaaa EP on Outta Limit Recordings, and it packs a real punch. The four-track EP follows her Beatport Tech Chart #1 Redemption, and landed on 2nd October with an essential remix of The Revered from label boss Stan Kolev, as well as a quality rework of Ibizaaa by Yuriy From Russia, a fast rising producer heavily tipped by Paul Oakenfold. Amy's combination of emotionally stirring and infectiously groove-driven production has won her fans in Erick Morllio, Paul Oakenfold, Hernan Cattaneo, Robert Babicz, and many others, and by the time this EP lands in the clubs, she'll be earning herself a ton more… Listen to the full EP at bit.ly/TheReveredEP
Amy dB has been riding high since the massive Redemption EP in March, which hit #2 on the main Beatport Chart, proved a big hit in Miami and showed off her unique knack for emotive synth work and compelling drums. That EP came amidst plenty of success for Amy, who is now a regular headliner at places like WMC and BPM Festival, A&R for Jack-It Records and associate of top labels like Soundmen on Wax, Music Evolution Records and Kinddome Kut.
As well as being managed by Chicago house pioneer Joe Smooth, Amy dB's fans include tastemakers such as Dave Seaman, Darin Epsilon, Hernan Cattaneo andErick Morillo who all play her music. Add in her go-to radio show on Frisky Radio, which is one of the most popular on the station, and you see why she is a leading light in the underground scene.
This first outing with the Outta Limit Recordings label—which for ten years has put out a diverse array of essential sounds from its base in Miami—shows real progression in Amy's sound. The tracks are influenced by thriving dance scenes in Ibiza and Berlin and add in Amy's own unique sense of style.
Up first is the chunky The Revered with its meandering groove, melodic, analog bassline and sombre pads. This one is a tender track designed to tug at the heart strings and it does that to perfection. Atmospheric chants of Indian Brahmans and Arabian tabla drums combine to add a sense of eastern mysticism and ensure that whenever this one is dropped it is sure to make a lasting impact.
Next up, the deep and inviting Ibizaaa is a built on a bed of warm, rubbery drums. Above them, delivering modern techno sensibilities alongside a nostalgic nod towards classic Ibiza trance sounds, starry synths unfold, bringing a subtle sense of rising emotion as twinkling keys rain down. It's a superbly suspenseful tune with an infectious groove at its core; a peak time track that marks another production high point for Amy.
The Revered then gets a high class remix from label head Stan Kolev with devastating effect. Kolev's version of the original is an intoxicating number with well sculpted synths, woozy vocal sounds and a brilliantly deep groove. It's subtle and supple and with a dramatic breakdown at the centre, will really bring the dance floor together.
Yuriy From Russia steps up to remix Ibizaaa and doesn't disappoint with a deep, percussive house groove that teases the main riff throughout to great effect. This mix pulls you in and just won't let go.
These are four stylish tracks that are both laden with real feelings and promise to bring something fresh to dance floors around the world.
www.amydb.co
www.facebook.com/realamydb
www.soundcloud.com/realamydb
www.instagram.com/realamydb
www.twitter.com/realamydb