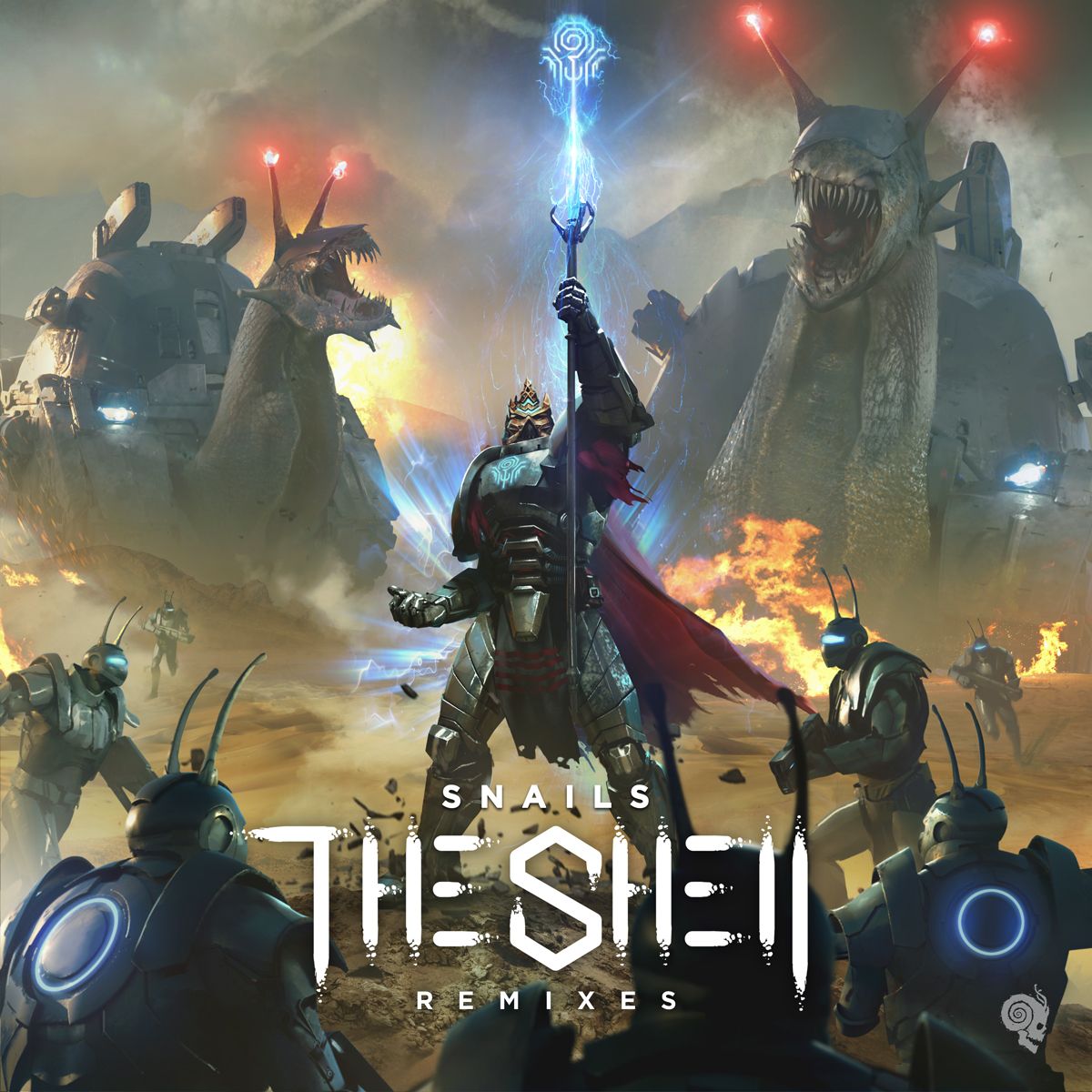 Snails - The Shell Remixes
After weeks of teasing fans with single releases, Snails finally just dropped the full remix album to his cult favorite debut "The Shell," and he's recruited some of the hottest names in bass music for the project. Featuring remixed versions for each of "The Shell"'s ten tracks, the album runs the gamut of blackout-worthy bass music. From the futuristic basslines of Space Jesus's remix of "Feel the Vibe" – arguably one the most chill track on the album – to the heavy metal-influences of Mastadon's version of "The King is Back," Snails's project takes the listener in a death grip and doesn't let go. Snails roped in a variety of talented artists, including both heavyweight veterans such as Kill the Noise on his remix of Snails & NGHTMRE's "Only Want U" and letting up-and-coming talent like SVDDEN DEATH take the spotlight for the "Smack Up" remix. "The Shell" remixes are out on Snails's recently-founded label Slugz Music, which has already gained report through its first round of releases, including "Shake the Ground" with Kill the Noise featuring Sullivan King and Jonah Kay.
"It's finally here!!! So excited to finally share "The Shell: Remixes" album featuring some of the best and my favorite artists in electronic music right now, out now on Slugz Music. Every remix received it's own unique twist and is about to destroy the dancefloor and your speakers!" Snailssays.
Just in time for the album's release, Snails is about to embark on his massive 52 date North American tour, which will feature his brand new stage THE SHELL 2.0. The stage is being called a "holographic bass music experience powered by groundbreaking production" and is done in part with Beama Visuals, the stage production wizards for Excision and other impressive clientele. The tour kicks off at the iconic Red Rock Amphitheater with his own festival Sluggtopia where "The Shell 2.0" is being unveiled to the world. The tour also features some incredible support with Kill the Noise, Liquid Stranger, Cookie Monsta, Svdden Death, Ubur and Hekler, and more. Check out the dates below and grab tickets to a city near you!
"The Shell: Remixes" tracklist:
01. Snails – Smack Up (ft. Foreign Beggars) (SVDDEN DEATH Remix)
02. Snails – Feel The Vibe (ft. Big Gigantic & Collie Buddz) (Space Jesus Remix)
03. Snails – Into The Light (ft. Sarah Hudson) (Soltan Remix)
04. Snails & Wacka Flocka Flame – WFSU (Virtual Riot & Snails Remix)
05. Snails – To The Grave (ft. Hytyd & Max) (Kompany & Ivory Remix)
06. Snails & NGHTMRE – Only Want U (ft. Akylla) (Kill The Noise Remix)
07. Snails – The Anthem (feat. Liam Cormier & Travis Richter) (UBUR Remix)
08. Snails – Russian Roulette (ft. Panther Matumona) (Megalodon Remix)
09. Snails – Forever (ft. Dion Timmer & KLP) (FuntCase Remix)
10. Snails – King is Back (ft. Big Ali) (Mastadon Remix)