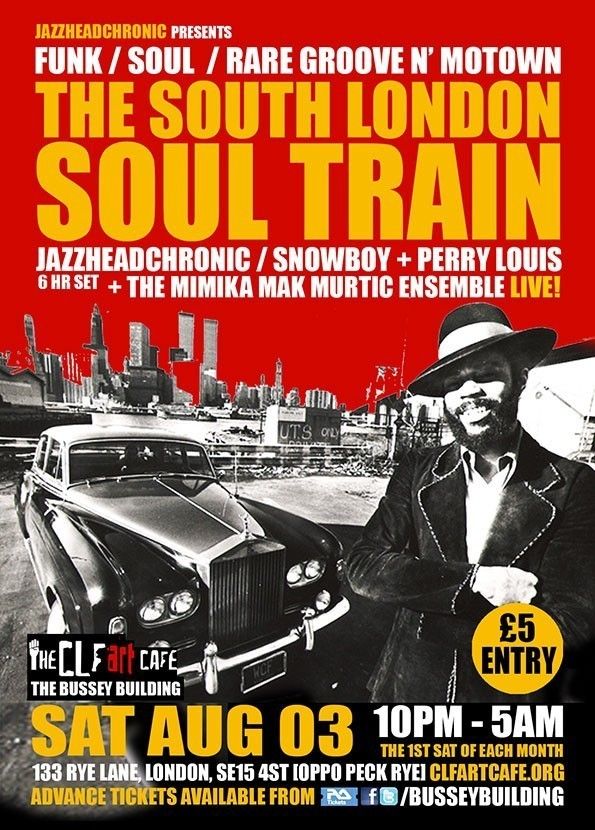 The South London Soul Train
Sat Aug 03 – The South London Spul Train open's it's door to some serious Balkan Soul as Your resident host Jazzheadchronic is joined on Level 1 by Balkan Funketeers, the amazing Mimika Mak Murtic Ensemble Live! Fresh from perfoming with the likes of Brassroots, The 14 piece Brass Orchestra are known for their unique brand of Balkan Space Jazz μιμκoς (mimikos) Mimika MME presenting intricate, mind-expanding groove-based compositions about cosmic migrations and cultural evolution. Best of all, they're funky!!!!
On Level 2, we get deep inside the Soul N' Funk of it all as the ever dependable duo of DJ Snowboy + Messin Arounds Perry Louis rinse the Vinyl.
2 Floors taking you on a multi-level non-stop Magical Mystery tour through all things Too Damn Funky. P-Funk to Jazz Funk, Soul Jazz to Rare Groove N' Stax, Motown to Club Classics and Anthems. As always, Passengers are requested to check their Souls at the Station as this ones for good time party people only! No Bass Wobbles Here, Only Love, Funk and Souuuuuuuul.
Admission £5 / £5 Advance tickets available from RA or main CLF website
Takes place on the 1st Saturday of each month!