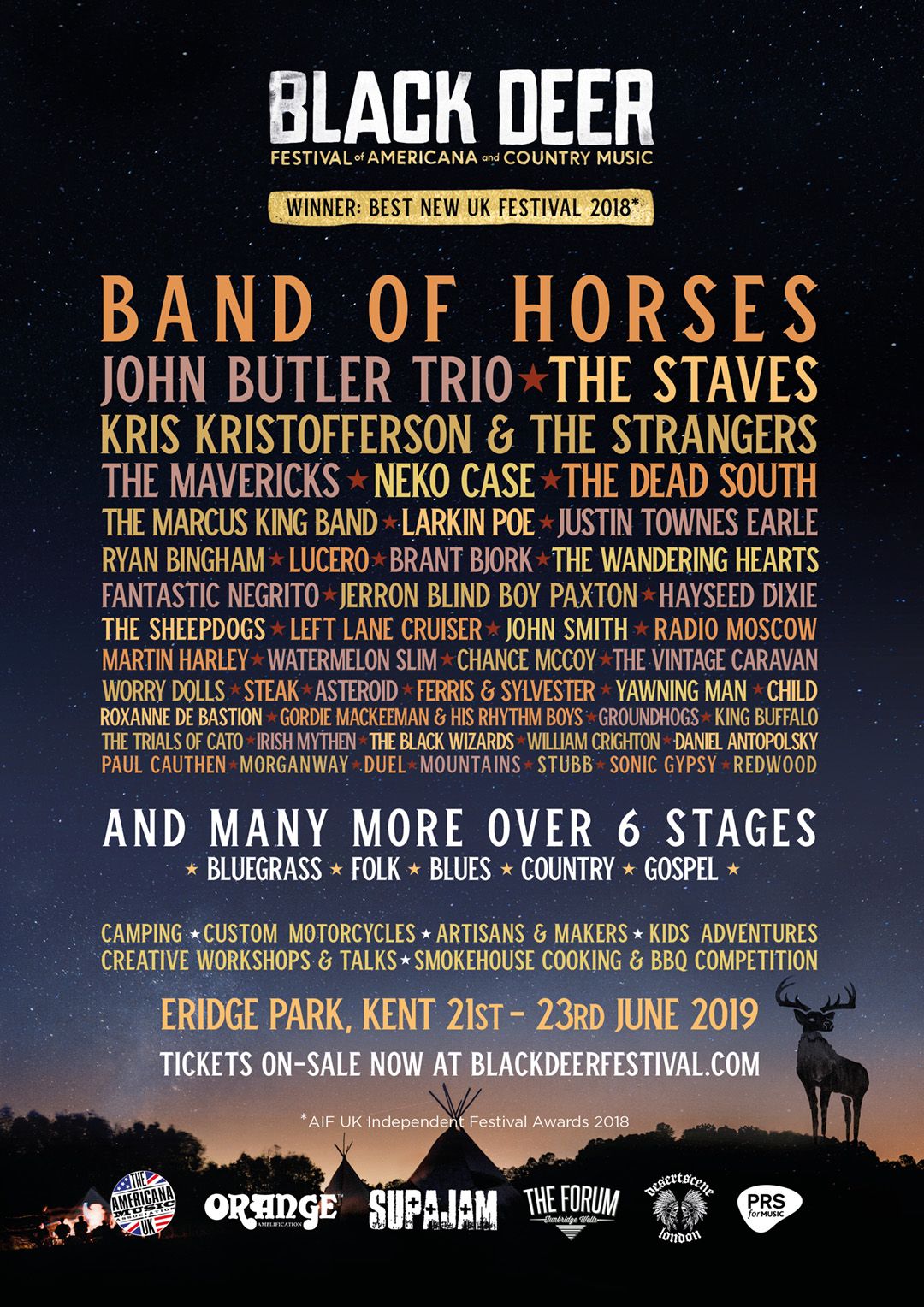 The Staves, Kris Kristofferson & The Strangers, The Mavericks, Neko Case, The Marcus King Band and many more revealed for Black Deer Festival 2019
Another round of carefully curated names have been added to the Black Deer Festivallineup today, making for an impressive second year for the award-winning new event. The three-day celebration of Americana and Country, set in the beautiful Eridge Park in Kent,presents a unique experience combining music, food and Americana culture that can't be found anywhere else in the UK.
Black Deer welcomes adored artists from both America and also closer to home and is excited to announce that The Staves will be including Black Deer in their plans during this momentous time in their musical career. The sister trio from Watford have been touring with First Aid Kit throughout 2018 and performing live with Bon Iver – who also produced their second album If I Was in 2015. Signed to Atlantic Records and heavily inspired by US bands like Simon & Garfunkel, Crosby, Stills & Nash and Fleetwood Mac, The Stavesmake evocative and charismatic folk at its most harmonious.
Country Music Hall of Fame inductee and global legend Kris Kristofferson is set to perform this summer at Black Deer Festival with the late great Merle Haggard's band The Strangers. The prolific music and film star hails from Texas and Nashville and brings with him a slew of chart-topping hits that have completely redefined country song writing over the past five decades. Kristofferson has won three Grammy Awards and released 29 albums since the early 70s, including three with Willie Nelson, Johnny Cash and Waylon Jennings as part of the Highwaymen. Expect to hear these and notable singles like Me and Bobby McGee, Help Me Make It Through the Night and Sunday Morning Coming Down by the certified entertainment icon in Royal Tunbridge Wells this June.
The Mavericks, who formed in Miami, Florida, combine neotraditional country music, latin, and rockabilly in a unique and instantly identifiable sound. They'll be welcomed by theBlack Deer crowd after striking a chord with a UK audience with their gold record-selling single Dance The Night Away in 1998. Black Deer also look forward to a career-spanning set from Neko Case, the American singer-songwriter also known for her work with Canadian indie rock group The New Pornographers. She recently released a new album Hell-On – which the Guardian described as a "pitch perfect roar of female defiance" and alongside The Staves and Larkin Poe this year, shows the consistent strength of prominent females in the scene.
South Carolina native Marcus King is set to join the Black Deer line up with his namesakeThe Marcus King Band for a masterclass in electrifying jam-rock. The rebel punk singer-songwriter Justin Townes Earle brings fearless, personally charged lyrical insight and infectious melodic craftsmanship, and is set to present a rich body of work to the table. Alongside Brant Bjork, the member of two of the most influential 90's stoner rock bands Kyuss and Fu Manchu, whose desert rock and roots style will resonate from The Roadhouse stage in June. Brant Bjork joins the all American heavy blues contingent of previously announced Left Lane Cruiser, Radio Moscow and The Roadhouse 'house band' Steak – all curated by Desertscene for Black Deer.
Over from Los Angeles, Jerron "Blind Boy" Paxton comes with a reputation for transporting audiences back to the 1920's with an eerie ability to bring traditional jazz, blues, folk, and country into the here and now, despite still being in his 20's. American country-punk rock band Lucero from Memphis, Tennessee are an obvious choice, after carrying the torch of the alt-country movement in the 90's and helping to pave the way for what is now known as Americana today.
Completing today's line up is British blues rock band Groundhogs, who are best known for their 70's single Cherry Red – a name adopted by one of Britain's longest standing independent record labels – as well as heavy psych-blues trio King Buffalo, Australian blues-rockers Child, 60's psychedelic songwriter Roxanne De Bastion, British folk trio The Trials Of Cato – who formed in Beirut three years ago, the return of "the missing man of country" Daniel Antopolsky – responsible for saving Townes Van Zandt life in 1972, acclaimed new blood alt-country duo Ferris & Sylvester, California's experimental rockers Yawning Man, Country preacher Paul Cauthen, larger than life boatman and bluesman Sonic Gypsy and Hertfordshire's rock band Redwood.
The Wandering Hearts and The Sheepdogs will also be returning to the arena this year as part of the festival's 'Deerly Beloveds' programme – brought back by public vote following their celebrated set in 2018.
Ferris & Sylvester say:
"We are thrilled to be included in the Black Deer line up this year. Black Deer champions up and coming folk/blues artists every year and it feels amazing to have been invited to play. We cannot wait to be involved and get our teeth stuck into this year's festival season!"
With more acts to be announced Black Deer also look forward to revealing all the details for Live Fire, which is set to welcome a variety of celebrated chefs and pitmasters, the artisan craftspeople within Mercantile and exciting new cultural additions to the 2019 event.
Black Deer celebrates a culture like no other. With a genuine love for the music, its honesty, its roots and heritage, it's all about listening to the story behind the experience, both light and dark. Black Deer is more than just a music festival, it represents a way of life; an authentic culture that values love, kindness, the craft and community above all.Black Deer is an independent festival born from passion, and built from experience – thanks to its two female founders whose love and respect for the genre shines through every facet of the festival.
This year, Black Deer Festival are delighted to welcome the Americana Music Association UK (AMA UK), Orange Amplification, Desertscene and Barons Speed Shop as this years partners, as well as a return from the inspiring Supajam and esteemed Tunbridge Wells Forum.
TICKET INFORMATION
Tier 1 tickets on sale now and are available from https://blackdeerfestival.com/tickets/
Ticket prices from £105 – subject to booking fees.
Tier 2 tickets will be on sale from 26th February.