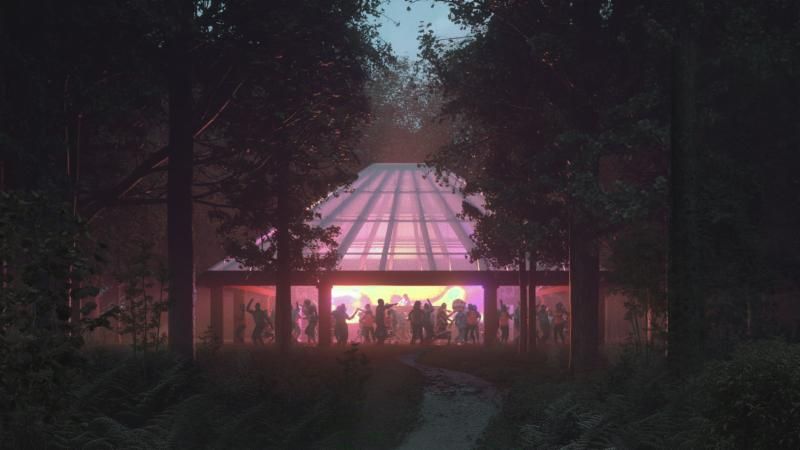 The Tower Announces Innovative Architecture, Design And Sustainability Programme
The Tower Festival is built on one hypothetical question – what if councils (on top of organising your bin collection) staged cutting edge music festivals?
Set in the heart of Lincolnshire, this starting point has led to a design project that explores municipal graphics, architecture, sustainability, local outreach and a gentle approach to the festival. At the heart of this is the conviction that dance music can have a dramatic and positive impact on people's lives.
Making councils great again is a team of architects, artists, designers and diggers who have come together to create a municipality for the party faithful – The Tower.
Architecture and Design
The architecture of the festival is designed to create a collective and inclusive experience that makes the audience part of the show. Thermal cameras capture the heat on the dance floor to translate body movements into an interactive light installation, making the audience responsible for the mood on the dance floor.
Clad in translucent bronze polycarbonate, the stages cast a comfortable shade over the audience, much like a pair of sunglasses. And to keep the dancing well into the night, the dance floor is made of rubber tiles from recycled trainers to give an extra layer of bounce through those extended sets.
Hesselbrand's Founding Director Jesper Henriksson says, "Festivals can be exhausting experiences so for the stage designs we have created a form that can accommodate all of the changing rhythms throughout the festival while allowing the audience to have ownership over the setting. It's a small temple based on a simple notion of comfort and beauty, something we feel is too often overlooked."
Sustainability
The Tower festival plants a tree for each ticket sold. This is calculated to make the festival entirely carbon negative. Each tree costs approximately £3.00 to plant making this a generous commitment from the festival.
All the structures are made primarily from locally sourced timber.
The Music
The music programme is also challenging with Phonica and Low Company maverick Kenny White playing alongside stalwarts Optimo. Boilerroom based crew Bubble Chamber will take over from Rush Hour's John Gomez.
Peckham promoter Inner Totality Family hosts warm up slots, bringing the likes of Bullion and D. Tiffany while Manchester/Leeds promoters Ossia have thrown DJ Bus Replacement Service and Childsplay amongst others into the ring for Saturday night.
Muddled Marauders, headed up by the illusive Muddled Miranda, will create "The Corridor of Uncertainty" which will bring House Orange's drag acts and live performers to the forest to keep the party live into the early hours. This spectacle will be sound-tracked by the likes of rising star iona, Jaye Ward and Block9/NYC downlow regular Wes Baggaley.
LINKS & FURTHER INFO:
www.the-tower.co.uk

SOCIALS:
www.facebook.com/thetowerfestival
www.instagram.com/thetowerfestival