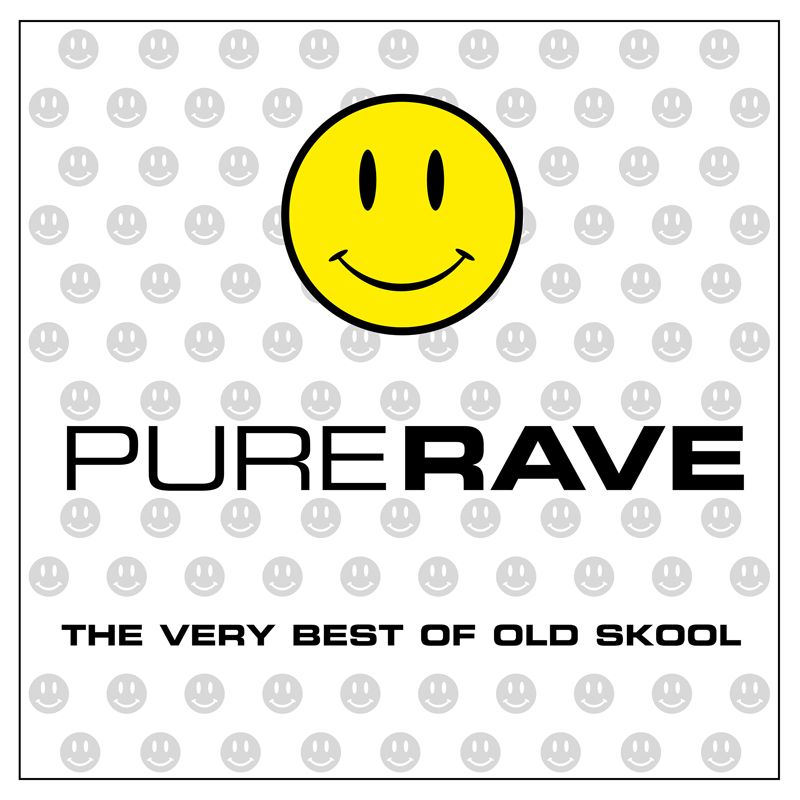 Pure Rave - The Very Best of Old Skool
80s & earlier 90s UK rave culture is having a resurgence of late. With the buzz around the forthcoming 'This is England '90' TV series and, press and social media packed with packed with stories about the glory days of UK clubbing, it's original fans alongside the next generation of ravers, are as keen as ever to embrace the movement that changed UK youth culture, and dance music forever.
Pure Rave selects 40 of the finest in old skool classics, which sound as exciting and vital today, as they did 25 years ago, carefully curated and mixed by Pure – the UK's No.1 Dance & Urban compilation brand.
Highlights on Pure Rave include: Nomad – (I Wanna Give You) Devotion, Smart E's – Sesame's Treet (Vocal Mix), The Terrorist – The Chopper (Shy FX VIP), Sonz Of A Loop Da Loop Era – Far Out, Krome & Time – This Sound Is For The Underground, Slipmatt – Breaking Free, and Rachel Wallace – Tell Me Why (M&M Full Vocal Mix).
The Pure album series originally started in the 90s by Danny Donnelly, who was also head honcho of the iconic rave & jungle label, Suburban Base. Over the years Pure have sold millions of albums, curating genres such as Garage, Deep House, Drum & Bass, Grime, R&B, and much more.
Pure Rave is the perfect album for anyone feeling nostalgic about the halcyon days of 90s UK music, or for any new fans looking for an education into the scene.
Pure Rave will be available across all leading download and streaming platforms: iTunes, Apple Music, Spotify, and many more.
PURE RAVE – TRACKLIST
Mix 1.
01. Nomad – (I Wanna Give You) Devotion
02. M&M feat. Rachel Wallace – I Feel This Way (Beefed Up Remix)
03. CLS – Can You Feel It (House Dub)
04. Rebel MC – Tribal Bass (Original Foundation Mix)
05. Sonz Of A Loop Da Loop Era – Far Out
06. Terrorize – It's Just A Feeling
07. Krome & Time – This Sound Is For The Underground
08. Origin Unknown – Valley Of The Shadows
09. The Terrorist – The Chopper (Shy FX VIP)
10. Cutty Ranks – Limb By Limb (DJ SS Remix)
11. Solution – What Can I Do
12. Remarc – R.I.P
13. Charmaine – I Get What I Want (Lewi Dub)
14. DJ Hype – Roll The Beats (Inject The Bass Mix)
15. Boogie Times Tribe – The Dark Stranger (Origin Unknown Mix)
16. Slipmatt – Breaking Free
17. DJ Rap & Aston – Vertigo (Tumbling Mix)
18. SMD – SMD#1A
19. Nookie – Gonna Be Alright (Sound of Music)
20. Smart E's – Sesame's Treet (Vocal Mix)
Mix 2.
01. Rachel Wallace – Tell Me Why (M&M Full Vocal Mix)
02. M&M – Don't Stand In My Way
03. Run Tings – Fires Burning
04. Phuture Assassins – Future Sound
05. Austin – Unity In Dub (Stop Go Mix)
06. Run Tings – Back Again (Austin Remix)
07. Krome & Time – The Slammer
08. Ill Figure – Untouchable
09. Johnny Jungle – Johnny 94 (Origin Unknown Remix)
10. DJ Hype – Dub Plate Fever
11. Remarc – Ice Cream & Syrup (Hard Mix)
12. The Undercover Agent & Kriminal – World Mash Up
13. DJ Rap & Aston – Get Rushed
14. The Dream Team – Stamina (Dread Bass Remix)
15. Sonz Of A Loop Da Loop Era – Peace & Loveism (4 Hero Remix)
16. D'Cruze – I Believe (92 Revamp)
17. Kromozone – The Rush (Sub Bass Mix)
18. Time Base aka Krome & Time – Unity
19. Tricky Disco – Tricky Disco
20. GTO – Pure (Pure Energy)