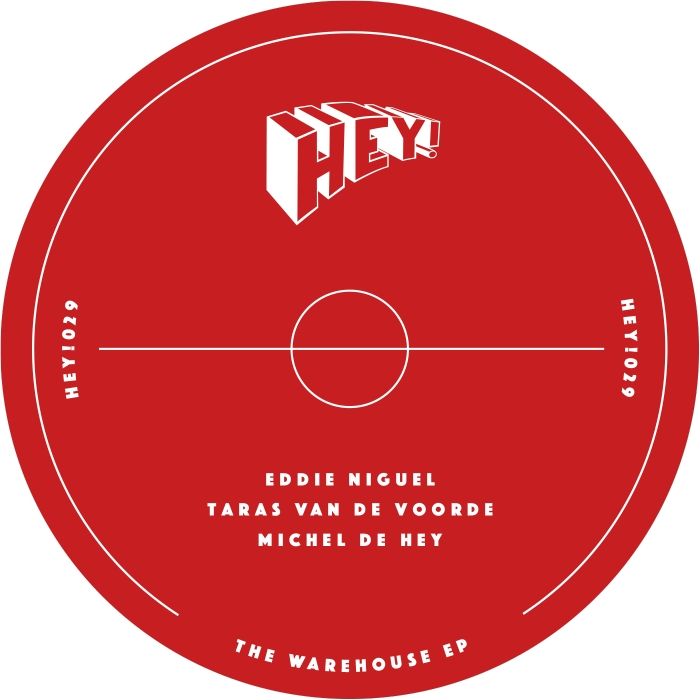 Eddie Niguel - The Warehouse EP
In perfect synchronicity with the current 10 Year Anniversary celebrations for Michel de Hey's legendary HEY! Parties, the main man has also decided that the timing is perfect to re-launch his beloved HEY! Records, with a series of stunning releases, the first of which is an absolutely amazing track titled "The Warehouse" from Singapore's rising star, Eddie Niguel, complete with an equally excellent remix from Michel de Hey & fellow Rotterdam-based music maker, Taras van de Voorde.
Eddie Niguel's original version of "The Warehouse" channels a classic Chicago/Detroit party vibe into an immediately anthemic, yet subtle and beautifully melodic, modern-day monster. It is no wonder that Beatport has already hailed this supremely talented young artist as being 'Singapore's fastest-rising DJ and production talent'. From Lion City, he is dedicated to playing and producing the highest quality electronic music, and has previously appeared on such quality imprints as Dig Deeper, Get Physical and Midnight Shift.
Fresh from his huge "You Feel Alive" outing on Joris Voorn & Edwin Oosterwaal's Rejected label, Michel de Hey has teamed up with innovative DJ/Producer, Taras van de Voorde, to create a remix of "The Warehouse" that takes the classic original on an exciting, powerful journey, adding piano and orchestration to great effect and upping the anthemic attitude even higher!
A twenty-year career, both behind the decks and in the studio, has allowed Michel de Hey to confidently turn his skills to the complete gamut of electronic music. He can take influences from the classic jams of old to create new fresh faced, smile-inducing good-time tracks like no other. Like Michel, Taras is your typical citizen of Rotterdam, not afraid to do things slightly differently and always looking for new ways to find an innovative sound. Together, as this remix proves, they are a formidable team!
The HEY! Records re-launch will continue with a brand-new single from Michel de Hey – more details coming soon. Meanwhile, check out these forthcoming 10 Years Of HEY! Parties…
27th March – 10 Years of HEY! Beach Opening @ De Karavaan, Scheveningen – Michel de Hey, Laura Jones, Chris Stussy, Vaux https://www.facebook.com/events/1703325893213465/
9th April – 10 Years of HEY! @ Toffler, Rotterdam – Michel de Hey, Gerd, Nuuver https://www.facebook.com/events/179846432375471/
5th May – 10 Years of HEY! @ Melkweg, Amsterdam – Michel de Hey vs Benny Rodrigues, Rauwkost. https://www.facebook.com/events/159771111075881/
Further Information:
Michel de Hey
www.micheldehey.com
www.facebook.com/micheldeheyofficial
www.instagram.com/micheldehey
www.soundcloud.com/michel-de-hey
Eddie Niguel
http://www.eddieniguel.com
https://www.facebook.com/eddieniguel
https://soundcloud.com/eddieniguel
HEY! Records
https://www.facebook.com/ECHEYRecords/