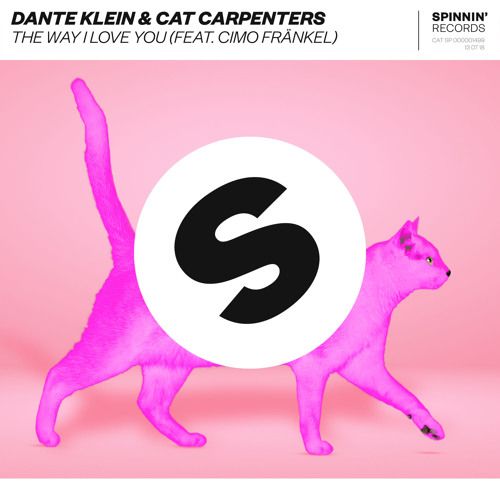 Dante Klein ft. Cimo Fränkel - The Way I Love You
The feel good summer anthem of this year is presented in the shape of Dante Klein and Cat Carpenters' new single 'The Way I Love You' ('TWILY'), out now on Spinnin' Records. Uplifting beats perfectly united with the sweet vocals of Cimo Fränkel, inspiring to spread more love and positivity into the world. With the Do Something Crazy For Someone You Love #TWILY, the three friends ask people to show someone they love that they love them by recording a video where they do something crazy. Check their own #TWILY video's here: Dante Klein, Cat Carpenters, Cimo Fränkel.
We can never have too much love and positivity in the world. In contrary, in a world where there is so much going on at the moment, we need more love and positivity. That's exactly what the three Dutch friends want to achieve with the release of their new single 'TWILY'."As a friend group we went into the studio and there was such a positive and loving vibe. With this energy we created this track, the thought behind this is to spread more love and positivity in the world. Every day, all day is 'The Way I Love You' day. The music video will show that kind of day with loved once.", explains Cat Carpenters.
The official video will go live tomorrow at 11AM CET, but can be watched exclusively on Earmilk until then.
Besides a great time in the studio with some of your best friends, playing 'TWILY' for a crowd of people puts the cherry on top of the cake, guaranteeing to put a blanket of happiness on any festival or party crowd. "'The Way I Love You' has been my favorite song to play in my sets for months now. The energy is amazing, it's a big anthemic positive song with a great vocal that was a pleasure to make. So happy to be able to share it with the world now!", tells Dante Klein.
What better way to spread that positivity than by releasing it on Friday the 13th. In the end it's all about what you make of life and the positivity and love that you radiate, which works contagiously, just like this song. Excited that 'TWILY' is finally out today, Cimo Fränkel explains: "It was my first time working with Dante Klein and Cat Carpenters and it went really smooth. The track and the song came together very naturally and I think we may have made a summer anthem together! Cant wait to share it with the world.".
Dante Klein
Three years since he burst onto the scene with 'Ertesuppe', but it's already clear that Dante Klein – real name Max Krul – is here to stay. 'Let Me Hold You (Turn Me On)', his 2016 collaboration with LA collective Cheat Codes, racked up 325 million plays on Spotify, and Dante already played the biggest events from Tomorrowland in Belgium to Ushuaia in Ibiza, from gigs during Miami Music Week to Amsterdam Dance Event. Skillfully riding the line between pop and club-oriented music, Dante is set to keep conquering hit lists as well as dancefloors around the globe.
Cat Carpenters
House music, good vibes, and sexy parties, that's Claire a.k.a. Cat Carpenters in a nut shell. If you like great things like food, romance and oxygen, chances are, you'll love her track record too. Originals and official remixes, such as her remix of Izzy Blu's 'White Tiger' which received lots of blog support and a notable spot on HypeM, put her on the global map, while her mixtapes and mind- blowing live sets will put Cat Carpenters straight in your heart. She delivers irresistible and mesmerizing sets that get anybody and everybody ecstatic in no time, with gigs ranging from Puerto Rico to Berlin, Paris and Ibiza.
Cimo Fränkel
In the diverse world of pop music, there are singers, songwriters, producers – and the rare multi-talents who combine all three roles into one person, like Cimo Fränkel. With a decade of experience in the music business, he's already written a score of hits, including the multi-Platinum 'SEX', performed by Cheat Codes & Kris Kross Amsterdam, as well as Yellow Claw's iconic smash 'Shotgun'. Cimo has also featured on records with internationally acclaimed artists including Armin van Buuren, Daddy's Groove, Wildstylez, and EDX.
#TWILY ❤
Dante Klein & Cat Carpenters – 'The Way I Love You' (feat. Cimo Fränkel)
Out now on Spinnin' Records