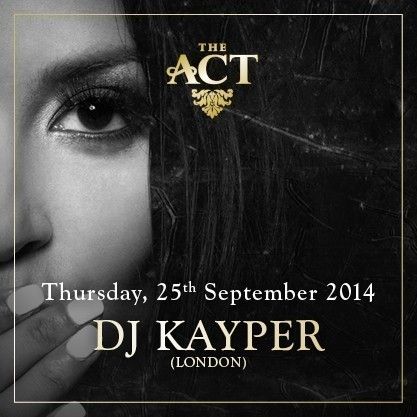 The world's highest theatre welcomes award-winning DJ Kayper on Thursday 25th September
The Act in Dubai's Shangri-La Hotel, fuses pioneering entertainment with gourmet cuisine at their opulent sky-top venue
Thursday 25th September // The Act // Shangri-La Hotel, Dubai
On the frontline of Dubai's emerging music scene, the world's highest theatre, The Act, prepares to welcome award-winning DJ Kayper on Thursday 25th September.
Based in London, Kayper has garnered a dedicated following for her seamless and intuitive sets, playing across some of the world's most exclusive and highly regarded venues, whilst holding down a residency at infamous London members club, The Box, in Soho.
This special event offers guests the opportunity to enjoy a fully immersive and unique experience. With an invite to start their night via a selection of the finest Peruvian cuisine prepared by acclaimed Head Chef Roberto Segura Gonzales, while a host of internationally acclaimed performers take to the stage.
As the night continues, the action will move to the dancefloor where DJ Kayper will take to the decks to play the finest underground sounds, effortlessly flowing between hip-hop and D&B through to house and techno, in a show that is sure to keep feet and bodies moving throughout the night for this unmissable special show.
The Act is now taking reservations for this event. Please call +971 4 355 1116 or email [email protected] to reserve your place.
Event Info:
Address: The Act, 42nd Floor, Shangri-La Hotel, Sheikh Zayed Road, Dubai
Date: 25th September 2014.
Tel: +97143551116
Opening times: 20.30pm – 03.00
Facebook event page: http://bit.ly/DJKayper_TheAct
DJ Kayper links:
http://www.kayper.co.uk
https://www.youtube.com/user/djkayper

Menu:
ENROLLADO LAN
Seared hamachi, asparagu tempura, cucumber, avocado, (sauce: confit garlic, lemon grass oil, sesame, lime, togarashi)
ROLLITOS DE SALMON
Mango, mint leaves, honey, miso, koshu, passion fruit, mustard
CAUSA ROLL
Shrimp furay, piquillo, avocado, asparagu, chalaquita de conchas
CEVICHE MIXTO
Shrimp, snaper, scallop, mussel, leche de tigre, (prawn sauce: bisque, flour, milk, bread), coriander, confit vegetables, red onion
CEVICHE DE SANDIA
Watermelon, palm hearts, mint, olive oil, lime, avocado, white onion, sumac
CARPACCIO DE LANGOSTA
Orange, yuzu, koshu, coconut, ikura, dill
BETERRAGAS Y NARANJA
Red and gold beetroot, jelly orange, blood orange dressing, goat cheese, cashew nuts, baby rocket
ASADO DE TIRA Y CAMOTE
36 hours slow braised, red wine, tomato chimichurri, sweet potato puree, star anise, rocoto salsa
TACU TACU DE CONCHAS
Rice and black beans, grilled scallops, sweet plantain, criolla
CANILLA DE CORDERO A LA MIEL
Braised lamb shank, honey, 5 spices, splash potato, caramelized shallots
DULCE TENTACION
MARACUYA MOUSSE
LANGOSTA
Black truffle butter, champagne reduction, spinach salad with peanut butter
More about The Act:
Created by New York City nightlife theatre entrepreneur, and business partner at Variety Worldwide, Simon Hammerstein; The Act Dubai is a unique concept combining theatre, nightlife and dining, providing guests a unique, sophisticated experience. The 10,000sqft, multi-level venue, located on the 42nd floor of the Shangri-La Hotel, is the highest theatre-venue in the world.The interior's vintage, Victorian theatre design blends seamlessly with its classic fit out and royal blue velvets, finished by antique wooden flooring.A VIP area and exclusive dining tables surround the main stage, in addition to the private theatre-themed booths, found on the first and second levels, catering to larger and private groups.
The Act web links:
Website: http://theactdubai.com
Facebook: www.facebook.com/TheActDubai
Twitter: https://twitter.com/theactdubai