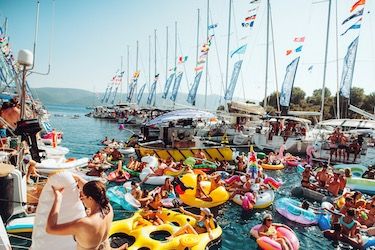 the yacht week launches 'floating dj stage' phase one artist line up
The Yacht Week, the unique 'floating festival' announces phase one of a huge summer line up of world-class DJs. Appearing on 'The Buzz Boat'; a floating DJ stage, fully kitted out with a VOID Acoustic soundsystem, are Weiss, Illyus & Barrientos, Mark Knight, and Offaiah, with more major announcements to come. Following a headline set from Claptone last year, this is a statement of intent from The Yacht Week and puts quality, credible music at the core of its offering. Only The Yacht Week gathers a flotilla of adventurous party people at sea, to experience massive, headline DJ sets against the stunning backdrop of the Croatian coastline. A yacht for six friends with a skipper starts at just £493 per person from www.theyachtweek.com.
The Buzz Boat is an unforgettable centrepiece, but in conjunction with some of Croatia's best venues and clubs, The Yacht Week experience is full of big nights and big DJs, alongside more underground events supporting up and coming DJ talent, all designed to test the endurance of the most committed clubbers. The Croatia Ultra Festival Route even includes tickets to Ultra Festival for the ultimate blow out. When it's time to recover, nothing comes close to The Yacht Week; guests can snorkel in secluded bays, try some seaside yoga, kick back at a beach lounge and enjoy freshly prepared lunch or dinner, and much more, before the night brings another dancefloor.
Weiss was the breakout house music star of 2018, thanks to the phenomenal success of his track 'Feel My Needs'. The sunset groover with luscious old school piano riffs brought him mainstream attention, but this British DJ / producer has already proved his credentials many times over with huge releases on Dirtybird, Toolroom, This Ain't Bristol and more. Now heavily in demand at the world's best clubs and festivals, Weiss is sure to bring the perfect vibes for The Yacht Week crowds during week 26 (22nd June to 29th June).
Also preparing to board The Buzz Boat for week 27 (29th June to 6th July) are Illyus & Barrientos, the Glaswegian pairing currently tearing up dancefloors with their raw, jackin' cut, 'Shout', on Toolroom Records, a track which perfectly sums up their energetic, deep, and percussive approach to house music. With releases on Suara, Exploited Records, Glasgow Underground and many more, Illyus & Barrientos have a well-deserved reputation as one of the hottest DJ / production duos in the UK.
There's very little Mark Knight hasn't achieved in the world of electronic music. The Toolroom Records boss is one of the most revered DJ / producers out there. His influence has shaped the sound of house music over two decades and provided him with a Grammy nomination, Toolroom Radio (broadcasting to millions), huge record sales, sold out Ibiza seasons, sold out world tours, and much more. Mark Knight taking over the VOID Acoustics soundsystem out on the waves will be an unforgettable experience. He appears during week 30 (20th July to 27th July).
Also, announced today is Offaiah, performing during week 31 (27th July to 2nd August). This Londoner has been steadily building a reputation for quality, bumping house music full of hooks you can't shake off and perfectly crafted drops for the dancefloor. Since smashing his way into clubland consciousness in 2017 with his breakout hit, the gospel-tinged, 'Trouble', Offaiah has been busy; releasing tracks on Defected, arguably the most credible and established name in house music, kicking off his new label All Fire Records, and most recently, remixing Deadmau5's new single 'Hurricane'. Hugely talented and heavily in demand: The Yacht Week is in for a treat.
The Yacht Week has been a yearly event since 2006, the original floating festival, and continues to bring people together for a unique travel experience, now set in six destinations around the world. With this phase one line up announcement The Yacht Week gives guests a cast-iron guarantee of incredible house music and a party like no other.
LINKS
http://www.theyachtweek.com
https://www.facebook.com/theyachtweek
www.instagram.com/theyachtweek/
https://twitter.com/theyachtweek
www.youtube.com/user/TheYachtWeek