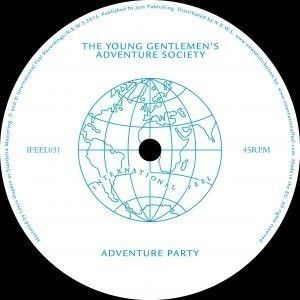 The Young Gentleman's Adventure Society / Parada 88 – Adventure Party / You're Gonna Miss Me
The Young Gentleman´s Adventure Society meet once a month inside a vault in a disused furniture warehouse to discuss boxing, buggery and the rediscovery of Conan Doyle´s Lost World. Parada 88 have long disappeared inside the worlds largest recorded disco ball leaving behind just one nugget of dancefloor gold and no note. International Feel channels these two forces into one very special 12″, celebrating 'the feeling' of house and flipside to the labels' downtempo, palm tree roots.
BACKGROUND
As if International Feel owed us any more this summer, the label gets set to re-release two stone cold killer club records that came out separately in 2011 with super limited pressings. A rare collectors dream, Bicep recalls hearing 'Adventure Party' for the first time recently at the hands of Horse Meat DiscoŠ I was playing PS1 festival tonight in New York with Horse Meat Disco… man, first time i´d heard ´Adventure Party´, the place went OFFF. i´m talking 3000 people. It was very special!
Currently going for silly money on Discogs both records in their original incarnations caused a riot amongst disco vinyl junkies. Notably an actual riot in a Japanese store when the 30 limited and hand pressed copies of Parada 88 went on sale. And it's not surprising really, 'You're Gonna Miss Me' is a proper Italo-house banger of epic proportions.
Mark Barrott of International Feel relocated from Uruguay to Ibiza two years ago and has since come out as the 'Unknown artist' behind much of the labels back catalogue. Prior to releasing debut eponymous album 'Sketches From An Island' this June, Barrott has continually produced and released music anonymously as Rocha, Bepu N'Gali, Flights of Fancy, Boys from Patagonia and The Young Gentlemen's Adventure Society. The releases have covered house, Afrobeat and proper downtempo balearic and quickly sold out. Cult-ish objects of vinyl desire, Young Gentlemen'sŠ only track, 'Adventure Party' now goes on Discogs for £200 so it's with great pleasure that Barrott bestows this glistening new 12″ for the real lovers out there, stating "the simple fact is these records have power and I just want more people to hear them".