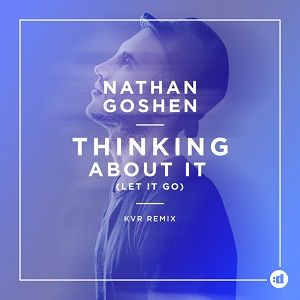 Nathan Goshen - Thinking About It (Let It Go) – KVR Remix
14-year-old Dutch producer KVR prepares to release his upbeat take on Nathan Goshen's emotional track 'Thinking About You (Let It Go)', set to drop on 11th March 2016 via Scandinavian label disco:wax.

Already a roaring success in his home country, named 'Man of The Year' and 'Singer of The Year' by one of Israel's biggest national radio stations, Nathan Goshen's first two albums went GOLD; a success crowned by winning 'Composer of the Year' in 2011 from non-profit rights corporation ACUM. Now, via a bedroom in Holland, 14-year-old producer KVR is taking Goshen's music to the international stage; and with a little help from disco:wax he looks set to take the world by storm.

After stumbling across the young KVR's first rough version of the remix on Soundcloud, Alexander Ash of disco:wax – which is home to the likes of rising star Tobtok – explains that "this track just made me stop. So I reached out to him and found out he was only 14. We had to contact his parents…then we got in contact with Nathan's people to introduce the remix to them."

The exceptionally talented teen discovered the original single, written and composed by Israeli pop star Nathan Goshen, which has racked up close to 1 million hits on YouTube since its release last summer, and first created the remix on Fruity Loops with nothing but his own personal computer. Ash explains that "we got hold of everything and had him redo the track…we made the final tweaks at Medley Studios to really unfold the vocals and guitar roles…It is amazing to see how a 14-year-old Dutch producer could make a huge Israeli star into something for everyone."

Opening with the summery plucked guitar riff that exemplifies Goshen's original, the track soon opens up to intertwine a booming bass beat and pattering bongos, reminiscent of the chart-topping Robin Shultz remix of 'Prayer In C' by French-Israeli folk-pop outfit Lilly Wood & The Prick. The undeniably infectious track bridges the gap between tropical deep house and chillout, with KVR's raw talent tangible throughout the deliciously layered production which invites Goshen's vocals to shine. As KVR explains in simple terms, "I really liked the guitar and vocals in the song, but I knew that adding a beat would take it to the next level." Taking his inspiration from other producers and artists that he finds on Soundcloud, in spite of his youth KVR is already carving out a place for himself with his obvious penchant for putting his own unique stamp on anything from Israeli folk-pop to the wider realm of deep house.

Combining a 14-year-old's abundant natural ability, and building upon Goshen's overwhelming success in his home country, KVR's remix of 'Thinking About You (Let It Go)' looks set to cement them both as one's to watch on the international stage when it drops on 11th March.