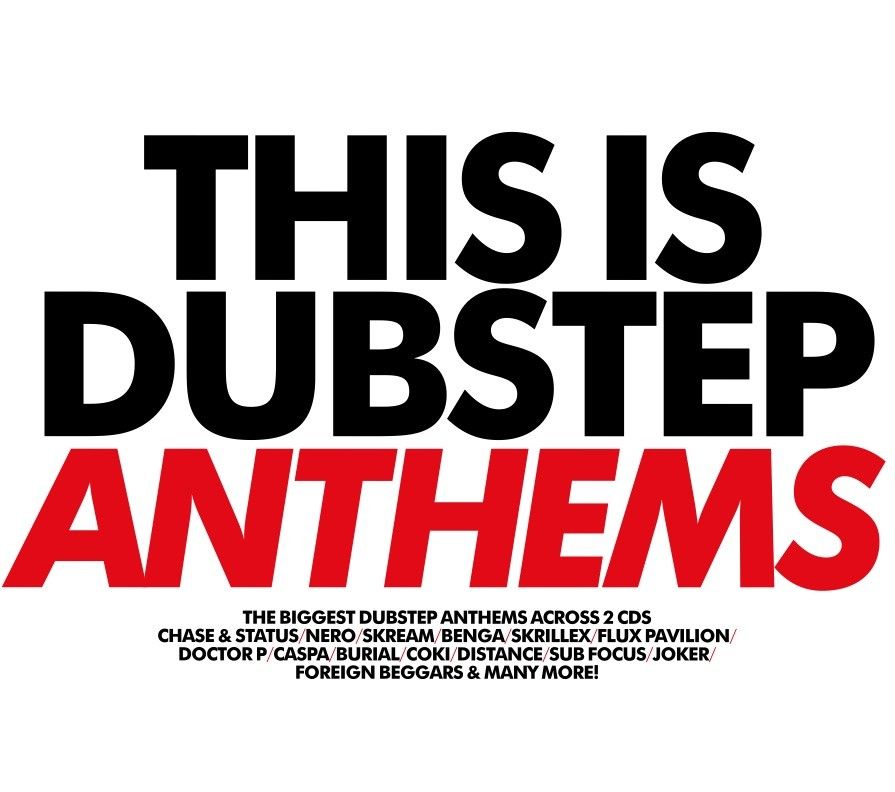 This Is Dubstep Anthems
This is Dubstep Anthems features 30 of the genre's hottest tracks in a scene-shaping collection featuring the likes of Skream, Chase & Status, Burial, Nero, Skrillex, Benga & Coki, Flux Pavilion, Pinch, Foreign Beggars, Noisia, Sub Focus, Caspa, Doctor P and many more.
Over the past 10 years, dubstep's seismic sonic shift has inspired every single electronic music genre possible… and beyond. From its humble Croydon roots to its current state of global dominance, dubstep has been identified by, and indeed uplifted, every bass loving group, body and cause on the dancefloor.

From the premier league producers who really pushed dubstep to its musical limits, This Is Dubstep Anthems is a scorching slab of scene history. Hallmark moments include Skream's game-changing remix of La Roux's 'In For The Kill', Nero's No.1 hitting single, 'Promises', Doctor P's infectious bass screamer 'Sweet Shop', Chase & Status's breakthrough smash 'Eastern Jam', Benga & Coki's ambassadorial airwave chaser 'Night' and Caspa's scene-uniting remix of TC's 'Where's My Money?'
Elsewhere across the double CD/mix collection are other hugely influential tracks such as Skream's classic 'Midnight Request Line', Flux Pavilion's short-sharp-subby 'Bass Cannon', 16Bit's militant remix of Noisia's 'Machine Gun', Burial's sub-aquatic take on Commix's own anthem 'Be True' and loads more.
Brought to you by the team behind the best-selling This Is Dubstep brand, This Is Dubstep Anthems is a celebration of the last decade of bass… And the many talented producers who've made it happen.
iTunes pre-order: http://smarturl.it/tidanthems
Amazon (2CD) pre-order: http://smarturl.it/tidanthemsamazon
This is Dubstep will release This Is Dubstep Anthems on Sunday 4th August 2013 on 2CD, Download and Stream.