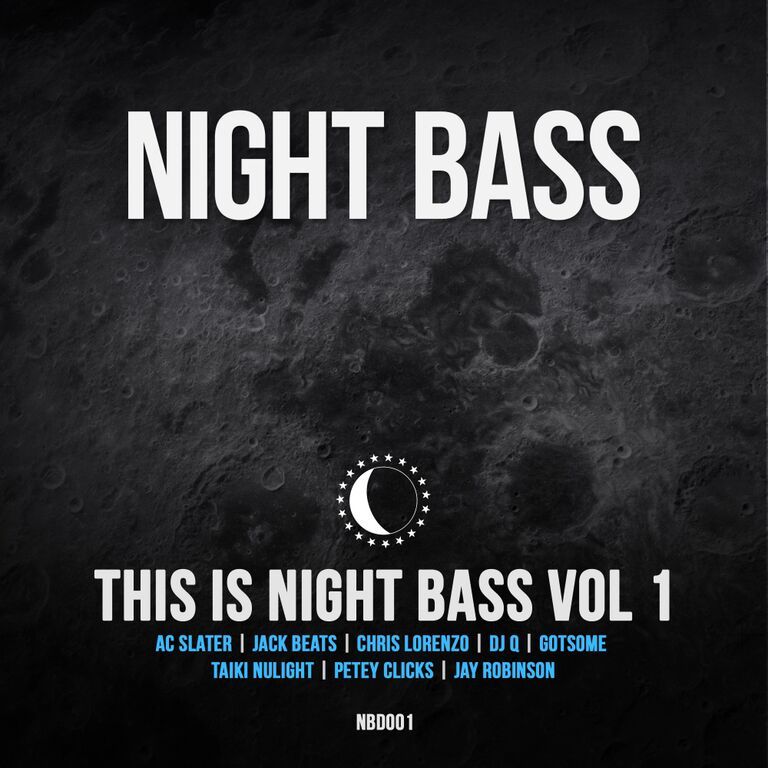 Night Bass - THIS IS NIGHT BASS VOL. 1
"After a year of running the Night Bass events in Los Angeles and even taking it around North America to spread the love further, it's time to launch the next stage of the Night Bass movement: the record label. Night Bass Records will be tightly curated by myself and will feature some of the most dedicated and hard working artists in our lane. Night Bass is a label driven to push artists who believe in this music and want to progress into the future." – AC Slater

In a little over a year, AC Slater's monthly Night Bass event at Sound in Hollywood has grown into an international juggernaut, cementing a deserved reputation as a hub for ground breaking, forward-thinking dance music and for spearheading an underground movement across the country.
Offering a refreshing alternative for a city weighed down by sanitised, bottle-service clubs, sound-tracked by fist-pumping EDM, Night Bass exposes the strongly under-represented genres AC Slater holds dear to his heart, delivering LA residents the sound that's bubbling out of bass bins in dark clubs and warehouses around the world. Showcasing the best in Bass music, whilst circling around UK Garage, Bassline, Grime, House and everything good in-between, Night Bass has played an intimate host to some of the most respected and exciting DJs in their field; including Hannah Wants, DJ EZ, Chris Lorenzo, Christian Martin, GotSome, Jack Beats, Shift K3y, Kry Wolf, Taiki Nulight, Wuki, Ardalan, Royal-T and MJ Cole.
Having piqued the attention of tastemakers and fans across the country with their wildly successful flagship night in Hollywood, Night Bass has also responded to national demand, duly taking their sound on the road; collaborating on large events with Hard Presents and The BPM Festival and hosting a 12-date tour across North America.

The latest chapter in an incredible first year, Night Bass is now extending its cultural reach with a much-anticipated record label, launching June 30th. In line with the ethos of the events, Night Bass Records will showcase groundbreaking, veteran artists, alongside exciting up-and-comers, with some insane collaborations along the way. The inaugural release This Is Night Bass Vol 1 features the leading names in Bass-heavy House and Garage; Jack Beats, Chris Lorenzo, DJ Q, GotSome, Taiki Nulight, Jay Robinson, Petey Clicks and label boss AC Slater. An exhilarating ride through the core sounds of the label; both DJs and fans alike will find something to love on this well-rounded compilation.

Forthcoming for Night Bass, following the release of Vol 1, fans can look forward to highly-anticipated EPs from AC Slater & Sinden, DJ Q, Jay Robinson, Petey Clicks's debut album and much more, along with some very exciting event news, as the Night Bass powerhouse continues on it's path to becoming a global bastion of bass.

"THIS IS NIGHT BASS VOL 1" IS RELEASED BY NIGHT BASS RECORDS ON JUNE 30TH
NIGHT BASS LABEL LAUNCH PARTY AT SOUND, 1642 N. LAS PALMAS AVE, HOLLYWOOD ON THURS MAY 28TH WITH AC SLATER, HOTEL GARUDA, JUBILEE, PETEY CLICKS & BONES
"THIS IS NIGHTBASS" TRACKLIST
1) AC SLATER & CHRIS LORENZO – FLY KICKS
2) JACK BEATS – WILD FIRE
3) AC SLATER & PETEY CLICKS – GOT DAMN
4) DJ Q – MADNESS
5) JAY ROBINSON – GLOOM
6) AC SLATER & GOTSOME – MOVE IT BACK
7) TAIKI NULIGHT – CHECK OUT TIME
CAT NO: NBD001