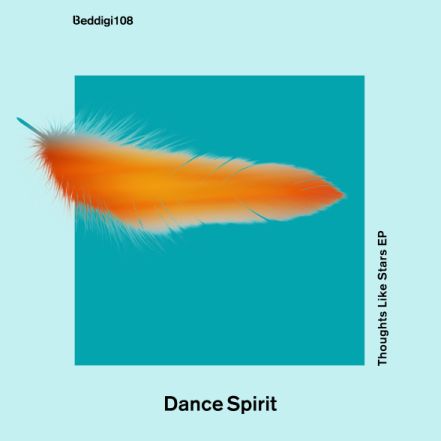 Dance Spirit - Thoughts Like Stars EP
This next exceptional Bedrock release comes from Hyperspace, USA, courtesy of Dance Spirit. This Producer/DJ duo are part of a global family of like-minded artists, striving to move hearts, minds, and bodies with original music that draws from a collective ancestral past, and pushes forward into the future, without limitations or borders. John Digweed has featured Dance Spirit tracks and remixes numerous times in his live sets and on his Transitions radio show (including guest mix slots for episodes 555 & 663), building towards this breath-taking debut Bedrock release.
Anyone familiar with Dance Spirit already will be well prepared for another sophisticated and intelligent journey, utilising a creative palette that freely expresses through a multitude of shades and colours and textures. Dance Spirit's artistic ventures always stride confidently through to the mystical side of sound, rhythm, and mood. To begin, building on a super-addictive groove base, 'Thoughts Like Stars' soars towards the heavens with a melodic beauty that is beyond compare – an exceptional journey within a journey, with a twist in the tale. In contrast, 'Headchange' evolves into a hip-swinging groovadelic experience, morphing in texture and energy throughout. Whereas 'Lilac Rain' switches motifs, building on playful percussive elements and acidic nuances to create a wondrously warped, spirally audio experience.
Christopher Mohn and Reagan Denius revolutionized themselves into Dance Spirit four years ago, guided by a philosophy based on attaining subconscious harmony through rhythm, timbre, melody, and movement. The combination of Reagan's formal music and computer programming training, with Chris's burning passion for dance music and DJing, has created a coupling of true creative synergy. They have been steadily building a global following by selectively releasing on the likes of Supernature, Rebellion, Superfreq, Kindisch and Akbal Music. Whilst their almost freakish natural talent has seen them become familiar performers at huge events such as Coachella, Desert Hearts and Lightning In A Bottle, alongside their residency at the infamous Flying Circus parties, delivering a sound that strives to create and convey beautiful emotions through the universal language of music.
Artist Info:
http://www.wearedancespirit.com
https://soundcloud.com/dance-spirit
https://www.facebook.com/DanceSpiritHyperspace/
Bedrock Info:
www.bedrock.uk.net
www.johndigweed.com
www.facebook.com/bedrockrecords
www.twitter.com/#!/BedrockRecords
www.youtube.com/user/bedrocktransitions