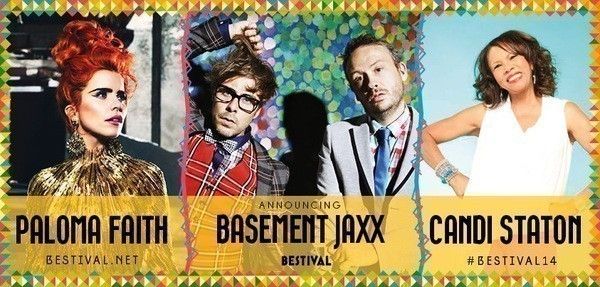 Three More Live Acts announced for Bestival's Desert Island Disco
The good times keep on rolling at Bestival HQ! Following the amazing news that Chic featuring Nile Rodgers will join OutKast, Foals and Beck as Bestival headliners and our frankly off the hook Port announcement with Sven Väth, Annie Mac Presents, Chase & Status and loads more class DJs, we have news of three brilliant acts bringing their dancing shoes to our Desert Island Disco this September 4th – 7th at Robin Hill on the Isle of Wight.
Rob da Bank says: "Desert Island Disco seems to have lit up everyone's imaginations with its mirrorball and palm tree vibes going down really well. So we though we'd add some disco divas and pure upfront house legends to the bill. Basement Jaxx did us the great honour of headlining the first ever Bestival way back when, so I'm doubly chuffed they're coming back to tear it up. Paloma played a few years back when she was just starting out and on the eve of her disco inspired album coming out we thought it'd be rude not to. And where do I start with Candi Staton? She may not have played Bestival before but her hits have been caned by DJs over the years. You Got The Love is surely gonna be one of those 'moments' at Bestival 2014. See you at the Disco".
A stunning chanteuse and no mistake, Paloma Faith is the very definition of unique, so we are delighted that she will be joining us on Sunday night in the Big Top to close this year's Bestival. With a brand new album, A Perfect Contradiction, due for release imminently, Paloma's disco credentials are just about as good as they come and with her well know penchant for dressing up, she's the perfect fit for a sassy climax to our Desert Island Disco.
Commenting on her Bestival appearance, Paloma Faith said: "Bestival is the best festival because everyone gets dressed up and I will be too, dressing my band up… It's so perfect that I should be invited to play at this festival this year because my new album, which is called A Perfect Contradiction, was all influenced by the history of soul music, particularly disco. So, I was listening to artists like Candi Staton, Prince, Chaka Khan, Gloria Gaynor, all of those types of artists, Parliament, Funkadelic, the lot… It is my favourite festival without a doubt, I'm so excited, see you there!"
No strangers to spanking a dancefloor, the Bestival crew are very pleased indeed to welcome back Basement Jaxx to Robin Hill. Headliners at the very first Bestival, we know for a fact that Basement Jaxx have got a truck load of tunes that will keep you reaching for the lasers long into the night. A full on live extravaganza, Felix, Simon and co always fail to disappoint with their hip swaying, booty shaking business, so don't miss them!
Basement Jaxx's Felix Buxton said "It was an honour and a pleasure to headline the very first Bestival – and we are very pleased to be back!"
Finally for now, it is a true honour to announce that one of the legends of gospel, disco and dance music, Candi Staton will be gracing our Desert Island Disco with her presence. With super-soulful tracks like Young Hearts Run Free, her amazing version of Stand By Your Man and, of course, You Got The Love, Candi's voice has sound-tracked two generations of joyful good times and we can't wait to bust our moves to her grooves.
There's still plenty more to come, so for more vids, pics, words, links and all things Bestival check these out – www.Bestival.net / Facebook / Twitter / Tumblr and keep up with all the latest Desert Island Disco manoeuvres.

BESTIVAL TICKET LINKS & INFORMATION:
www.ticketline.co.uk/bestival-tickets / 0844 888 4410
Adult Ticket with entry from Thursday 4th September – £195
Student Ticket with entry from Thursday 4th September – £180
(For full-time students only. Valid NUS or ISIC ID required at the box office. No other student ID accepted)
Teen (age 13-17) Ticket with entry from Thursday 4th September – £127
Child (age 12 & under) Ticket – Free (but you must obtain a ticket)
Caravan Tickets: £101 (per vehicle) Campervan Tickets: £90 (per vehicle)
Advance Car Parking – £15
All Tickets:
– will incur a booking fee.
– there are no Day Tickets.
– incur a £1 donation to the Isle Of Wight Youth Trust*.
THE WEEKLY PAYMENT PLAN
We're pleased to say that we are once again offering a 20-week payment plan which means that an adult ticket can now be bought at a payment of £9.75 per week over 20 weekly payments.
Only available online via: www.ticketline.co.uk/bestival-tickets
Once you have signed up to the payment plan, which basically means giving your agreement by ticking the bank mandate form on Ticketline's website, Ticketline will automatically debit your card on a weekly basis. They only accept Visa (credit or debit) or Mastercard for the payment plan.
NB: Booking fees will be charged with your initial transaction.
THE ISLE OF WIGHT YOUTH TRUST CHARITY DONATION
*This year we are adding on a £1 charity donation onto all Bestival tickets. The money raised will go directly to the Isle Of Wight Youth Trust (Reg Charity no. 1087163) to help fund their fantastic work offering counselling and support to young people aged 25 and under on the Isle of Wight. The Bestival Foundation is also a proud supporter of the Youth Trust.
Travel: Book Now For Best Early Prices
Wightlink – www.wightlink.co.uk/bestival / 0871 376 1000
Red Funnel – www.redfunnel.co.uk/bestival / 0844 844 9988
Hovertravel – www.hovertravel.co.uk/bestival2014 / 01983 811000
Big Green Coach – www.biggreencoach.co.uk/bestival
www.bestival.net / facebook.com/bestivalfestival / Twitter: @bestival