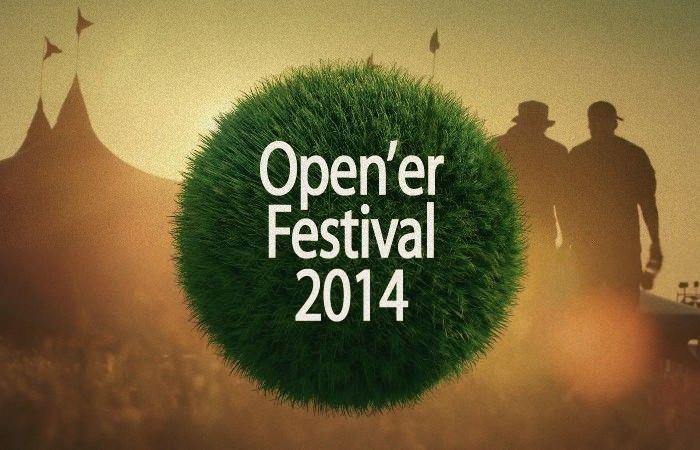 More acts announced for Open'er 2014
UK synth mavericks Metronomy, LA indie dance outfit Foster the People, new wave of hip-hop – Earl Sweatshirt, dark rock classics from The Afghan Whigs, Tourist – a newcomer in UK electronica plus a handful of great Polish artists join Open'er!

Metronomy
Down a quiet driveway in East London is an old-fashioned studio. It's the home of analogue sound, of warm, dusty machines, where the ambitions of independent artists get turned into classic recordings. Over the past six months, a man with curly hair has been regularly checking into Toe Rag studios in order to finish his anticipated fourth album. He has brought with him with a passion for The Zombies, an affection for Love, and a ridiculous enthusiasm for Sly and the Family Stone. He is already known for writing great songs, crafting his lyrics with care, and pushing pop melodies into fabulous shapes. Synthesisers and computers have been his primary tools in the past; at Toe Rag, he felt he could push them to more heavenly places. Joseph Mount, from Totnes in Devon, is the lead singer and architect of Metronomy. His new album, Love Letters, has a title that speaks volumes about sensations and modes of communication, about things that have always been there, and will always be here. This is a record that wants to be timeless. The band plays Open'er for the first time.

Foster The People
Foster the People create atmospheric, psychedelic and very danceable pop. Formed in Los Angeles in 2009, the band comprises keyboardist/guitarist/singer Mark Pontius, bassist Cubbie Fink and drummer Mark Pontius. Moving to LA as a teenager, Foster wanted to develop his talent in a band, but unable to find the right company, he worked as a waiter and DJ. Then he met Pontius and Fink, who were delighted with the diversity of the material he wrote for himself. They began performing as Foster & The People and the single Pumped Up Kicks quickly got a lot of radio- and online attention. It scored the band, among others, the Billboard award for Best Rock Song. In 2011, they released an eponymous EP featuring the hit single, and then the debut LP "Torches". Other singles off it, Helena Beat and Houdini, also earned popularity, catapulting them to stardom. The band went on to play Coachella, SXSW and Lollapalooza. Their songs were licensed to many TV shows and adverts – an entirely legitimate distribution path these days. They release a sophomore album, Supermodel, on March 18, preceded by singles Coming of Age and Pseudologia Fantastica.
Earl Sweatshirt
Key member of the infamous hip-hop collective Odd Future, Earl Sweatshirt's solo work has been taking off rapidly and he has only just turned 20! Earl Sweatshirt was born Thebe Neruda Kgositsile in Los Angeles, and grew up in Santa Monica. He met Tyler The Creator in 2009 at age 15 after Tyler found his music on MySpace. Earl would eventually go on to join Odd Future, which also included Tyler, Frank Ocean and many other like minded musicians, skaters and artists. He would go on to self-release the album Earl in 2010. Even though the album had a growing buzz, he would disappear from the scene, as his mom would send him to a school for at risk boys in Samoa. His album Doris was released in August 2013 and has since been receiving major critical acclaim, finding its way on to the year's best record polls in Rolling Stone, SPIN and NME magazines. Doris is full of its author's prodigious abilities as a formidable young voice in L.A.'s resurgent hip-hop scene. Earl is skilled beyond his years, a methodical wordsmith whose splatterpunk murder fantasies were rendered all the more unsettling by his incredible poise.

The Afghan Wigs
That there's even a new Afghan Whigs release at all comes as something of a surprise, even to its members. After the band initially split in 2001, frontman Greg Dulli went on to considerable notoriety with his bands The Twilight Singers (with whom he visited Open'er 2011) and The Gutter Twins (the latter an ongoing collaboration with close friend Mark Lanegan). While Whigs songs would pop up occasionally in his sets, Dulli didn't fully engage that material again. The Afghan Whigs did not reunite until a successful 2012 tour that found them headlining major festivals like Lollapalooza, curating their own All Tomorrow's Parties gathering and selling out prestigious venues throughout the world. Founded in Cincinnati, Ohio in 1988, the band has long stood out from its peers, with their savage, rapturous blend of hard rock, classic soul, and frontman Greg Dulli's searing obsessions. Reunited anew, The Afghan Whigs will tour worldwide in support of Do to the Beast, their first new album in over a decade and a half, kicking off an extensive jaunt with a performance at Coachella 2014 in April and a stopover at Open'er Festival on Thursday, July 3rd.
Tourist
We like it when acclaimed bands use their privileges to help other artists out. This is the way for Lawrence brothers, better known as Disclosure. Earning everything they could on the electronic music market, they started their own label Method Records and even the first releases show that was a great step to take. London's Tourist is one of the acts from the Method hive, a real rising star of danceable electronica. Tourist ventures on the grounds previously explored by Four Tet or SOHN, yet he doesn't lack the energy of TEED or even his own bosses, Disclosure. It's warm and gentle, with sub-bass hitting the max when he feels like it. Although Tourist only just started working on his full-length debut, we shouldn't be short of his music in the coming weeks. Having barely released the "Tonight" EP, Method Records announced its follow-up "Patterns" EP. Its release will coincide with Tourist performing at SXSW 2014, where he surely is among the artists to be watched closely this year. Open'er doesn't lag behind and delivers him today!

Also joining Open'er is a selection of Polish artists: Mela Koteluk, The Dumplings, Misia Ff, Król.

Tickets for Open'er Festival on Sale in ALTERSHOP and Ticketpro outlets.