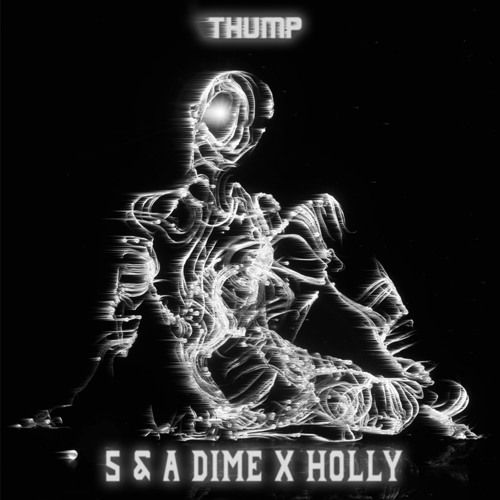 5 & A Dime x Holly - Thump
Philly-based producer and mash-up virtuoso, 5 & A Dime is back with his heavy new anthem 'Thump'. Teaming up with Portuguese bass-maestro, HOLLY for the release, 'Thump' is out now as a free download on 5 & A Dime's SoundCloud.
A combination of Dubstep, Trap and Bass House elements, 'Thump' is a distinctive track that showcases 5 & A Dime's mash up roots. Utilising melancholic melodies, dramatic builds and dynamic drops, 5 & A Dime weaves seamlessly between the bass genres. Successfully merging such a plethora of sounds and styles into one complete track is no mean feat, and 5 & A Dime's execution is flawless; 'Thump' is a testament to 5 & A Dime's production abilities.
Joining 5 & A Dime on the release is 22-year-old HOLLY, whose musical background comes form Hip Hop, Dubstep, Drum n Bass and Trap. 5 & A Dime comments on the collaboration and production process below:
"Thump is a track that both HOLLY and I feel showcases our styles and sounds well. It was actually started over a year ago, but as soon as HOLLY and I began to collab we knew we were creating something special to us. The melody from the piano came at a very emotional time for me and the drop itself naturally came together between the two of us, since we both love making crazy energetic bass sounds. I'm so happy that it is finally releasing now and that it already has support from our DJ friends and people that we respect."
Stream – 'Thump' on SoundCloud
After a small hiatus from releasing music since the latter stages of 2016, Greg Kantor, aka 5 & A Dime has burst back into the scene in full force, with two new releases and the first edition of a mix series all accomplished since June this year. Originally known for his mash up mixes, which saw him rise to fame in 2010, the bass producer was quick to garner attention from the industry's finest. Tour support for superstars such as Steve Aoki and Kendrick Lamar furthered 5 & A Dime's ever growing fan base, and his bass driven productions garnered praise and plays from the likes of Tiësto, DJ Snake, and The Chainsmokers. With an array of new music on the way, make sure to keep up with all 5 & A Dime's socials in the upcoming months.
5 & A Dime Socials
Facebook
Twitter
SoundCloud
Instagram
HOLLY Socials