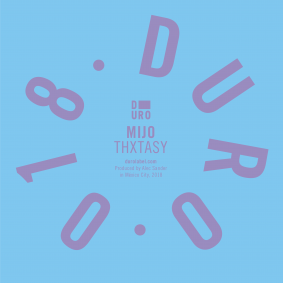 Mijo - THXTASY
Mexico's leading underground label Duro Records is back with another brilliant EP, this time from Mijo, who serves up a fine original that comes with remixes by Paulor, D.Y.O.R., The Chica and Moisees.
Mijo is a multi-instrumentalist with a raw sound that mixes up tech, disco, house and analogue synths. He releases on Her Majesty´s Ship, Sanfuentes Records and Correspondant and impresses with the refreshing 'THXTASY' here. It's a perfectly warped, heavy tune with fleshy bass and trippy synths that are driven by punchy kicks. A big vocal will get hands in the air and the whole thing oozes late night menace.
Fellow Mexican Paulor from the likes of the You and Your Hippie Friends label then excellently remixes the track into something brilliantly dark and cosmic. The drums hit hard and there is a real rock angst in the stabs. D.Y.O.R is a soulful, jacking and deep house proponent from the Netherlands who flips the track into something more elastic and house in nature, but with acid lines and chattery, Chicago-esque percussion.
Next The Chica steps up with two terrific versions. The first is a slamming techno cut with whirring machines and flat, forceful drums and the second is a fist pumping, turbo charged old school house version with raves stabs. Both will do real damage on the 'floor.
Last but not least is Duro co-founder Moisees, the man behind last year's superb 'Train Station Philosophy' release. His vision of 'THXTASY' is one of corrugated funk, macho disco grooves and stuff hits that make you jerk your body.
These are dynamite tracks designed for carefully considered denotation of any dance floor.
Tracklist:
1. THXTASY (Original mix)
2. THXTASY (Paulor remix)
3. THXTASY (D.Y.O.R. remix)
4. THXTASY (The Chica remix)
5. THXTASY (Moisees remix)
6. THXTASY (The Chica V2 remix)